New Features in Odoo 14
Every year Odoo releases a new version with add-on functionalities and changes that offer improved modules. Odoo ERP is one of the largest selling ERP software that offers a Paid and Community version to its user. Implementing Odoo ERP software is quick to compare to other software available in the market. Odoo being a web-based ERP helps organizations with powerful module capabilities that one could look into ERP software.

Understanding the new list of Odoo 14 features and changes will allow readers to gain knowledge in choosing wisely between older and the latest version. Therefore, if you are looking out to implement any ERP software or Odoo latest version than understanding and going through with the new version features can help you to inculcate how much customization, development, and specific time and resource required during the implementation stage.

There are various functionalities and features added with Odoo version 14 release which is as follows.
This feature one of the new Odoo 14 feature and changes which was not available in the older version, Create New occurs only when new Input of entry is typed while creating a product or Contact, etc.
Odoo 14 Next Activity: Is Showcase the stage of the Sales Order. Therefore from the list view, you can easily check the next activity and based on the activity quicker actions can be taken.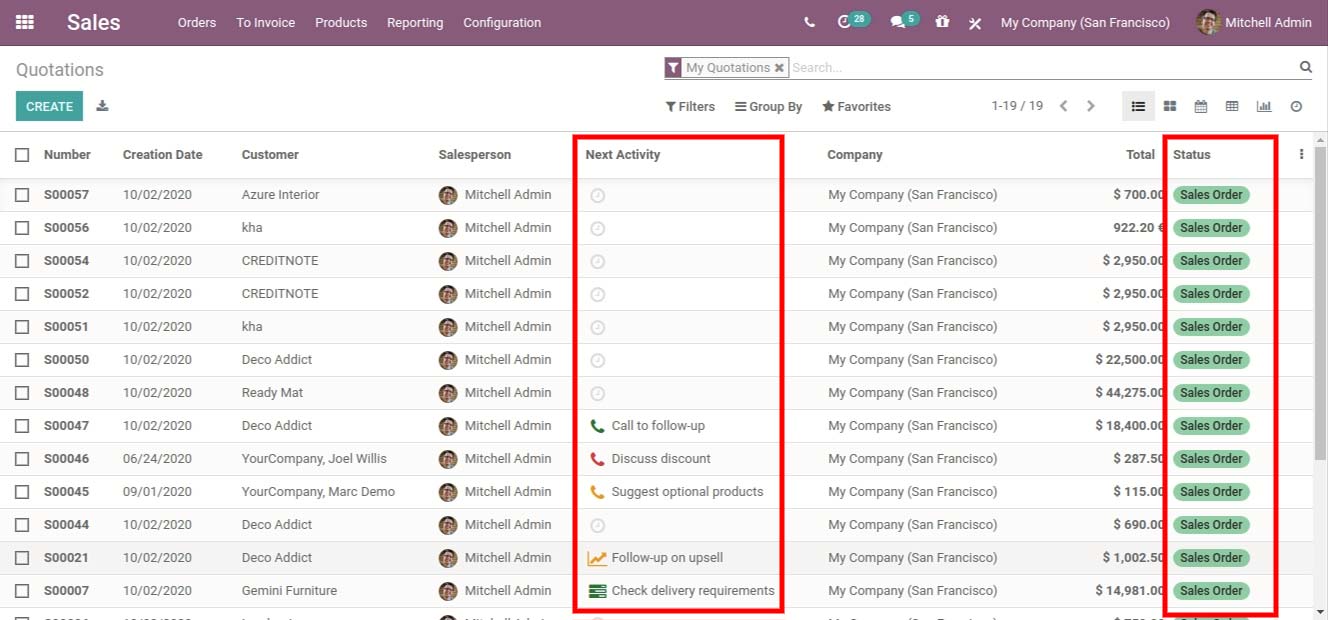 Profile Picture: Pop-up of Chat window will Occur on Click on Profile Picture this makes you quicker communication with your clients.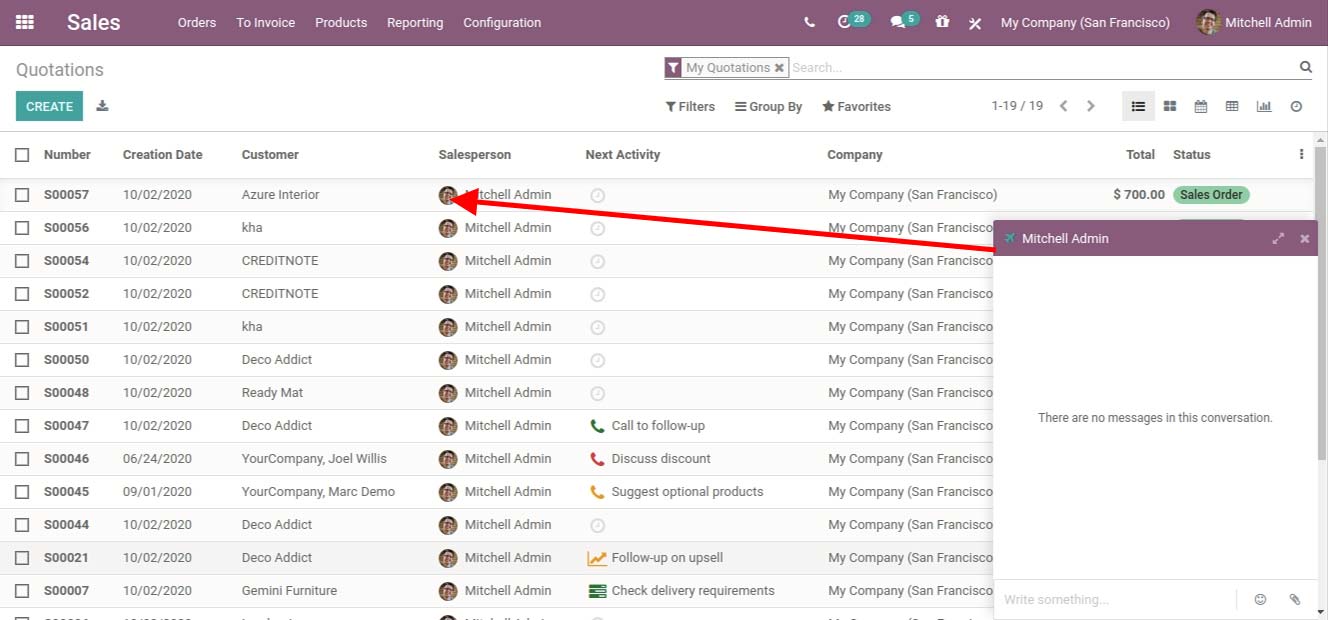 Product Price List Report option for the users where they can print the pricelist of the product with corresponding currency from the product list itself.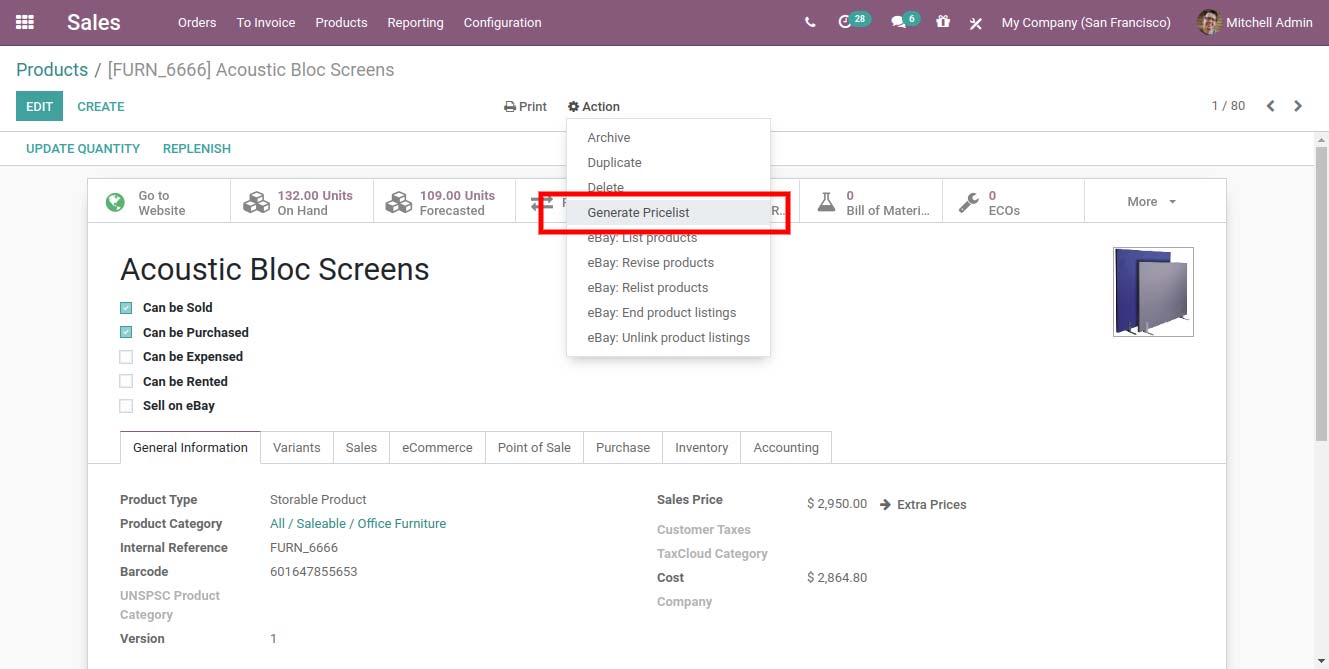 Key Performance Indicator on Dashboard of purchase Module of Individual logIn User.
Profile Picture: Pop up of Chat window will Occur on Click on Profile Picture.
Receipt Reminder: Automatically remind the data or date of receipt of the Vendor.
Odoo 14 Introduce this new feature in the native setting to Control of illegal website attack of Data filling in the contact form.
New Dashboard for Expenses App Module, here you can see Status ,Next Activity to respective Expense At top of dashboard overview you can see the count Expenses.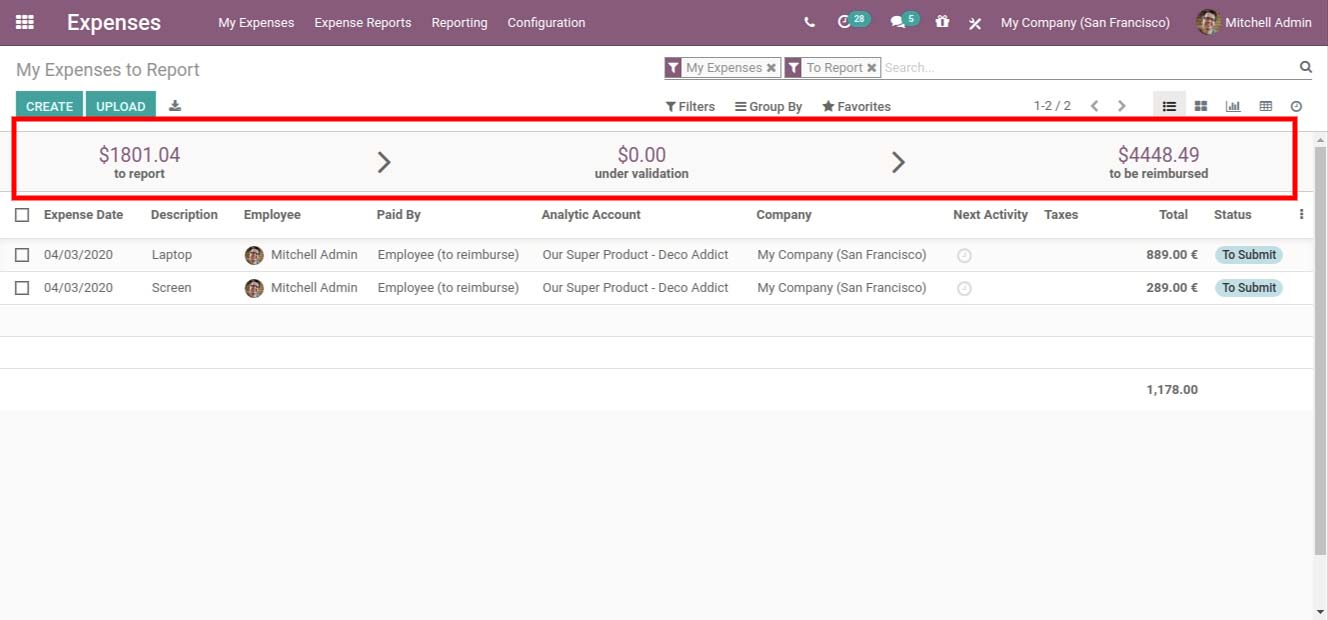 Labeling the State of Stages in Manufacturing order

In the Work Order, we edit the Stages of respective operations by Done or Start or Pause in Dashboard of work Order.

We can Run Scheduler in the Planning Menu for product quantity.

Lock Quantities To Consume this validation is very useful for Manager or Supervisor with this Manufacturing Order will not be Updated until Manager or Supervisor Validated the count of manufacture the product i.e. once MO is created it cannot be updated in between/before the process until validating the updated count of Manufacture Product by Manager or Supervisor.
With the release of the newer version, the POS Promotion and Coupon program will possibly be moved to Odoo 14 Community edition.
With the release of the new version, new features will be added for POS Inventory Management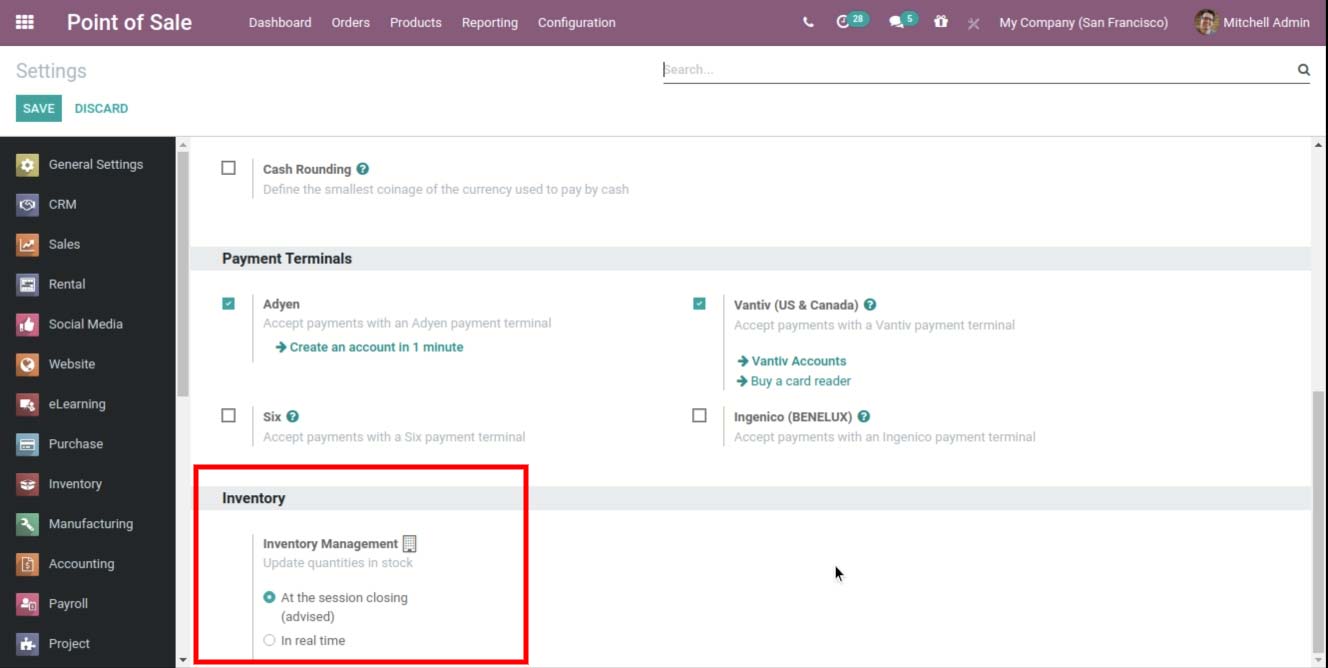 Data Cleaning is one of the new modules that has been added to the Odoo 14 Enterprise edition, which makes sure to remove duplicate data in order to reduce data redundancy.
Website
Odoo 14 brings up a new snippet tool where we can organize and represent numerical or qualitative data in graphical data charts on the website.
In odoo 14 with new widget on a website where user can view the countdown widget to showcase increase or manage their product sales/ traffic in the e-commerce business
In odoo 14 can analyze the milestone step of Snippet on the website model.
In odoo 14 have introduced a new product catalog widget to the website module . Where users can bring changes easily in predefined templates as pre respective needs.
In Odoo 14 a new Auto Pop widget has been added in the website module. Where the users will be able to get quick assistance of offers and promotions to the customers.
In Odoo 14 you might be able to see a Progressbar Snippet on the website module.
In Odoo 14 you might be able to see a Timeline Snippet in the website module.
In Odoo 14 a new Number snippet widget has been added in the website module.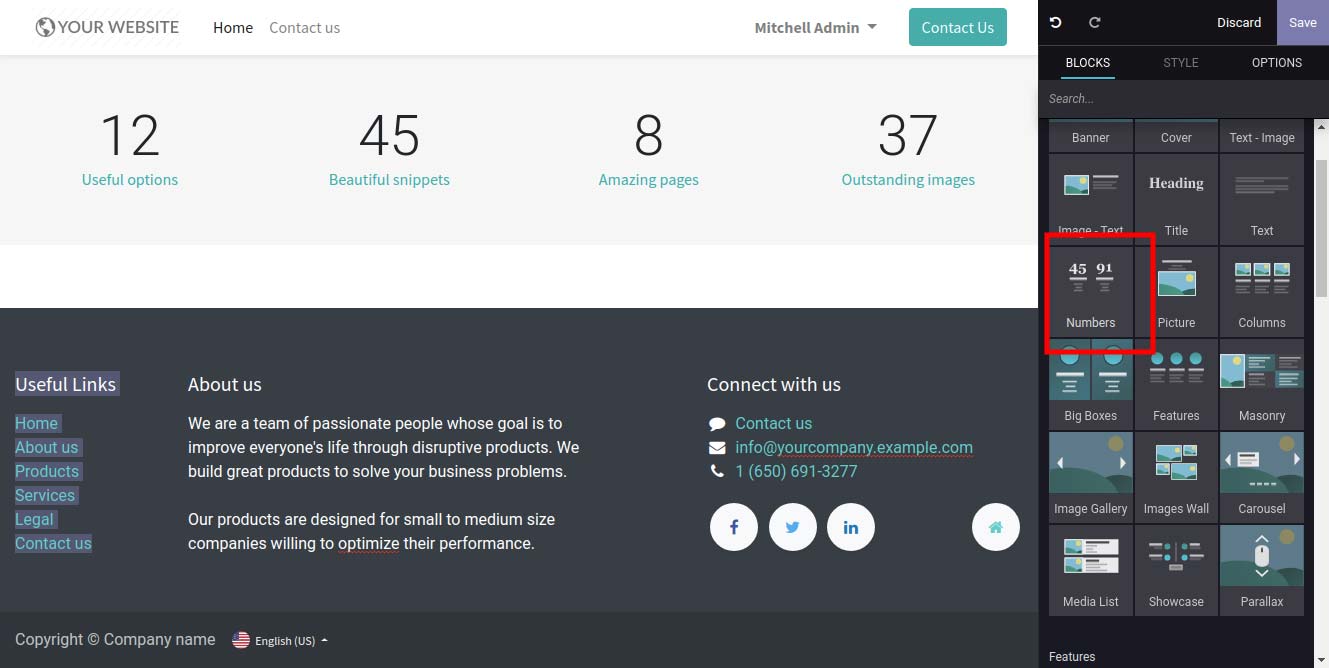 In Odoo 14 you might be able to see a Masonry Snippet in the website module.
In Odoo 14 you might be able to see a Big Boxes Snippet in the website module.
In Odoo 14 a new Product List snippet has been added in the website module. Where products can be easily listed out.
Some of the features removed from odoo 14 are
Muti warehouse in Inventory
Remove the Checkbox of Replenish on Order (MTO) in Inventory tab of Product
Remove the Routing in manufacturing
An overview is termed as Dashboard in accounting, Assets report account, and unit of measure set on the Vendor Bill while purchasing, Product depreciation reports can be generated and managed in depreciation assets journals.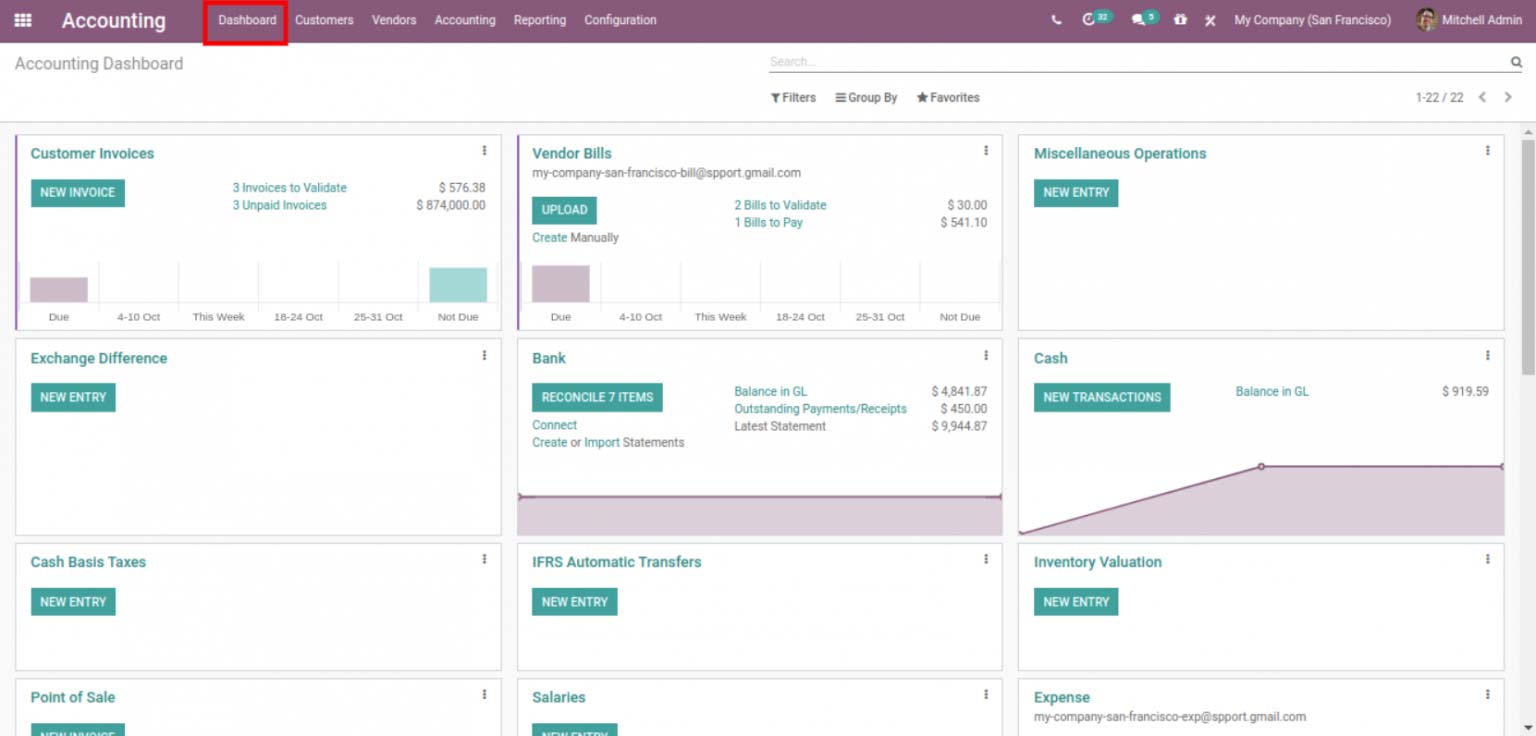 Enterprise: With streamless accounting modules and respective journals maintaining capability aged partner balance moves to enterprise and made stress free accounting.
Usability: Accounting management module usability where the list view offer powerful visibility on next activities to plan and on documentations.
Enterprise: Aged partner balance moved to enterprise edition in the Accounting App.

Assets: Another change and addition in Odoo 14 feature is that Assets match the quantities and units of measure set on the Vendor bill; depreciation reports; manage depreciated assets. Assets report match the count and unit of measure set on the Vendor Bill while purchasing , Product depreciation reports can be generated and manges in depreciation assets journals.

Financial Reports: FR comes with new designs that provides meaning of each section.

Audit: For Account, Label, Reference, Tag (tax grid), Due Date now you can Track modifications on posted entries.

Automatic Entries: Apply Automatic Transfers to specific partners; making inter-company transactions easier; one wizard for both, accrual and transfer preview entries in the wizard.

Cash: You can define 2 different accounts for cash rounding 1. gains 2. losses. Maintain two separate accounts for cash rounding: one for-profit and one for Loss.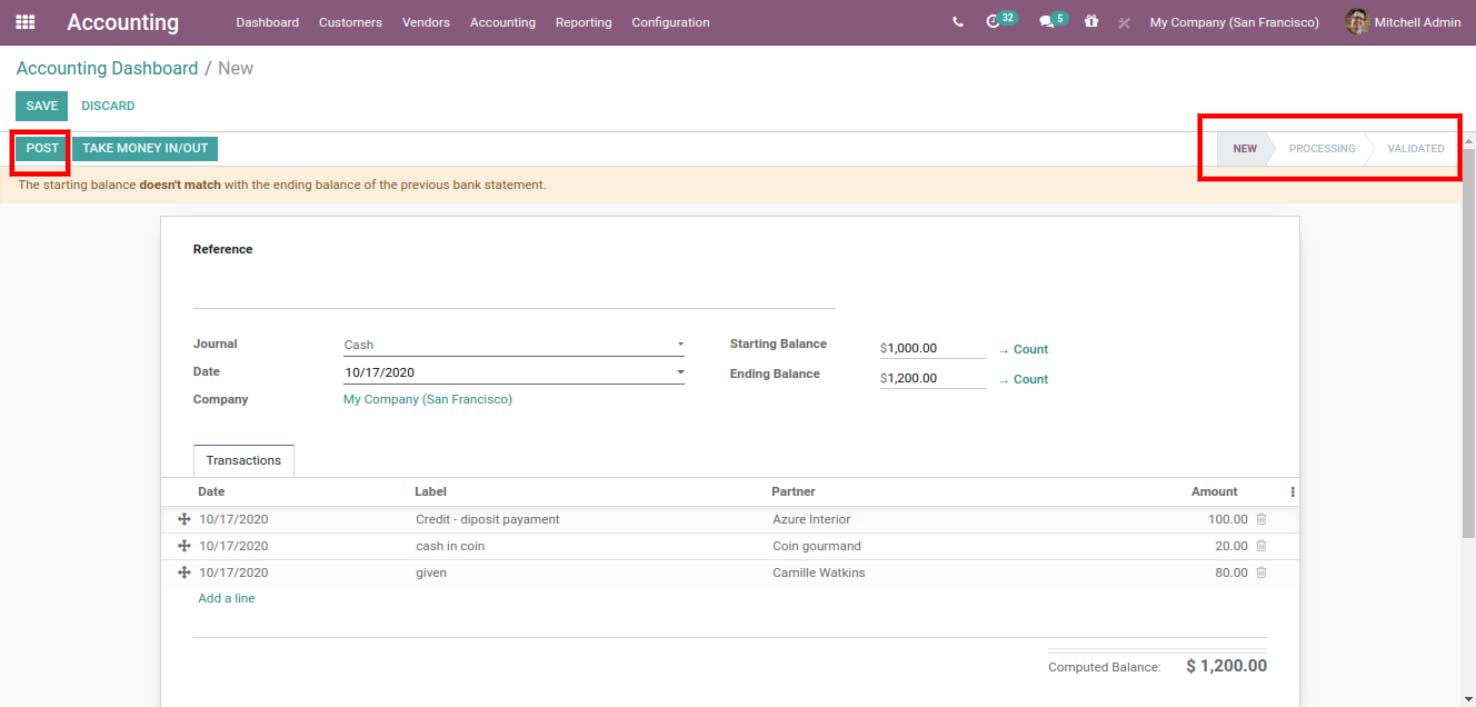 Chart of Accounts: Automate the account hierarchy based on the account code; manage allowed journal to post to accounts.

Disallowed Expenses: Manage Disallowed Expenses; integrated with Fleet.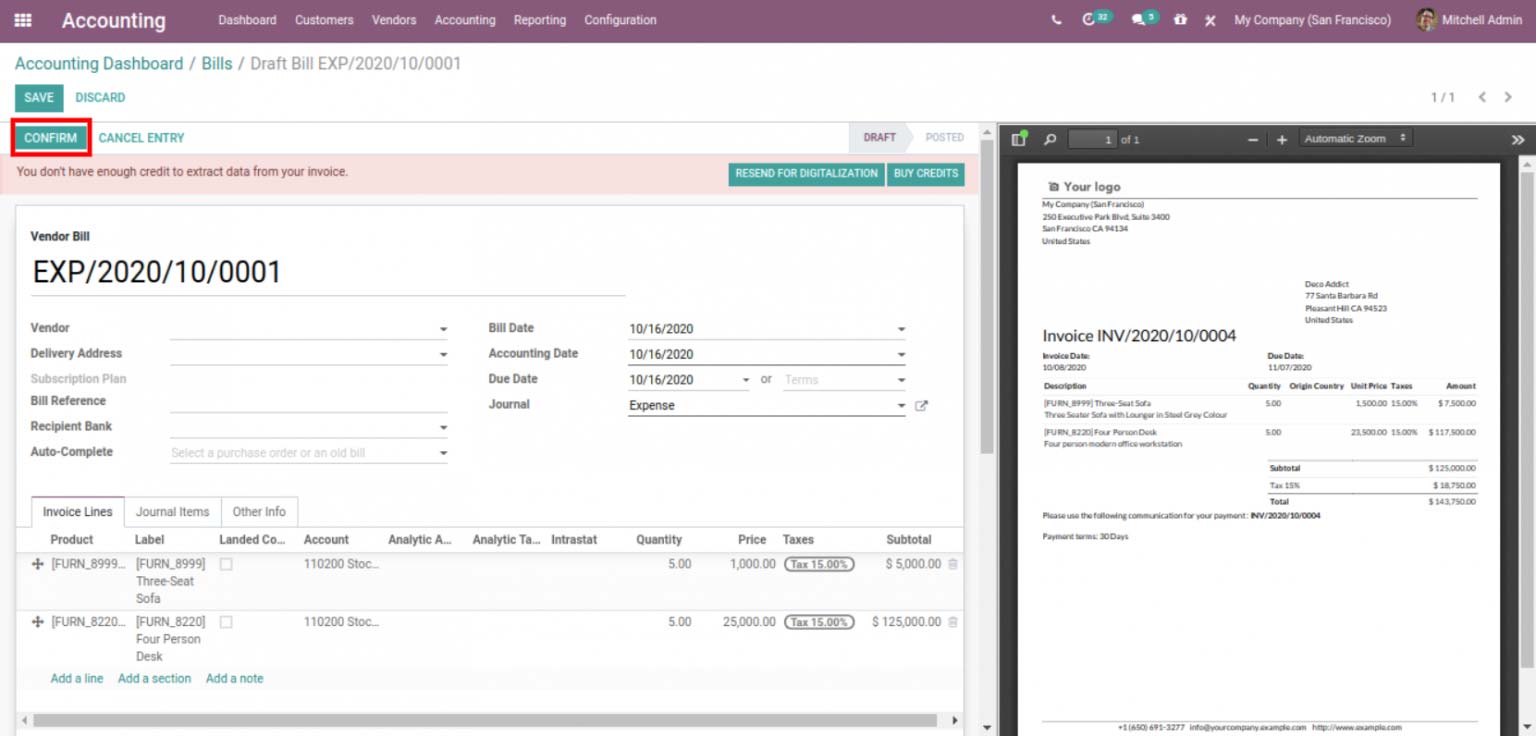 EDI: Import/export EDI documents in UBL format.

Invoicing: "Customers" and "Vendors" contact filters have been renamed to "Customer Invoices" and "Vendor Bills".

Invoices/Bills: Easily choose the numbering sequences you want when posting your first Customer Invoice and/or Vendor Bill.

Invoices/Bills: Add the "To check" feature for invoices/bills so you can mark which of these you want to follow up on. Clearly indicate when an Invoice or Bill does not need to be validated because it is setup to be automatically posted on a previously defined date. Corresponding Purchase Order reference can be displayed on the invoice line.

Journal View: Keyboard navigation in journal view has improved. Preview of HR expense documents.

Ledger View: Ledger view has been improved. Balance and cumulative balance columns have been added.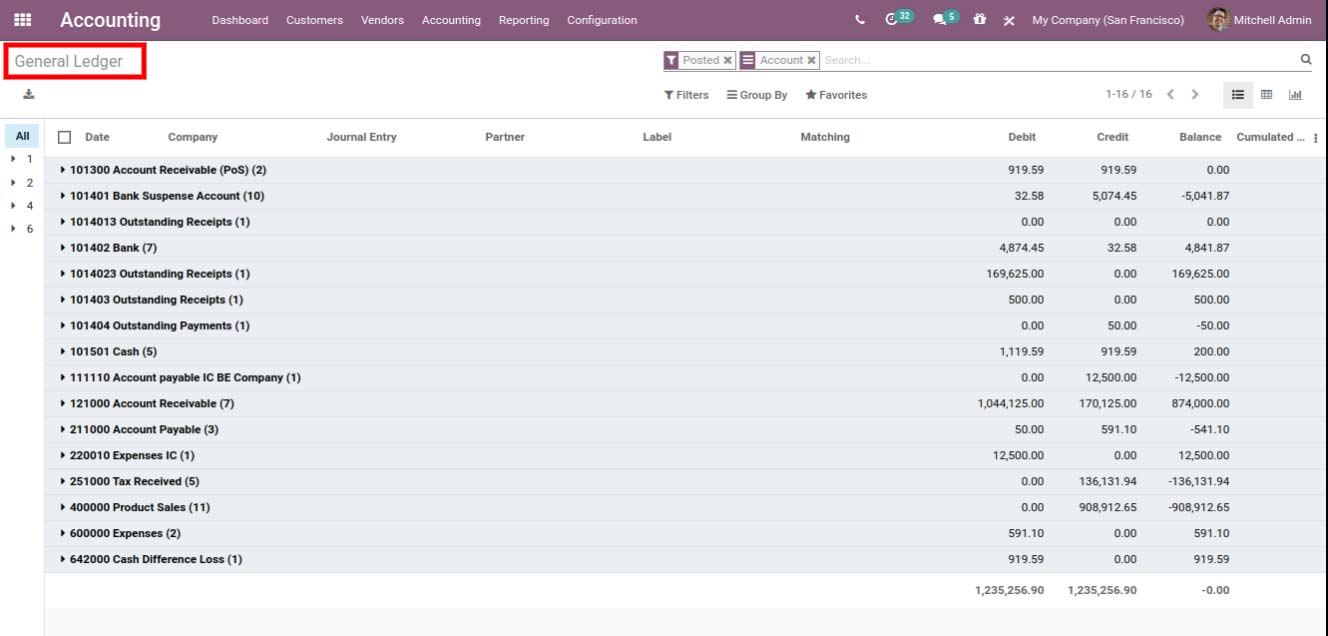 Link with Invoicing: Smoother migration from Invoicing to Accounting apps. Interco module improvements.

Multi-Currencies: New Unrealized Gains and Losses report that allows users to generate revaluation journal entries.

Partner Ledger: Add "Reconcile" Button to the Partner Ledger.

Payments: Improved batch payments error reporting. Batch Payments are now compatible with SEPA Credit Transfers. Customer and Vendor payments are now posted via Outstanding Accounts. These balances are moved to the bank account during bank statement reconciliation. Manual Journal Entries can be reconciled by posting to these accounts.

Payments: As the SEPA BIC is no longer mandatory, BIC constraints have been removed.

Payments: Register payments in batch. Only register a payment for the amount due, when registering partial payments.

Payments: Track payment status on payments, so you can see who prints it, cancels it, etc., and when these actions happened.

Payment Status: Invoice/Refund payment status has been improved. You can track the status of payments, and when they happened.

Reconciliation: Support marking an invoice/bill as partially paid when the amount is less than the full balance. Reconciliation models can now match on Customer of Vendor and are more accurate. Reconciliation engine also looks into the note and reference, in addition to the label. The Reconciliation Widget has been moved into Odoo Enterprise.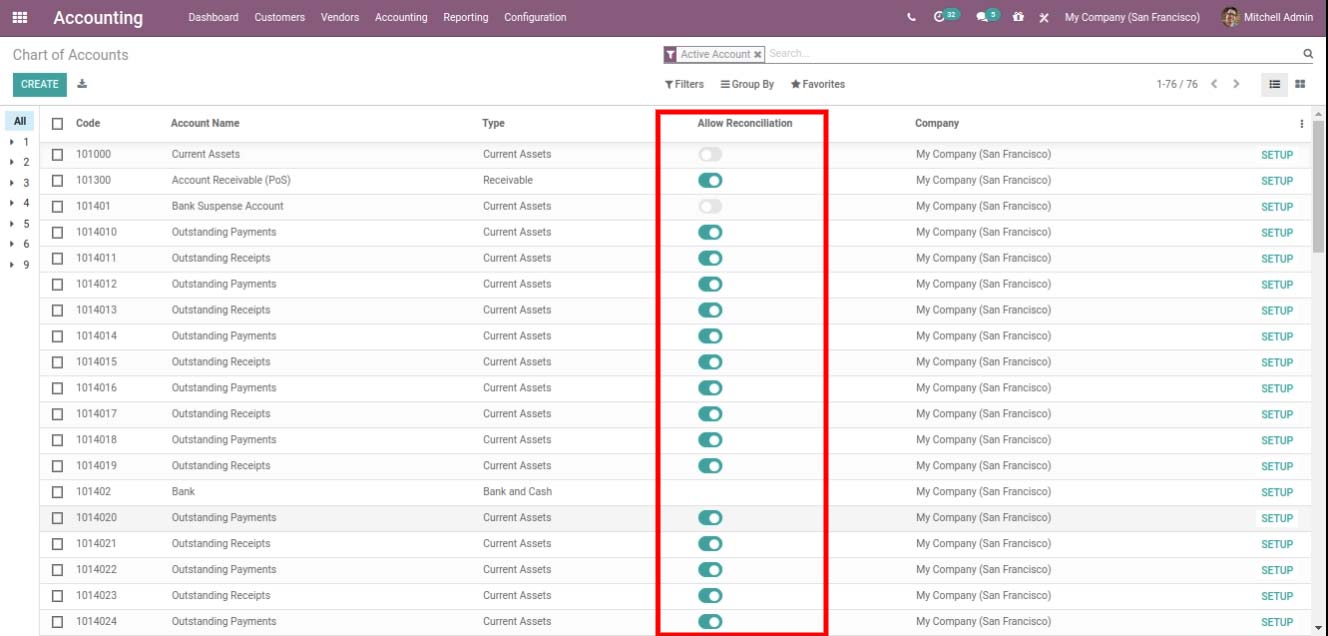 Refactoring: Refactoring of financial reports now offers better performance. Safer rounding factor update for currencies.

Tax Closing Entry: Include or exclude accounts from the tax closing entry. Useful in case of (partially) non-deductible VAT.

Tax Reports: A company can use foreign tax tags and reports together with domestic ones. Define multiple tax reports for a single localization.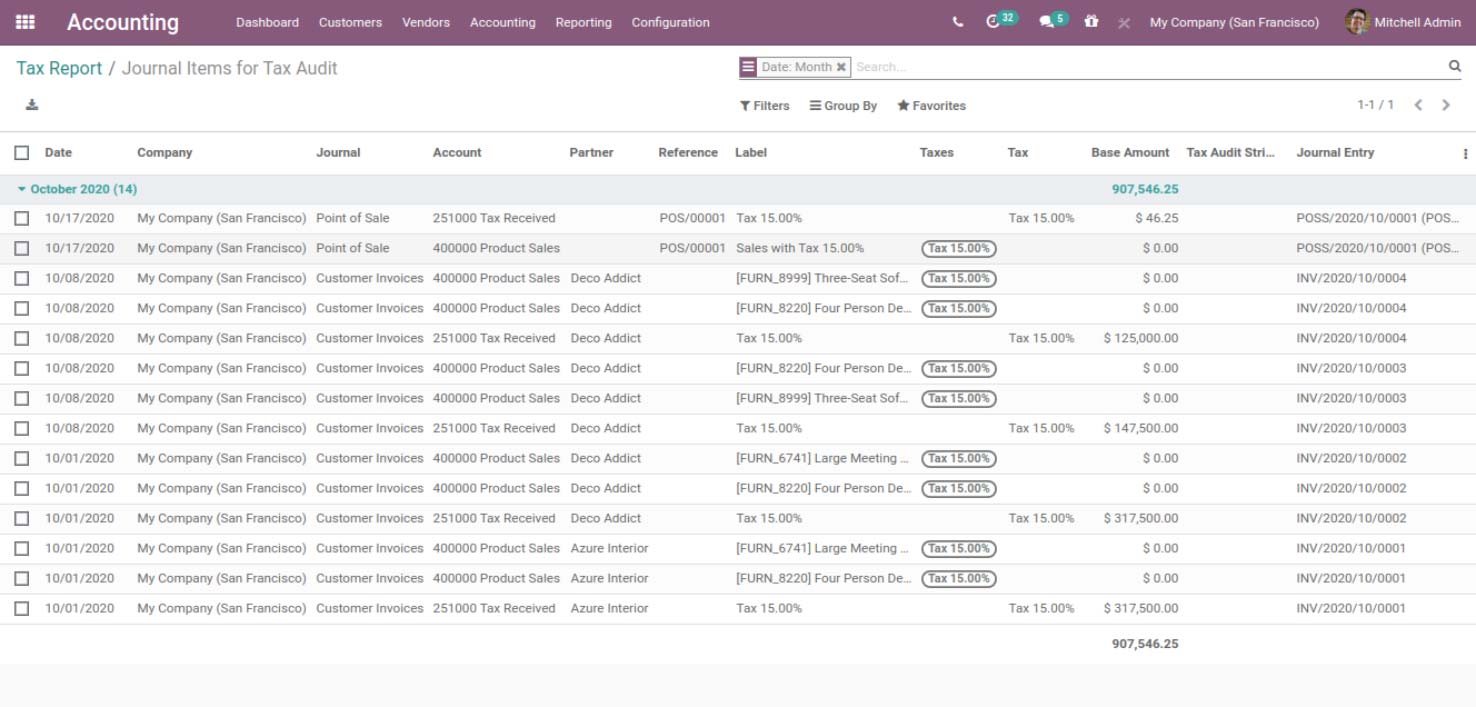 Usability: Activities automatically created for overdue invoices. Improvement of predicted vendor bill taxes. Read-only mode for accounting date.

UX: It is easier to configure your charts of accounts and tax reports. New menu for HR expenses. Printing checks is a general option. Prevent users from closing a fiscal year with draft entries.
Survey: Survey app integration helps to get feedback from the employees.

Goals: Allow employees and managers to achieve specific goals.

Usability: App changes, define a general template for feedback or specific templates based on Job Position, define an Appraisal Evaluation Scale, schedule the Next Appraisal easily automatically.
Odoo 14 features improved barcode demo and test sheet to help the first set of workflows. Easily use the Barcode application without a barcode scanner with buttons field editing. With Barcode scanning we access the transaction and for surfing in the ERP by using Commands printed in a barcode example: To validate a sales order just have to scan the Validate command barcode. Barcode can be used for the attendants of employees and in PoS for product information.

Demo Data: Improved Barcode demo/test sheet to help you with your first set of workflows.

Barcode Management: Easily use the Barcode application without a barcode scanner: buttons, field editing.

Usability: Misc. usability improvements in the Barcode app.
Outlook Synchronization: Outlook Calendar with Odoo Synchronization.

Recurrence: Modify a particular event, the selected event, and all future events, or every event that is part of a series.
Usability: UTM (Urchin Tracking paraMeters) fields are available as optional fields, Display My Activity View management in CRM list views.The Phone number and email address of an opportunity are always editable and synched with the contact.

MRR: Handle recurring revenues and manage renewal information intervals by using distinguished plans. User-defined plans handle recurring revenues and manage renewal intervals

Mail Integration: Received email for leads generation and log their content as internal notes. Turn emails received in your Outlook mailbox into leads, and log their content as internal notes.
Report: In Opportunities lost reasons cannot be deleted this would be good for future referencing to understand which are the reasons the leads are lost and proper actions can be taken.
CRM Integration: Rules can be defined as per leads or opportunities and created for attendees while registration. Leads can be created by confirming or to attend.
Search: Phone numbers based easy searching for leads and opportunities. this will be a very helpful feature for Salesperson

Contacts: The phone number and email address of an opportunity are always editable, and edits are synched with the contact.
Duplication: Identification and merging of duplicate records can be automated.

Field Cleaning: Easy setting of automatic formatting and or cleaning/clearing of text fields.
Event Tags: Event Tags can be created on website filters by creating a custom tag.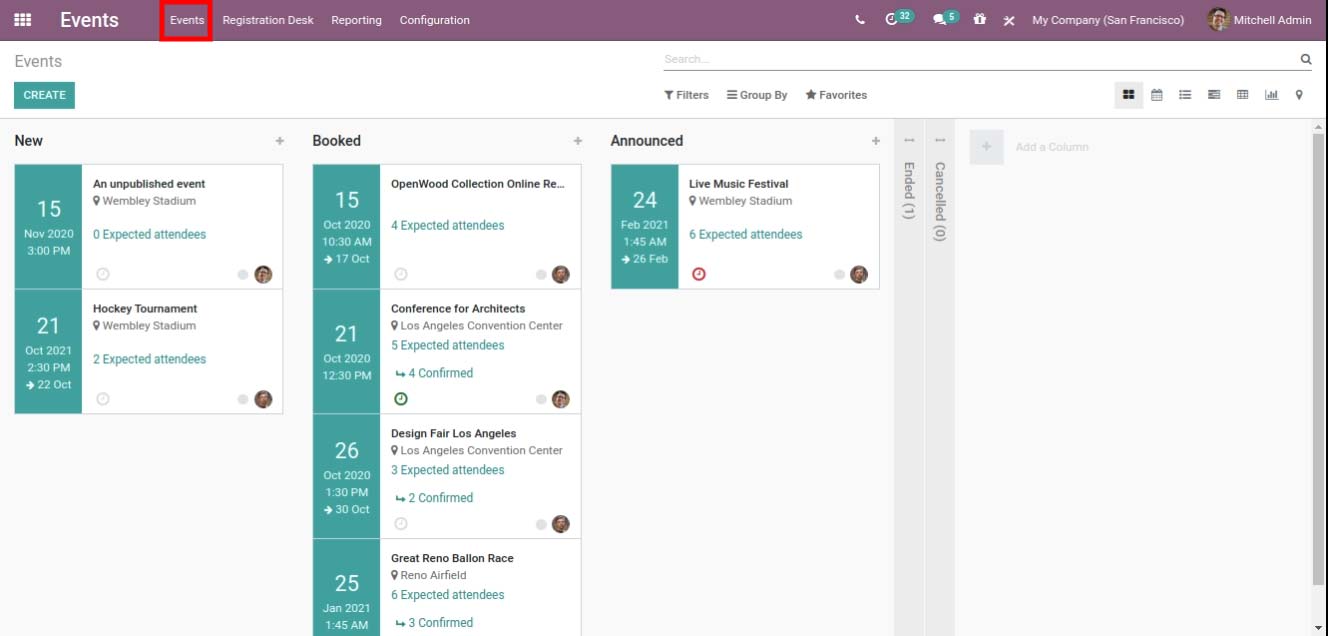 Gantt: The Gantt view can display the start date and scale dynamically as per the milestone process.

Exhibitors: Create virtual conference booths for Exhibitors to interact with attendees and the registration process.

Graph and Map: Visualization of events on a graph and a map view of the destination event.

Magic Buttons: The button which appears on time-sensitive action while watching Video by attendees when the attendee chooses for the next video.

Registration Desk: The registration Desk is introduced with new features that can handle multiple ongoing events.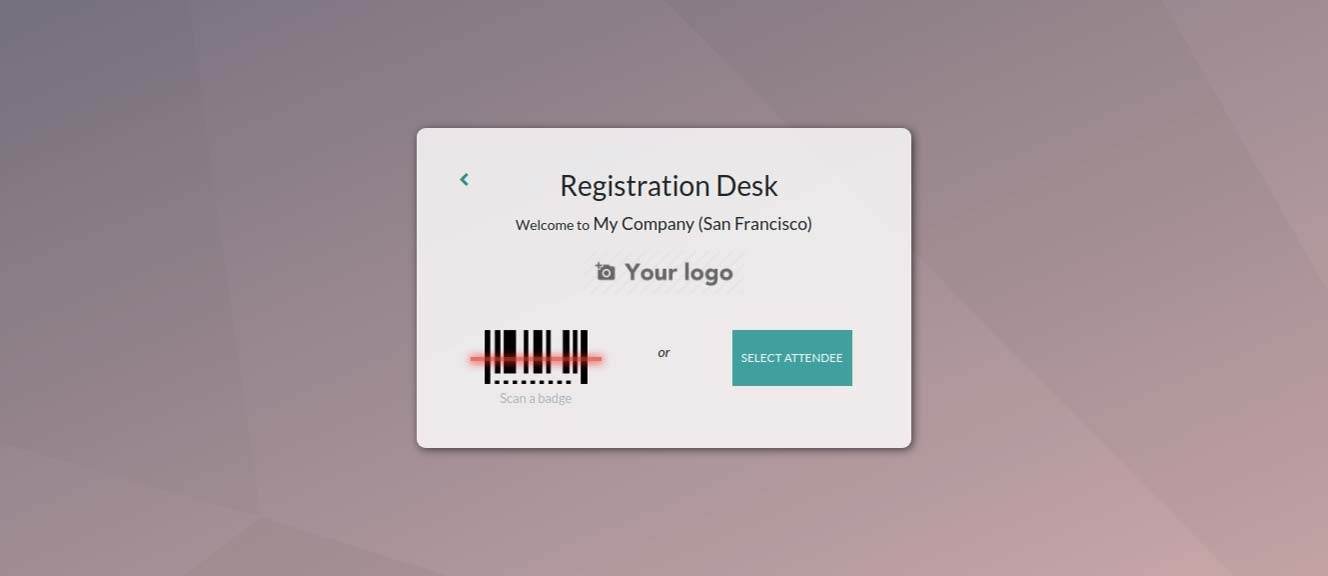 Room: the healthy Communication within community interaction by creating a virtual conference room on specific topics, Location and attendees can be created
Accrued Time Off InTime Off App Module Employees can choose a start date with time and also support bank holidays with weekend. In Time Off app based on accrued Days, Weeks, Months, and Years.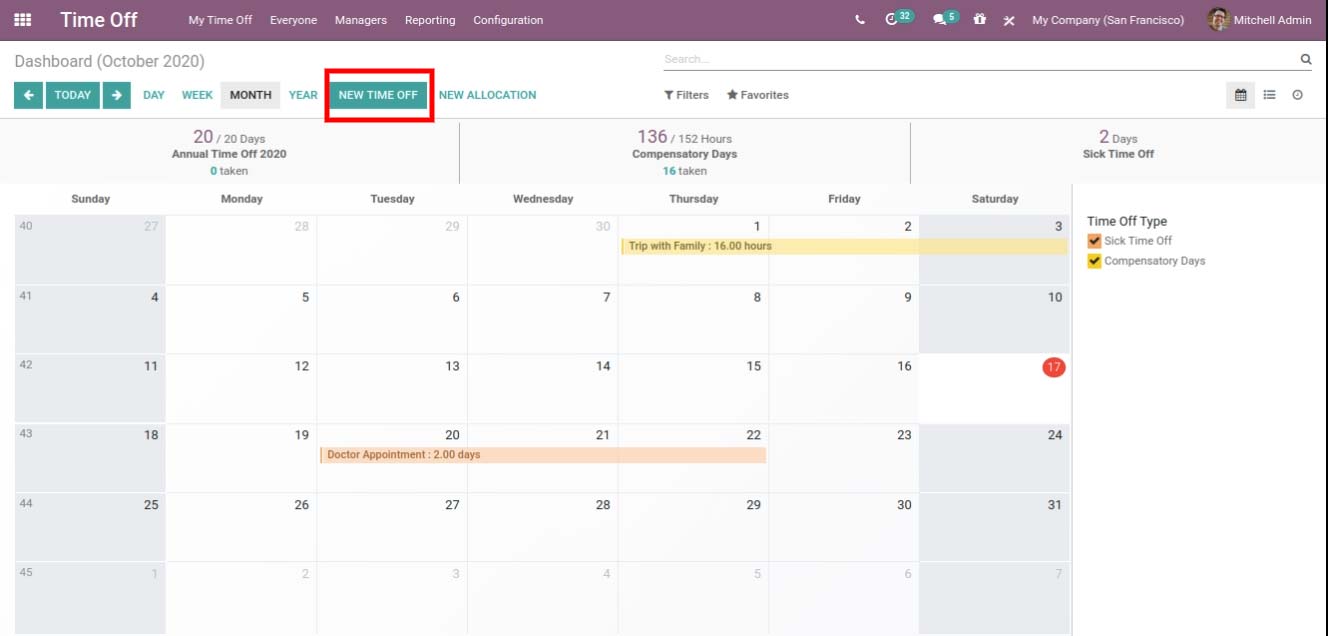 Availability: Employees can see their availability based on skills, roles as per their respective planning.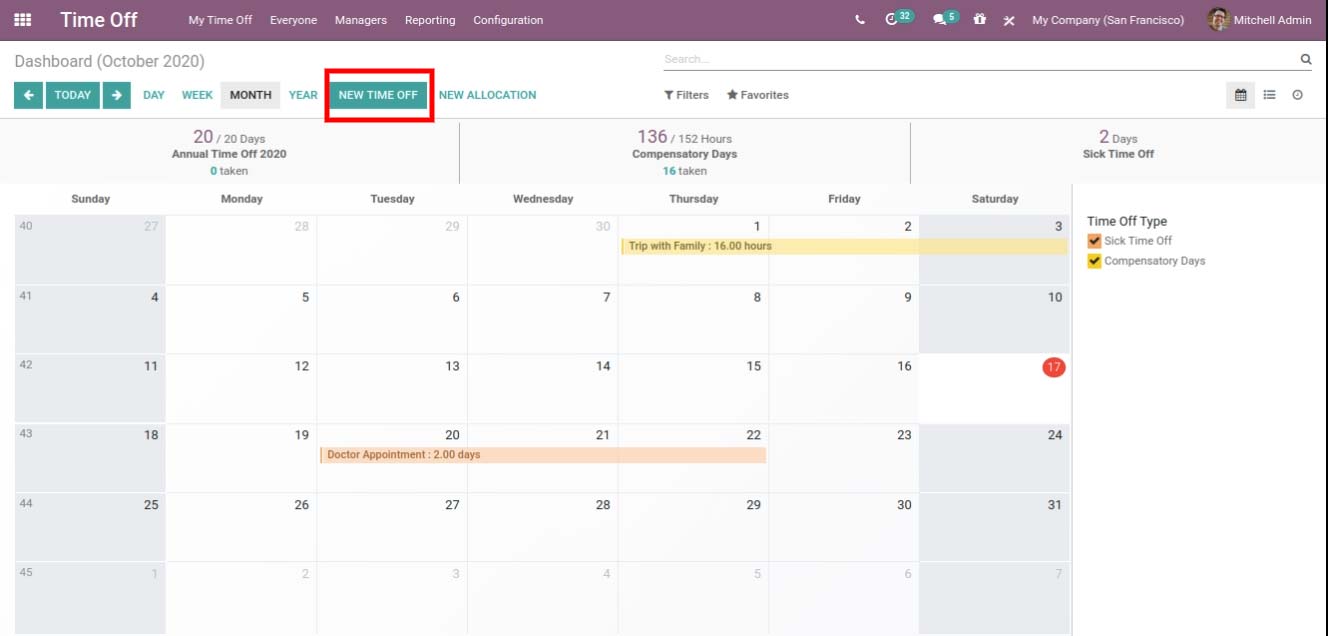 Usability: Employees can check the currently available job positions, Departments, and Managers in the List view.

Expiration Date: Time Off Expiration Date is visible on the employee dashboard.

Departure: Employee can archive an end date can add to their contract and users can remind of performing cancel future appraisals, start, end in Time Off

Salary Configuration: Employee Salary can Customize as per Countries respectively.
Access Rights: Users have given access rights for account billing and can access without validating from the manager.

Expiration Date: Allow edit removal date if the product is expiry and show the removal dates quantities and block the delivery of the expired product.

Forecasted inventory: Forecasted inventory report forecast to calculate finale account from incoming goods and reordering in inventory.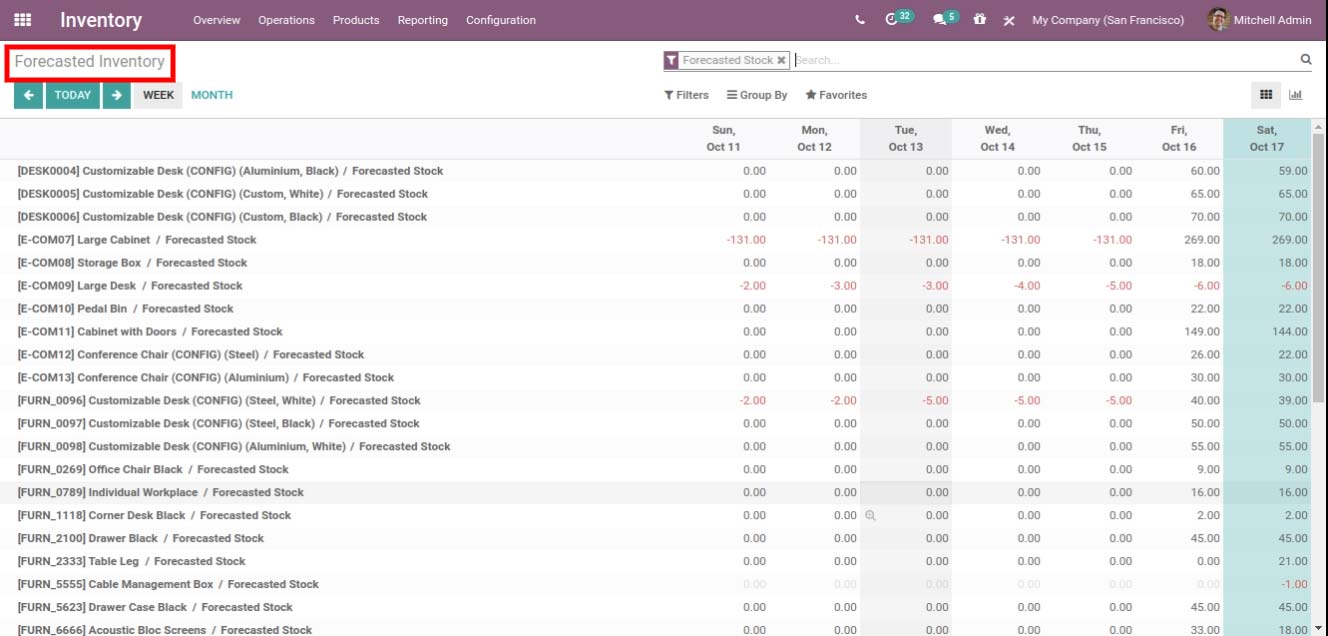 Integration with Barcode: For quality check and transferring the products manually, lot /serial number can identify the product by their respective barcode from the barcode app.
Usability: Delivery Slip Report is improved. Removed Multi-Warehouse from setting since in odoo 14 multi-warehouse is by default.

Activities: SMS and Emails activities are separated in cleary

SMS Marketing: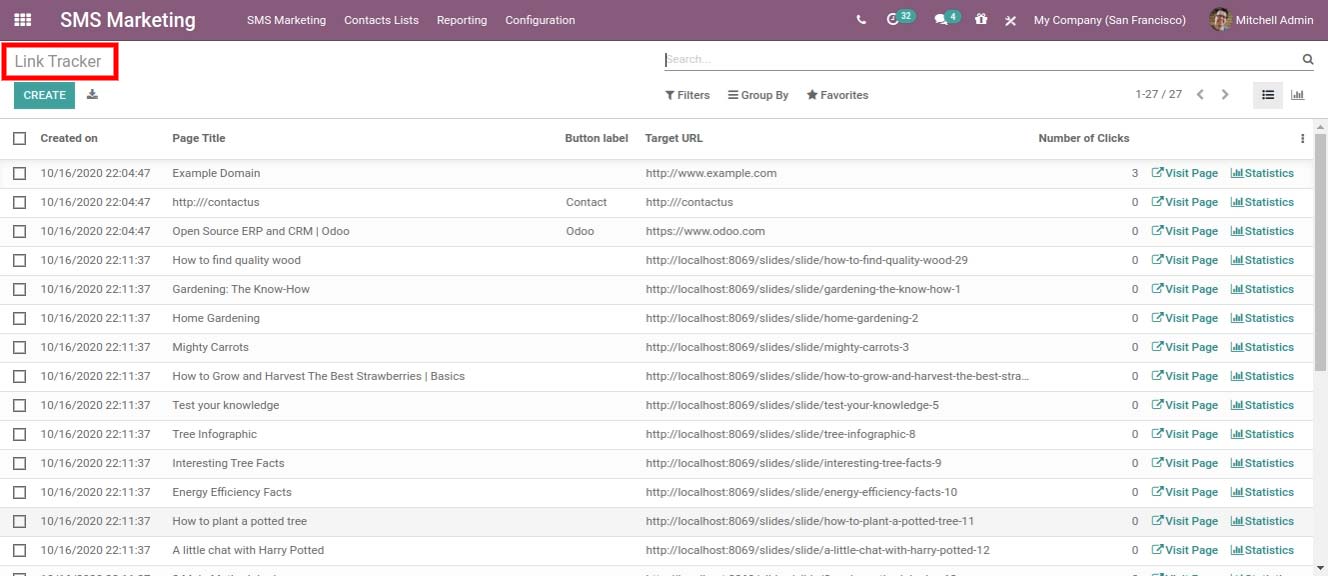 Email Marketing:
Kanban: schedule date can be displayed on kanban view

Snippets: snippets can be added to the email that can open an email in the web browser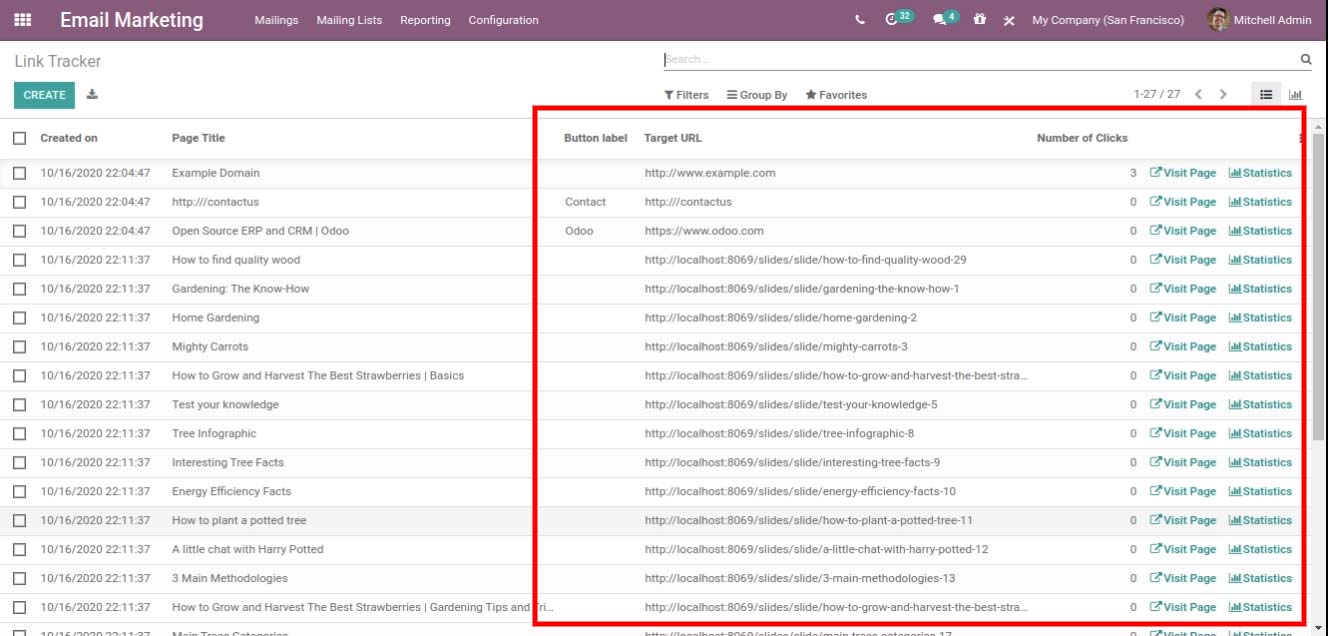 Link with Inventory: Default warehouse can better be defined by the user, Products trackers are added as per lot or a serial number of respective tasks.

Product on Tasks: Indicate the number of product used during a visit in on click

Usability: Field Service tasks generated from a sales order now refer to the delivery address of the customer.Unification of the form views of Project tasks and Field Service tasks to ensure a smoother workflow. Manage your team without needing to install Sales or Invoicing. See the total of each row at the bottom of the Gantt view.
Link with Sales: New shortcuts to create Sales Orders directly from tickets without needing to navigate to the project task.
SLA Policies: Ensure tickets are assigned within a specific time-frame. Apply SLA policies based on ticket tags. Exclude time spent in specific stages – without affecting SLA metrics.
Website Form: Improved design of the website ticket submission form.

Timesheets on Tickets: Display ticket timesheets on the customer portal. Use a timer to track the time spent on tickets. Several users can now track time on the same task/ticket simultaneously.
Invoice Policy: Default invoice policy are based on delivered quantities

Tax Cloud: For eCommerce state and zip code can be set as a mandatory field.

Usability: Warning when trying to invoice without "invoiceable lines" – suggesting a configuration change.
Log FIles: IoT Box log file can be accessed from the form view.

Packages: Automatically weigh delivery packages when connected to a scale.

Printing Option: Print shipping labels through an IoT connected printer.

Raspberry Pi 4: Support Raspberry Pi 4 IoT boxes.
Chat: Customize chat windows to fit your branding.
Visitors: Chat with visitors from any page of the website.
Batch Pickings: Improved batch transfers layout/usability, and makes them available in the Barcode app.

Manufacturing Order: Apply landed costs on manufacturing orders.

Planning Visibility: Ease work order's planning visibility thanks to information popover and working hours visibility.

Post Inventory: Allow to post inventory on a MO under the same conditions then "mark it as done".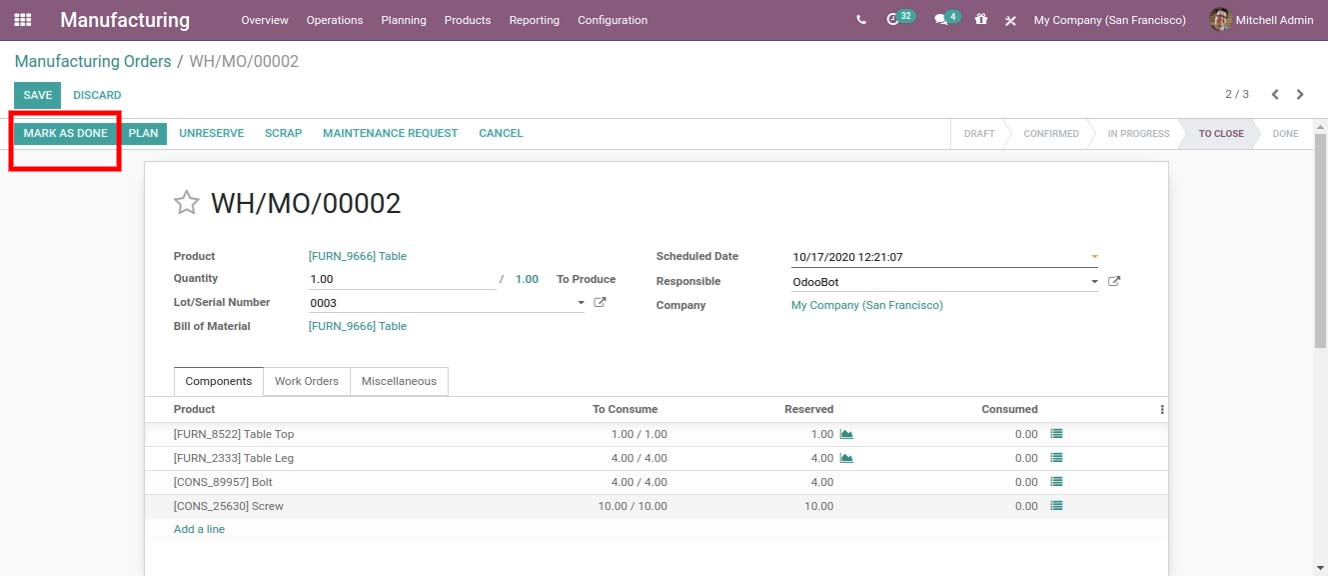 Subcontracting in Barcode: Handle subcontracted receipts with tracked components/finished products in the Barcode app.

Usability: Combine Routings and Bills of Materials. Operations are now listed in a new tab of the BOM. Create manufacturing back-orders when several lots/serial numbers need to be manufactured. Allow filtering on subcontractors and subcontracted products.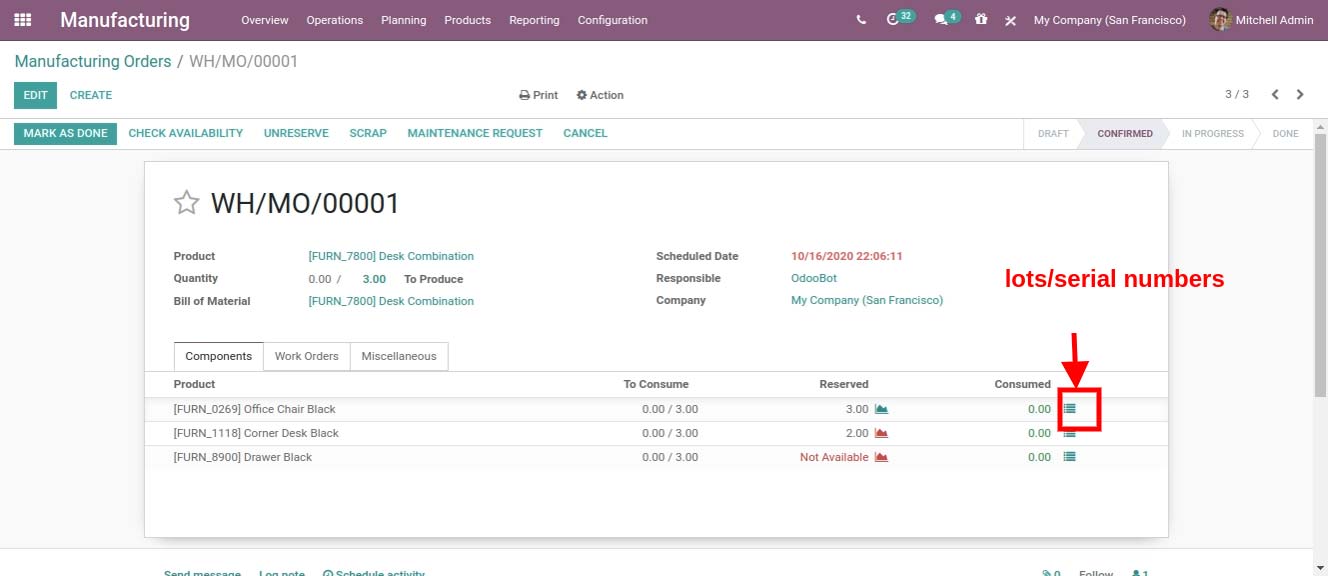 Cash Rounding: Set a cash rounding in the PoS in the same way that accounting cash rounding works.
Configuration: Modify the configuration of a PoS while a session is opened.

Loyalty Programs: Improved usability of the loyalty programs.

Mobile: Use PoS on mobile. Answer the growing demand for a mobile interface in stores.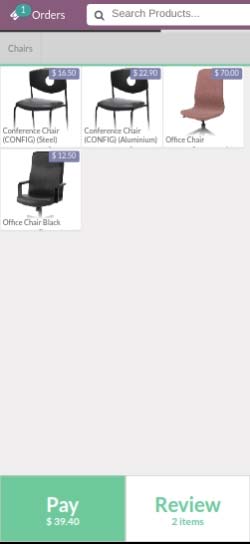 Multi Currency:

Amazon: Prevent user mistakes from canceling Amazon sales orders.

Country: Define if a country, state, and zip are required to compute taxes on eCommerce and Sales.

Orders: Categorize orders with tags. Confirmed orders with delivered items will now show a wizard to guide users on how to handle them when they try to cancel.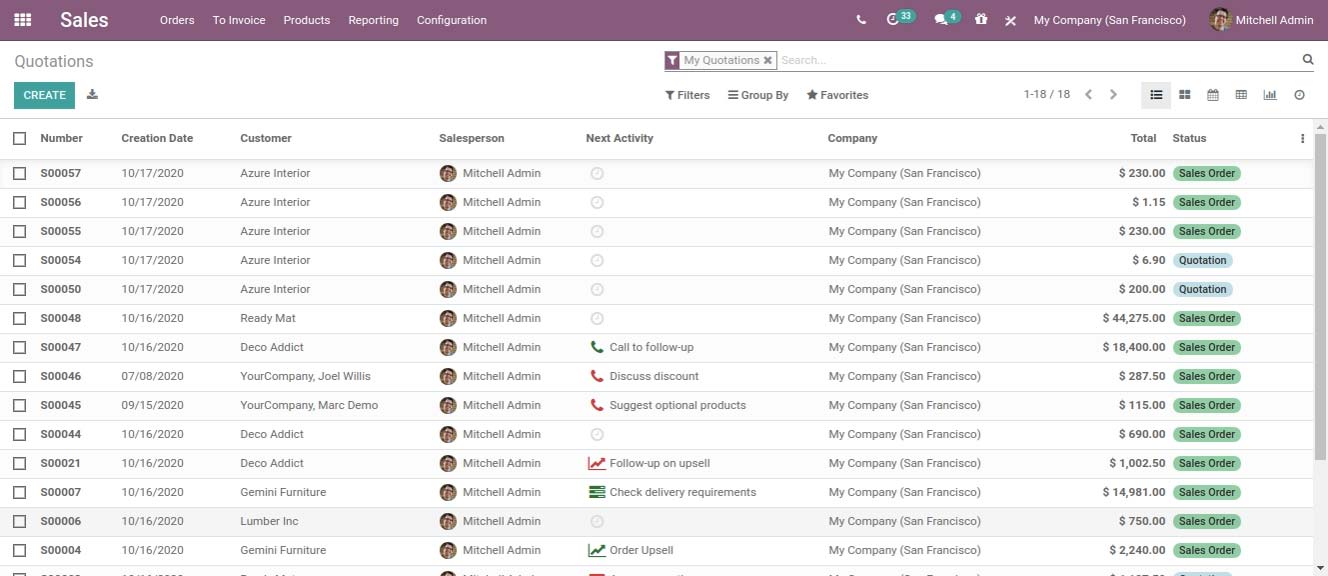 Pricelists: Recompute prices when changing the price list of a Sales Order. Generate and print a price list report from a product.

Pricelists: If no vendor price list matches the purchase order line, use the cost of the product as the purchase price.
Returns: Help users know when they should request a credit note from a supplier, and help them complete it.
Usability: Bills are now linked to Purchase Orders with OCR.

Vendor Bill: Get the purchase reference on a bill's lines.

Integration with Approvals: Manage internal purchase requests and generate RFQs from Approvals.
Allocation: Customizing a specific appropriate flow as per the type allocation request.

Dashboard: See gray on non working days, better access to remaining leaves, and see the expiration date of remaining Time Off.
Employees: Use the employee timezone to compute allocated days, instead of used ones.

Security: Description and Time Off types are hidden for other employees. Everyone's menu refers to a calendar event.
Barchart Footer: The daily timesheet totals are displayed as a bar chart to highlight time distribution.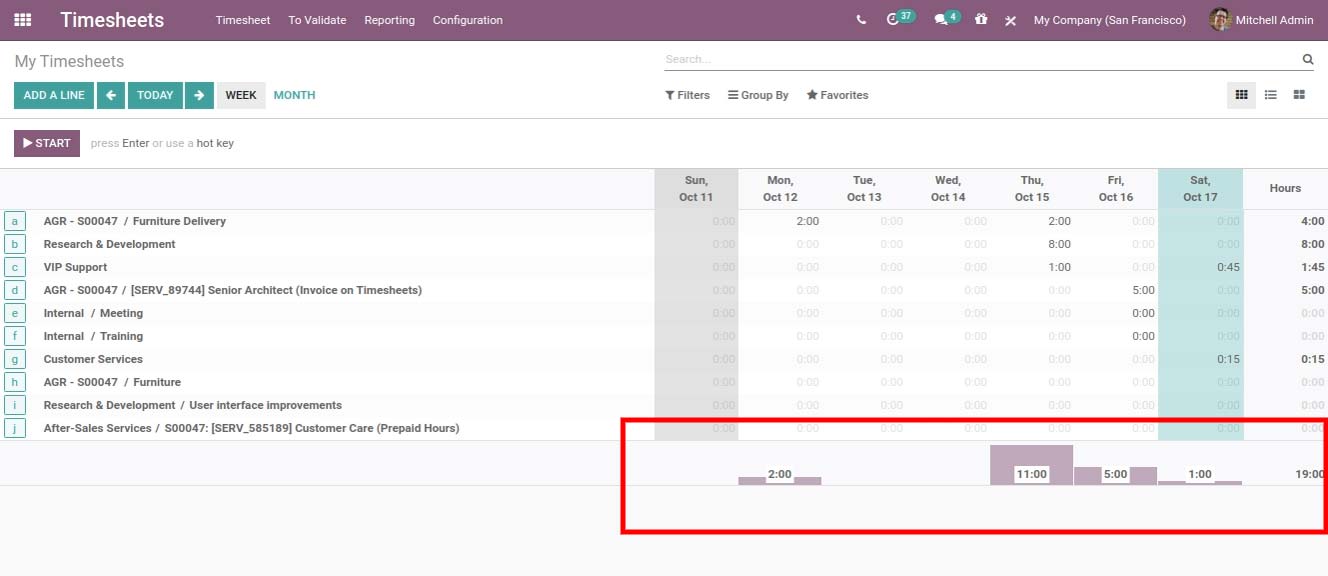 Encoding Unit: Timesheets duration is expressed in days on the portal if they were encoded as such.

Timer: Record time spent on projects and tasks using a timer. Use hotkeys to launch the timer, or to directly add 15 minutes to a given project and task.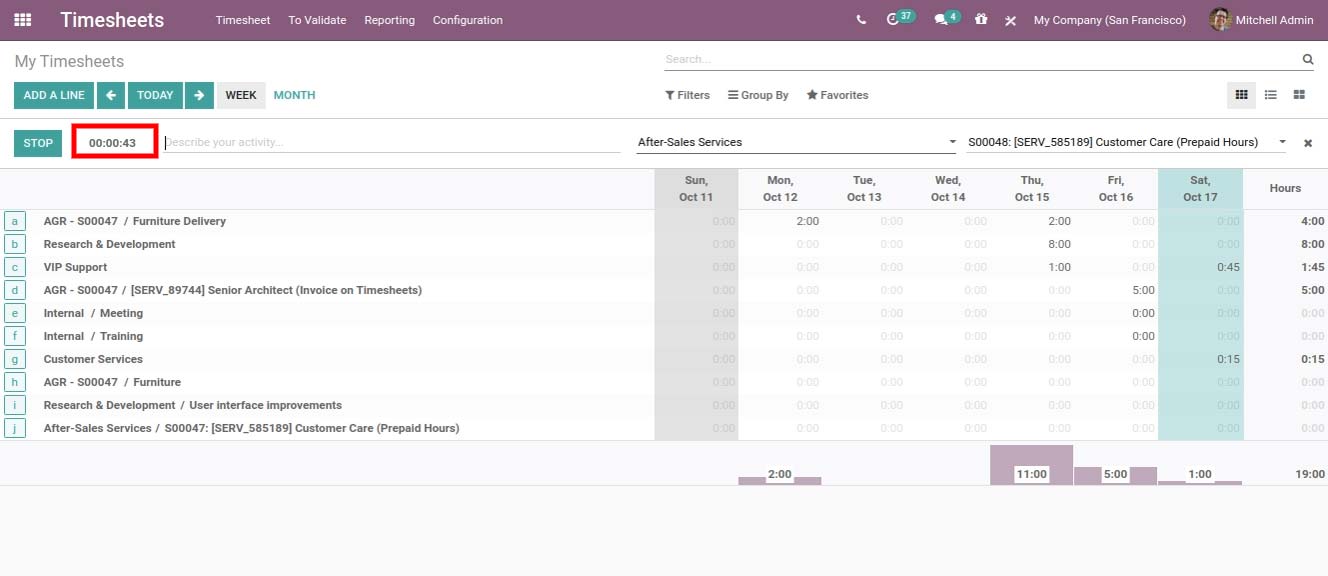 Usability: Hide or display optional fields in the list view and Validate timesheets in batches from the list view. Download the Timesheet app by scanning a QR code. Timesheets are automatically validated when clicking on the corresponding button. The remaining hours are indicated in the name of tasks when encoding timesheets.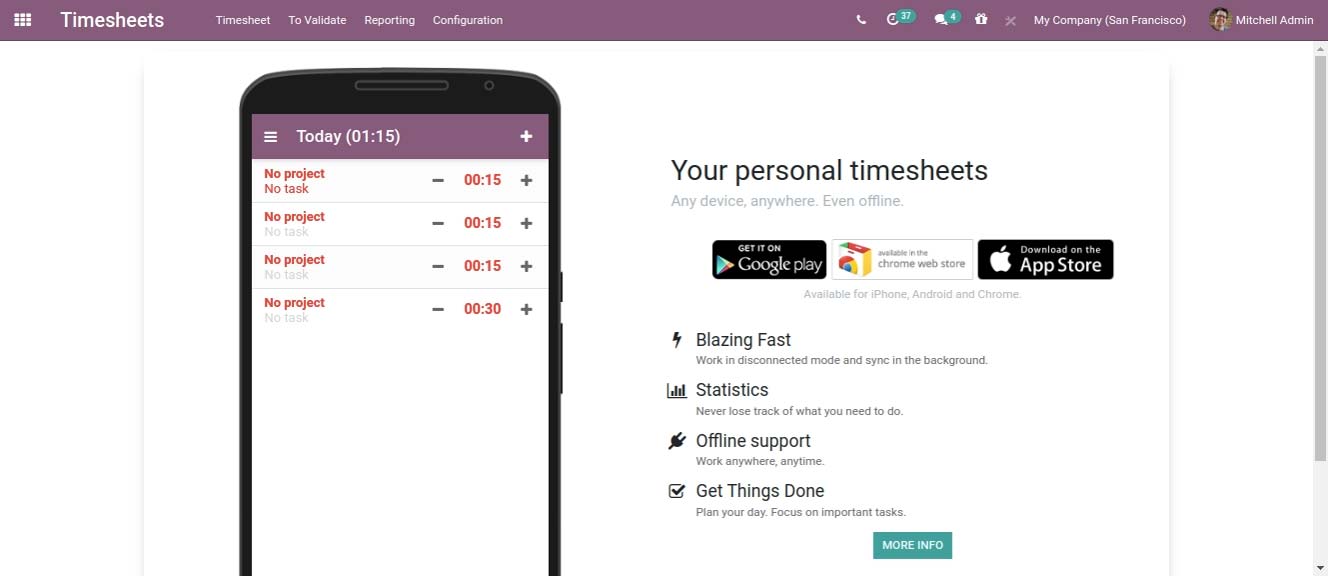 Call: Access the dial pad during a call. Use "Enter" to start a call. Particularly useful when a vocal menu is enabled.
Usability: After typing a number, hitting enter starts the call to increase efficiency and improve the user experience.

Usability: Better matching between phone numbers and contacts using standard E164 formatting.