New Features in Odoo 13
Marketing
With Odoo 13 website builder, you can create beautiful web designs out of the box without a designer's help. No matter where you build the website, whether on Odoo community or Enterprise, have static or dynamic content, you will now have a beautiful website.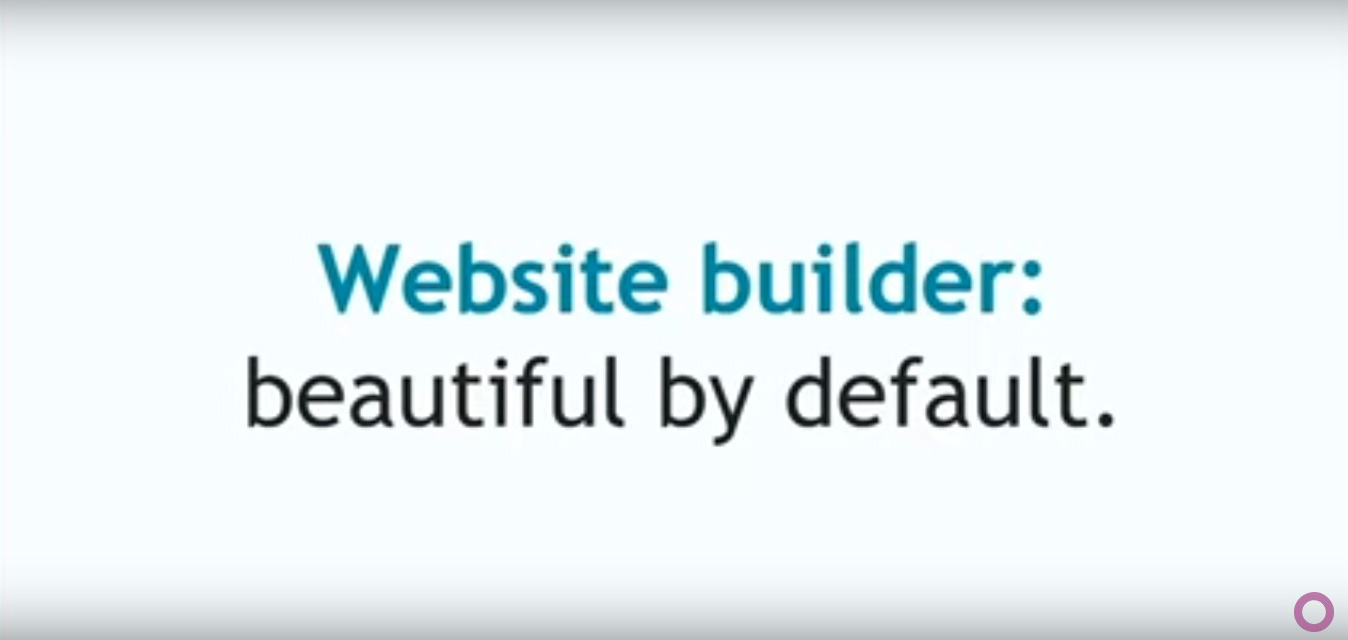 Also, the blog builder has a new design with brighter and larger images.
The forum also gets a new look. It's super clean with minimalist modern design.
Events page gets an overhaul too. It's become beautiful and has an intuitive design.
To make things all the more tempting, Odoo has made all official themes open source and free.
Improved building blocks mechanism for beautiful website pages. With the help of which you can easily change the background, add features, give padding easily, change the number of columns and a lot more. Within a few minutes, you can easily design the website.
Every component of the website is improved, whether it's the media manager, menu, footer, configurator. Big menu is added where you can add all services or products. You will have full control of the menu with click drag and drop items. You can also change color through toolbar.
As you build a wonderful website, the next step is to send traffic to your website for which Odoo 13 has come up with SMS marketing app. With this you can send SMS to abandon cart, for lead nurturing to attend an event etc.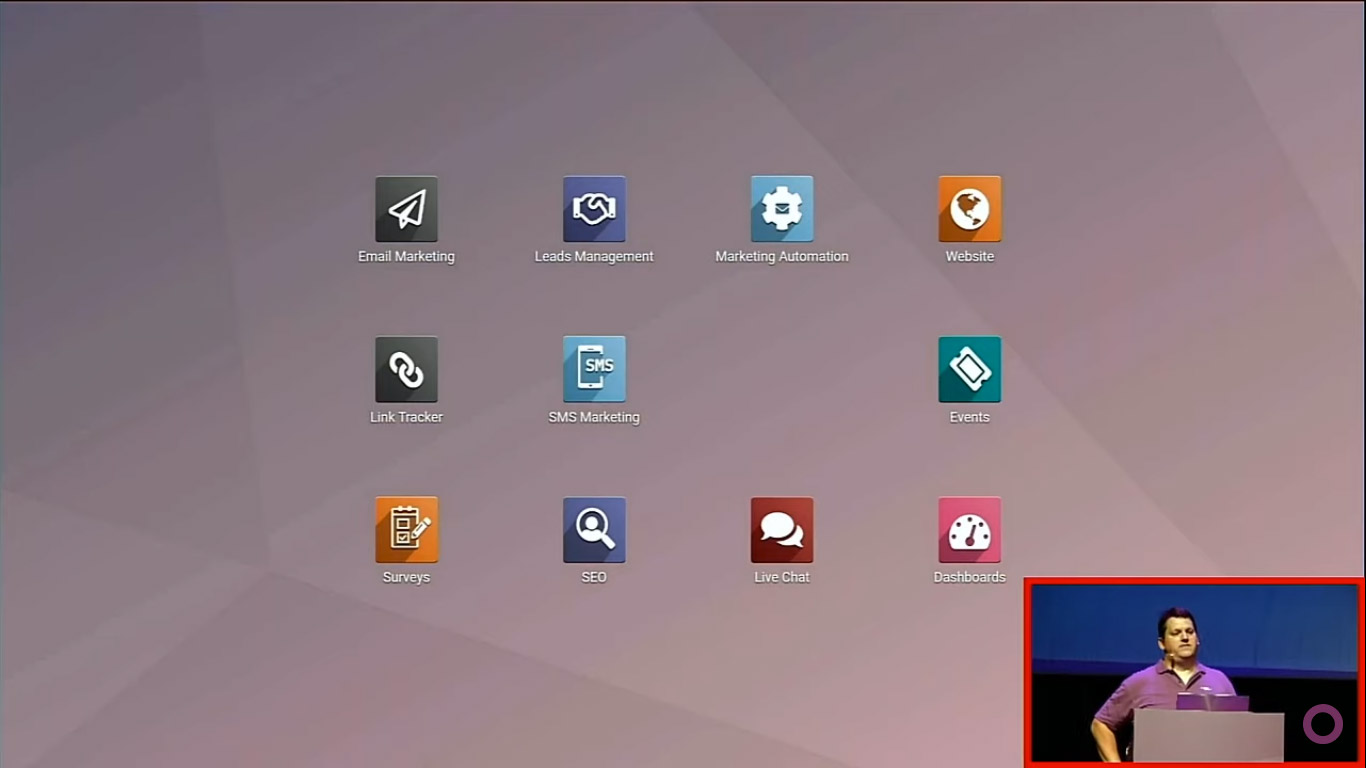 You can see the analytics of the SMS campaign like how many received, opened, clicked, lead generated, quotation and revenue generated. SMS to Accounting in the same software out of the box is what you get in Odoo 13.
Every social media marketer knows that consolidating analytics of different marketing channels takes time and does not make sense because they are not able to find the bottom line of why they are doing what they are doing. Hence Odoo 13 has come up with a solution where when you click on social marketing app, you have a full overview of what people are saying on your social channels.
With social media marketing app, you can refresh new content which gives you the option to see fresh content, change the columns of different social media channels.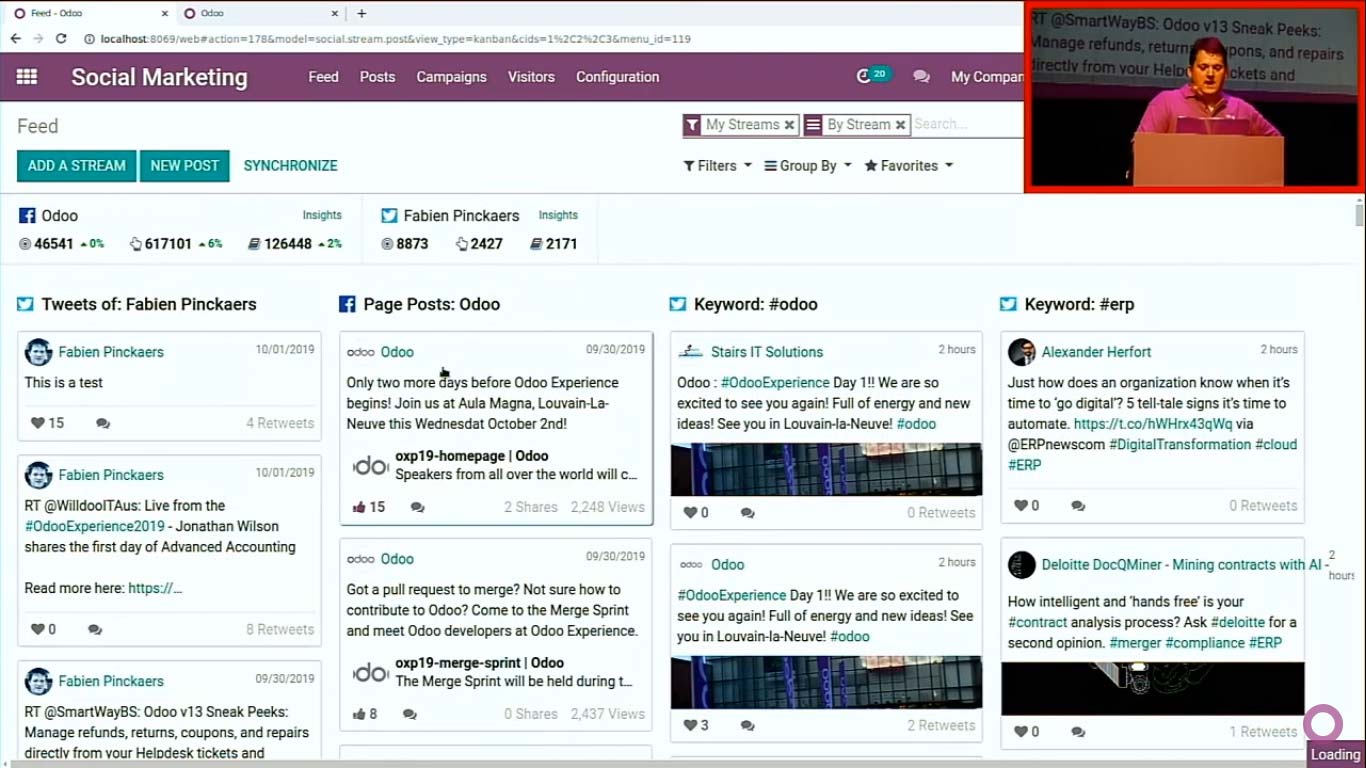 It manages all the different social accounts from one platform and you can click, see comments manage reply, all from one place.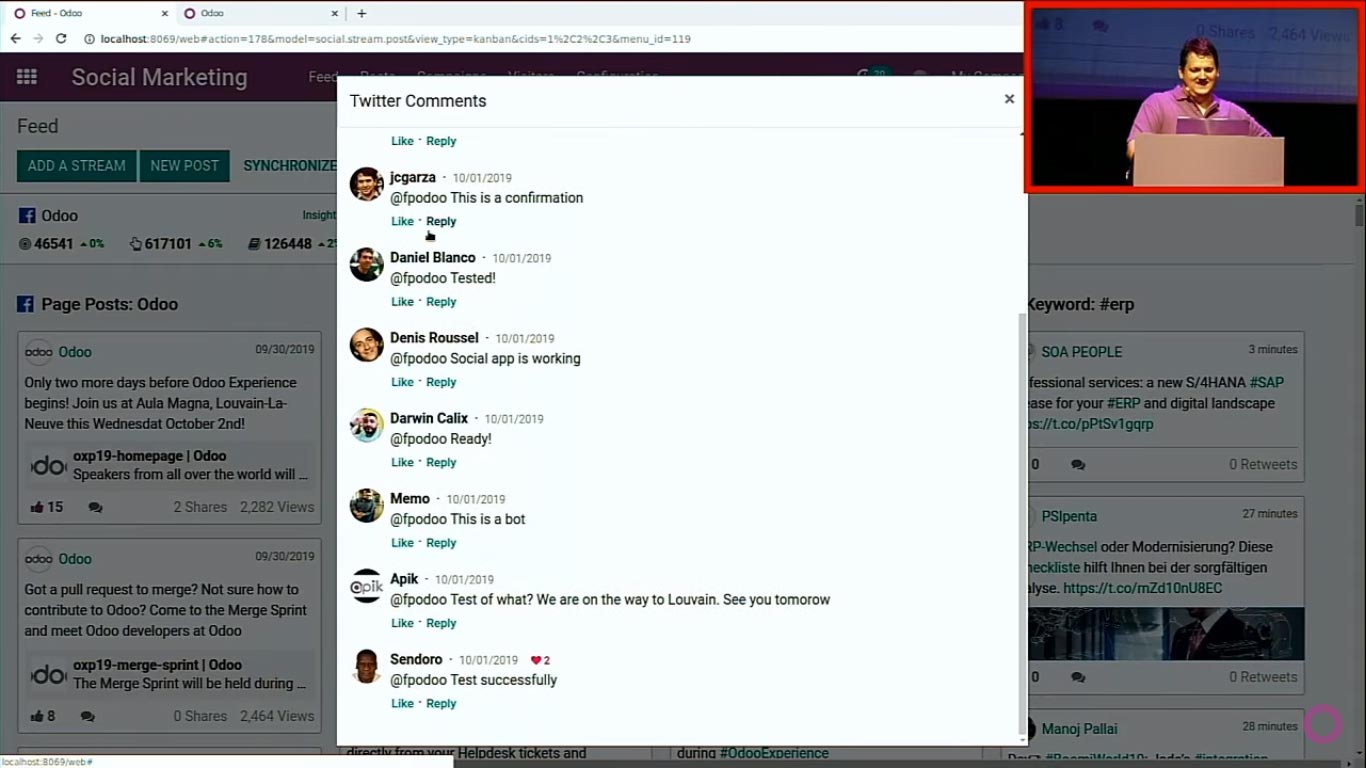 Statistics are consolidated on the top for every channel say Facebook, Twitter etc.separately.
Also, users can see what people are saying about an event by filtering by keywords.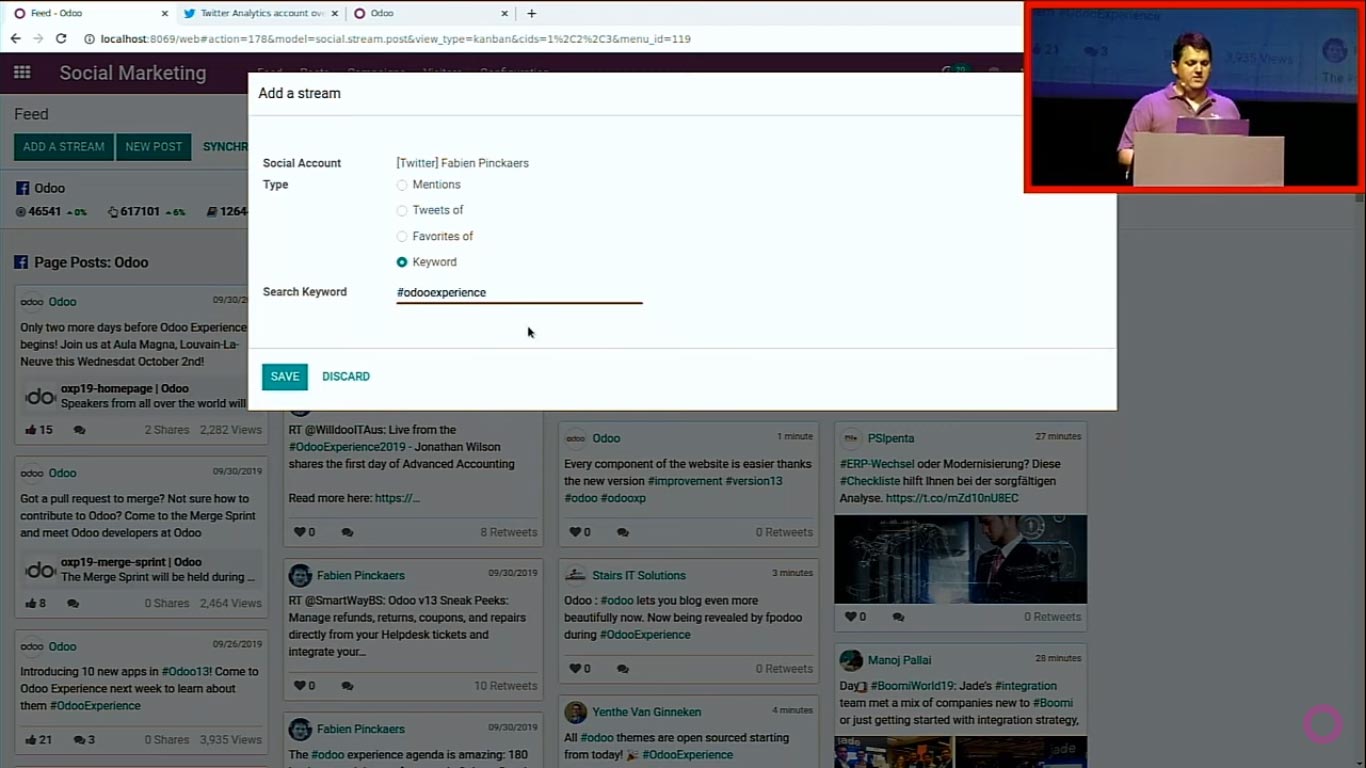 Users can create new post on different channels and schedule posts for a later time and organize your posting calendar.
You can easily send push notifications on the website with just a single click. The builder will show how the push notification will look like on the website. You can easily put a title, target url, image and schedule the notifications. Besides it will show the statistics of aggregated data on the same page.
Click on the new menu 'Visitors' and you'll be able to see all the visitors who are currently live on the website.
Next, there is an option to chat, send an SMS, or send email to the visitor who is live on your site. You can also create a lead directly in your CRM from the chat window with just a click.
Also, users can see what people are saying about an event by filtering by keywords.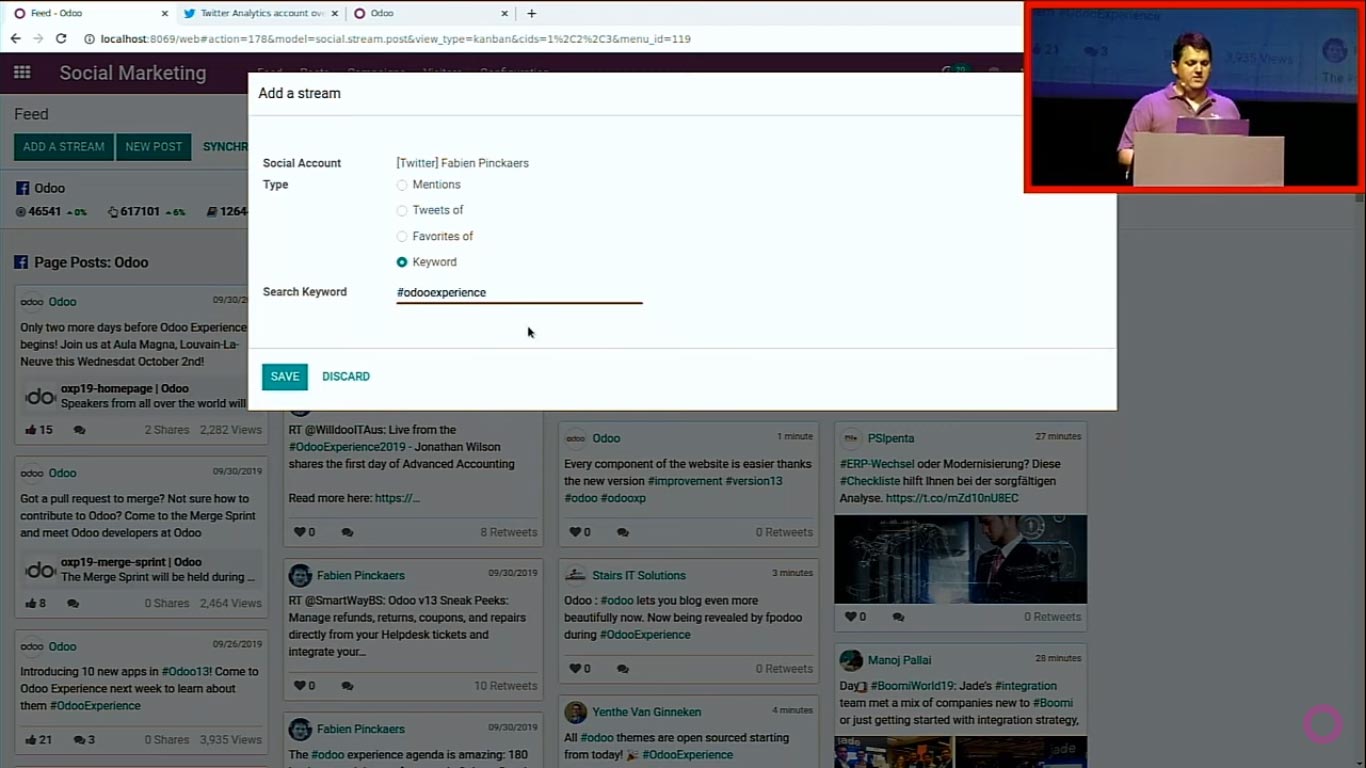 Users can create new post on different channels and schedule posts for a later time and organize your posting calendar.
CRM
Go to CRM and if the lead has not given out his relevant details or only given incomplete details, then the sales person can go to the lead and click on a new button 'Enrich' and all his details will be filled directly.
Artificial intelligence can gauge the probability of leads closing for you. It is based on various parameters of where the lead came in from and the accuracy of his data. Lead scoring is done automatically.
If your marketing campaign is not working upto the mark or its the slack time for your company, you can still keep the sales people engaged by generating new leads from Odoo.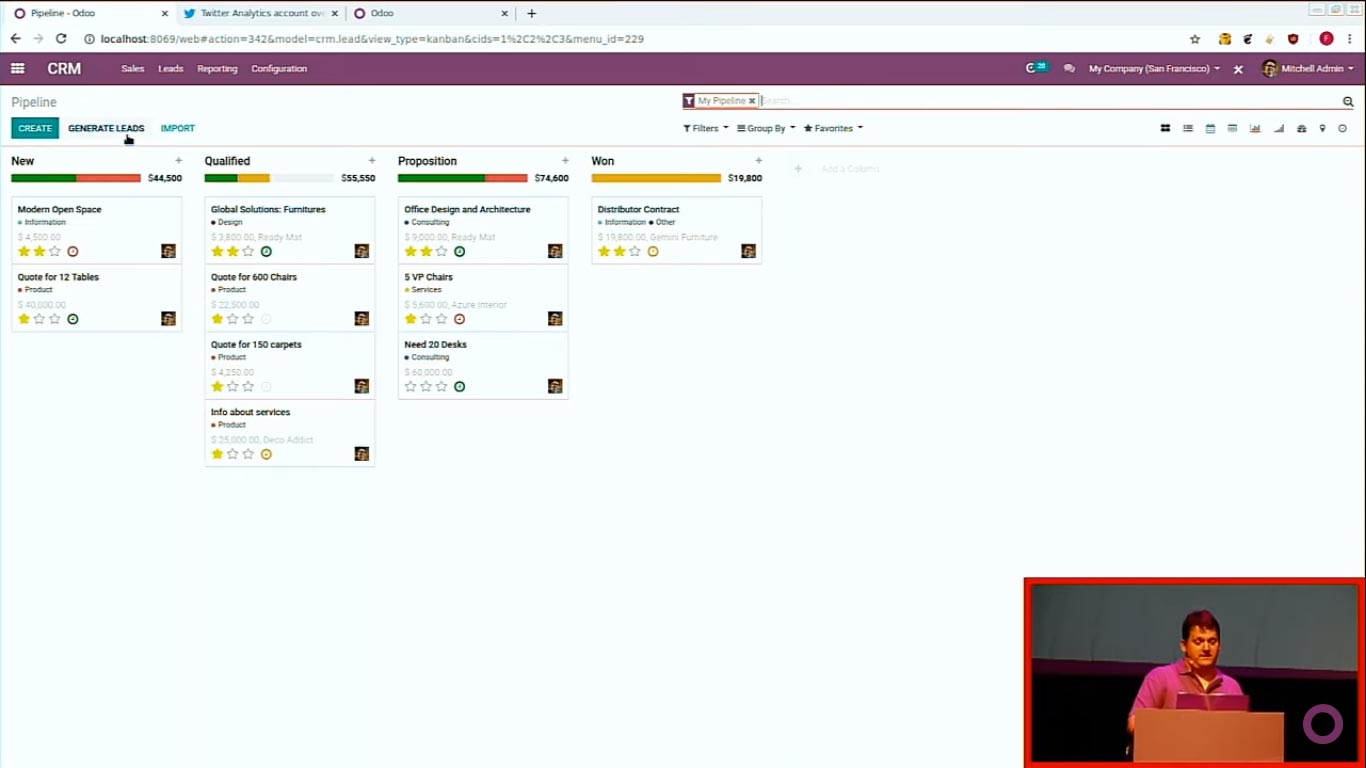 You just have to define the number of leads, demography, assign tags and click submit.
In case you want to visit the leads in person, you just have to click on the map and visit leads directly. Click navigate to and it will pick up the map from the GPS.
For value of the lead, put the formula for calculating percentage that you need to give to the partner or say as commission and it computes the revenue.
Quotation
In quotation app, you have the new icon gives the forecasted quantity and the units available. You can also configure item details according to the specs.
You can also give suggested products - bundle products. If you don't have Odoo, you have to think of all the possible combinations etc., to upsell. Interface remains same and simple.
Field Services
With the field service app, you can organize the tasks by day, stage etc. What job should be done at what location. You can do the planning by user, re-allocate tasks based on the availability of the field service representative. Kanban view is used to do all these tasks.
The field service representative can see the sites he has to work on. Worksheet needs to be filled by worker. He can add products and charges for the customer. Sign and send the report by email.
The field service representative can find all the maps with the best possible route.
Rental Business
Schedule and see reports according to date, week, month and year. It avoids multiple bookings or reservations.
Create a rental activity revenue by product or customer by quarter or month.
Product profitability can show you which product to rent at a higher price or stop renting. It's free and grow your rental business.
Inventory and Manufacturing
The user can put the manufacturing process on tablets to manage the production and edit it by adding and removing slides.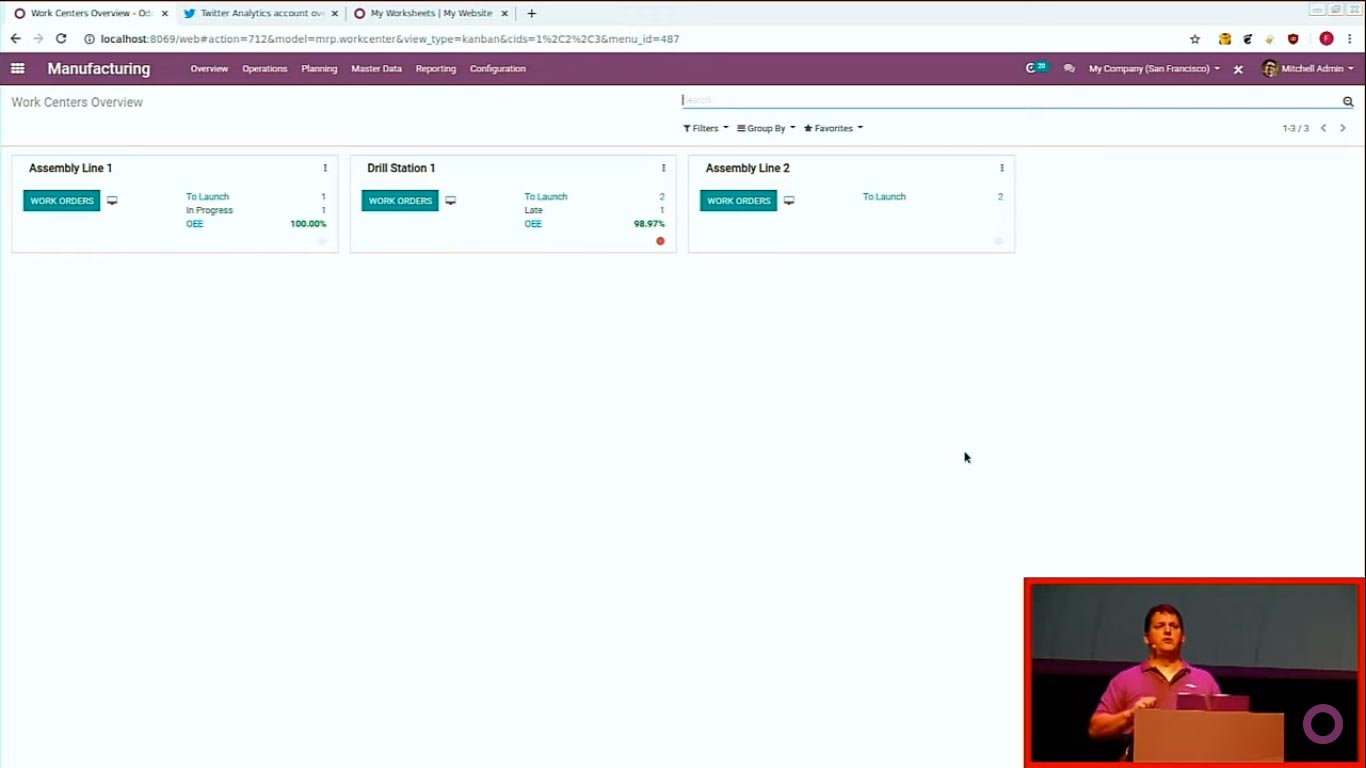 You can plan workcenter in gantt view. Change the work process by dragging and dropping.
Recruitment
Referral app is gamified to make it engaging for the employees.
Look for jobs on phone and refer them by emailing the job to them.
You can have complete visibility on the referrals you made and his progress. Gain rewards and go to the merchandise to purchase the stuff you like. Gamified referral program.
Onboarding / Offboarding Plan and Skill Management can be easily managed from the portal.
eLearning Application
As a teacher you develop courses, fine tune learning objectives and assess student progress.
You can publish courses for free or sell them.
You can add any type of content to the course be it presentation, text, webpage, video, quiz etc.
Use drag and drop to structure the course and publish when ready.
Students take the course and get rewarded.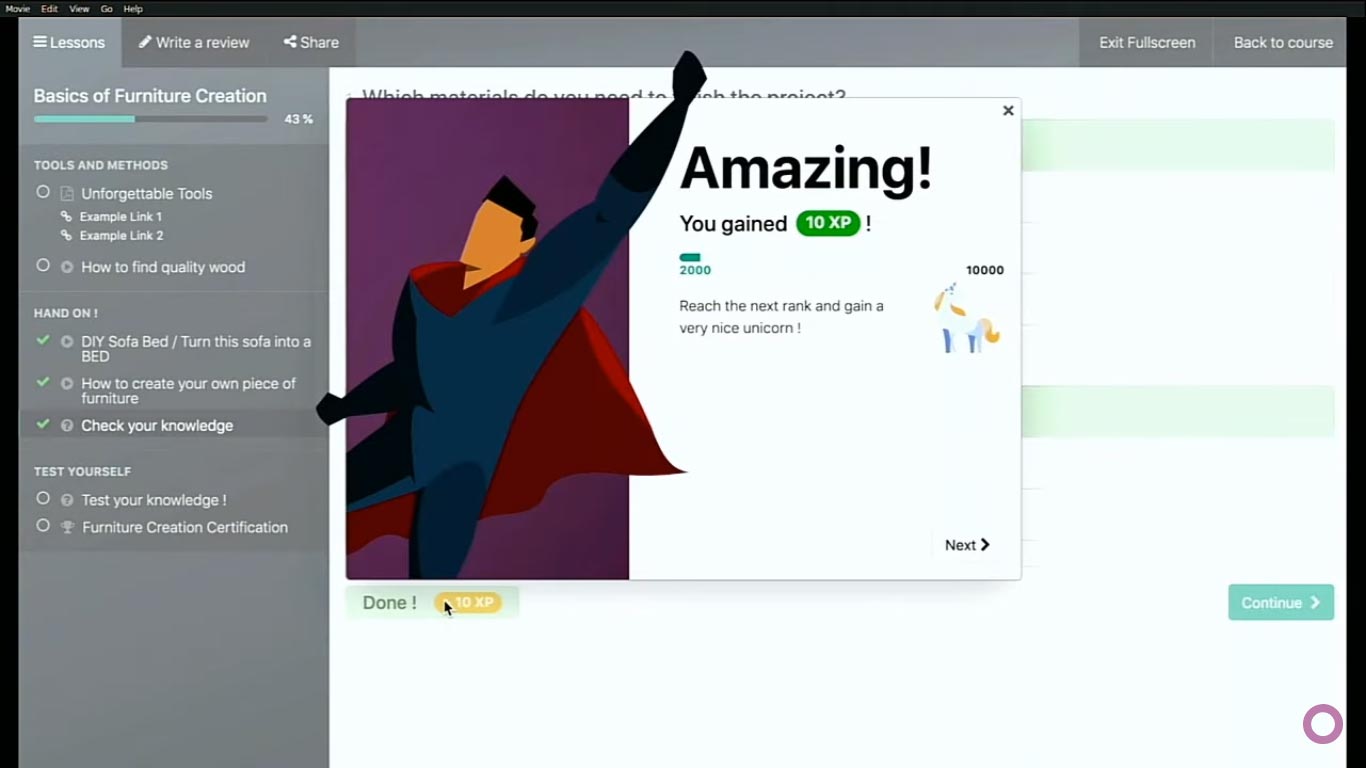 If they need help they collaborate with other students in the forum.
Shift Management System
Schedule the shifts with gantt chart. Drag and drop shifts. You can send the schedule to employees with just a button click. Create new shifts, repeat events.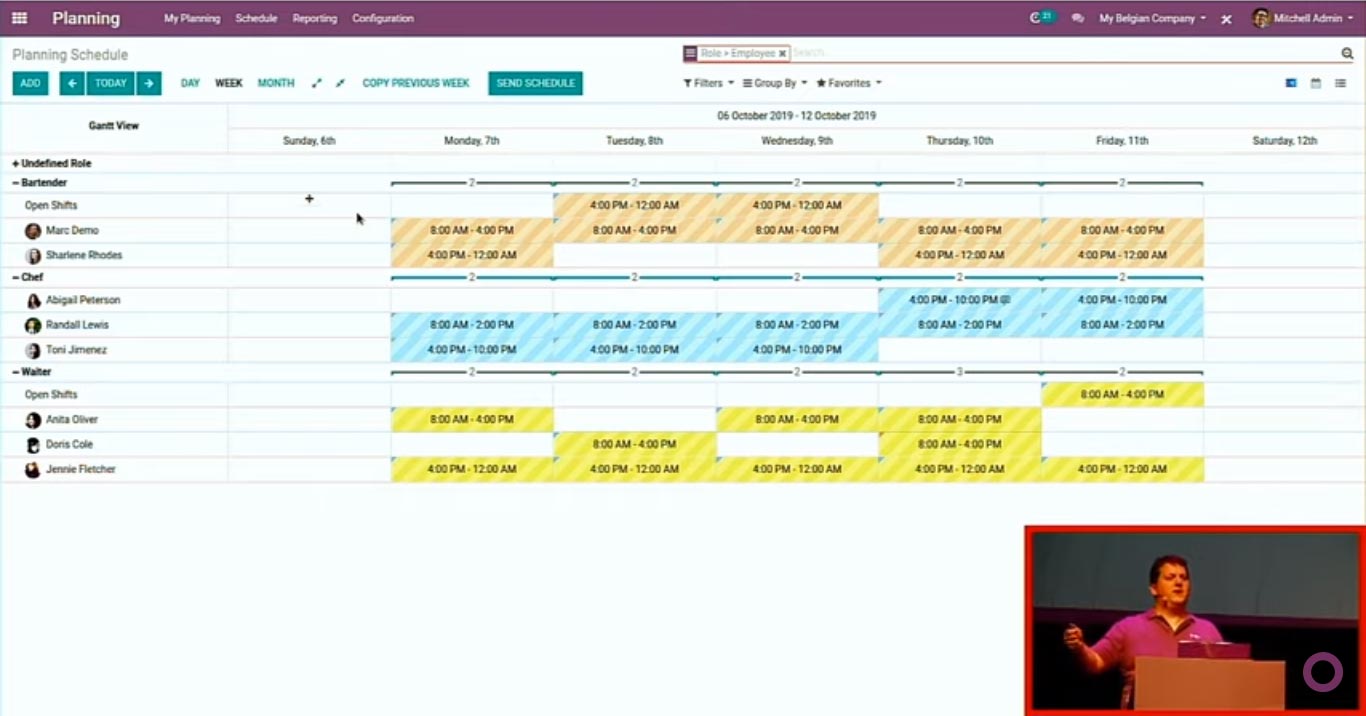 Accounting
Dashboard gives an overview of what needs to be done for each customer. If you click on the item it will jump directly to the action to be performed.
See if everything is correct and it's done. It will link to the bank account. Bill view is common for the normal user and the accountant. It also gives the ability to edit taxes according to the country.
Draft bill or draft invoices they are draft journal entries. New purchase journal entries. 'Quickexport' exports data on the current screen to the excel file. You can change the bill details easily without starting from scratch. Accrual entries have become easy. Reconciliation of bills is a piece of cake.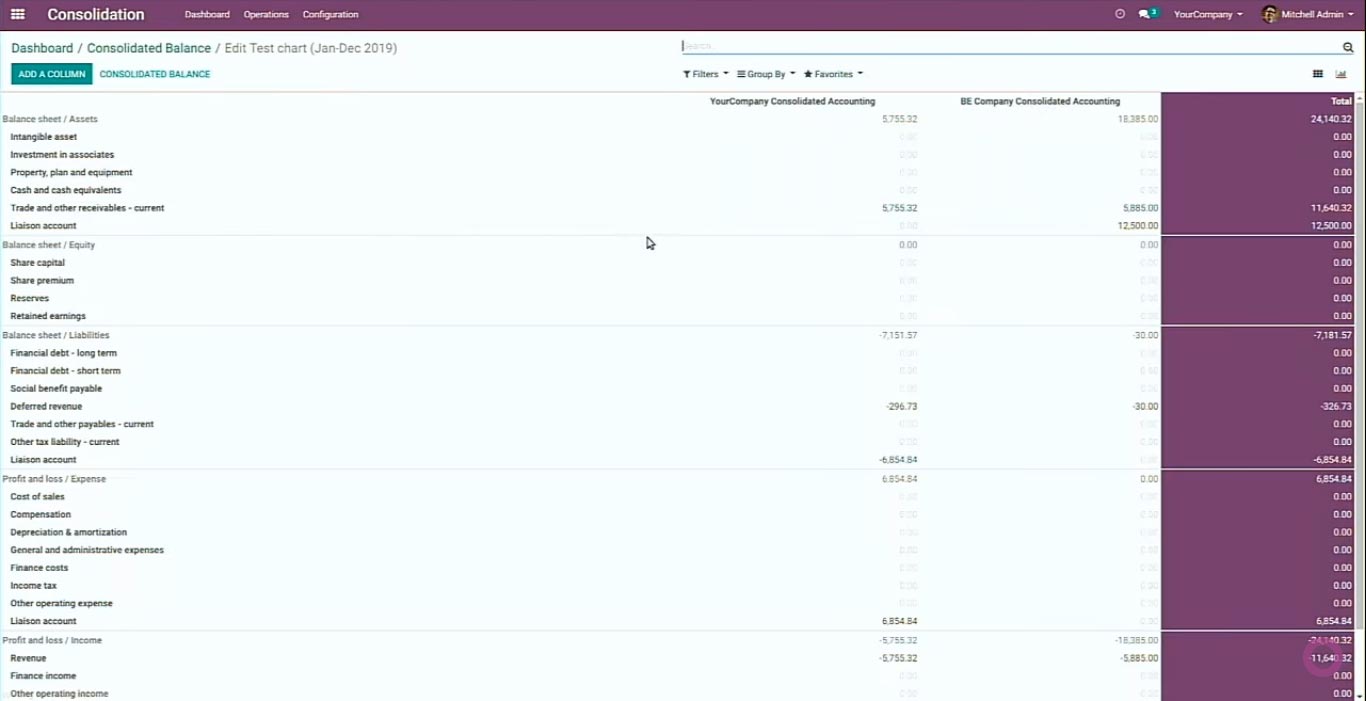 Killer Feature of Odoo 13 is …