Our Customer Reviews

"Pragmatic was too good and the instructor was too good in explaining the things."
Ahmad Khan-
Virtual Reality Solutions L.L.C KSA
Veterinary Medical Management
We Provide Health-care Management
With Odoo 9 Veterinary Medical Management, Pragmatic has launched another new and advanced Product in the field of Health-care Management. This Product comes with many features like Pet information Management, Appointment Management, Laboratory Management, ICU Management, Invoices Management (Invoice in Pet Owners name), Pediatrics Management, Stock Management.
Features of Veterinary Medical Management
We Provide Health-care Management
A) Basic Configuration Forms :
1) Laboratory

Lab Testing Units and Lab Tests can be Configured
2) Diseases:-

14181 diseases are pre-configured in the system according to ICD-10 standards and new additions in the list can be made
Pathology Groups can be created
248 Diseases categories are pre-configured in the system and new additions can be made
3) Medical Procedures:-

72589 medical procedures are pre-configured in the system. New additions can be made
4) Health Centers:-

The Hospital Infrastructures Hierarchy is maintained using Health Centers, Health Center Buildings Wards, Health Center Beds, Health Center Operating Rooms
5) Physicians:-

Physicians can be configured along with details like Name and address etc
6) Medicaments:

Details like Dosage frequency, Dosage units, Administration routes, medicament units, medicament forms etc can be configured. 375 medicaments are configured by default in the system

7) Genetics:-

4298 genetic risks are configured by default in the system
Miscellaneous features like Medical Specialties (58 pre-configured), Occupations (653 pre-configured ), ethnic groups, Recreational drugs etc can be configured in the system
B) Appointments:-

Creating Appointments for the patients
Maintaining the status of the Appointments whether the appointment was done or not
Can list out all the Appointments of a particular doctor
Adding prescriptions related to the Appointments
Adding Pediatrics Symptom Checklist for the Patients
C) Inpatient Registration:-

Creating records for Patients Admitted to the hospital
Adding details related to Therapeutic Diets Beliefs etc
Adding Medicines provided to the patient
Adding Nursing Plan and Discharge Plan
D) Intensive Care:-

Adding patient ICU information like Mechanical ventilation History, Admission Date etc
Calculating Glasgow Coma Scale ( GCS )
Calculating Electrocardiography ( ECG )
Calculating Acute Physiology and Chronic Health evaluation 2 ( APACHE 2 ) score
E) Patients:-

Creating Pet Patient Records with Patient details like Name, Owner's Name, Owner's Address, Gender, Birthday, type of Pet, Breed, etc
Adding other information like Diseases History, Medication given so far, Appointment History of patients, Patient Diet and Exercise details, Patient lab Tests, Patient Genetic Risks Details, Patient Gyneco details, Patient Obstetrics Details, Patient Surgery details, Patient Socioeconomic Details etc
F) Nursing :
1) Roundings

Patient Rounding details can be added like Six P's, Vital Signs, Diuresis, Glycemia etc
ICU rounding evaluations details like GCS, Pupil Dilation, FiO2, PEEP, SCE, Oral Mucosa Lesion, Chest Expansion details, Cardiovascular details, Blood and skin evaluations like Bacterimia, Surgery site infection, Wound Dehiscence, Necrotizing fasciitis etc, Digestive and Abdomen evaluation etc can be added
2) Patient Ambulatory Care

Details of the procedures done, Temperature, heart rate, Respiratory rate, medication and vaccines provided etc details are mentioned
G) Pediatrics:

The new born details like Baby's Name, gender, Length, Cephalic Perimeter, Weight, Date of birth, doctor in charge etc are maintained
Neonatal Signs and Symptoms like Meconium, Positive Barlow, Talipes Equinovarus, Transversal Palmar Crease, Syndactyly etc are maintained
Neonatal Reflex Check details like Grasp Reflex, Swimming Reflex, Babinski Reflex, Moro Reflex, Sucking Reflex etc are maintained
Pediatric Symptoms checklist is maintained
H) Laboratory:

Create Lab test Requests
Create Draft Lab test results in the lab test templates provided
Enter the Lab test results in the lab test templates
I) Invoices

Creating Invoices for Lab test, Appointments, Prescriptions
The invoice are created automatically on the pet-owners name
Automatic Entries in the Balance sheet
J) Reports

Medicament List Report
Appointment evaluation per doctor report
Appointment evaluation per Medical health Service Report
Appointment evaluation per Prescription Report
Appointment evaluation per Specialty report
Pre-configured Veterinary Diseases
System has 117 pre-configured list of Veterinary diseases and user can create more. User can maintain extra information like nature of diseases, causes behind same and primary care to be taken into consideration against the diseases. Diseases history can be maintained for the patients.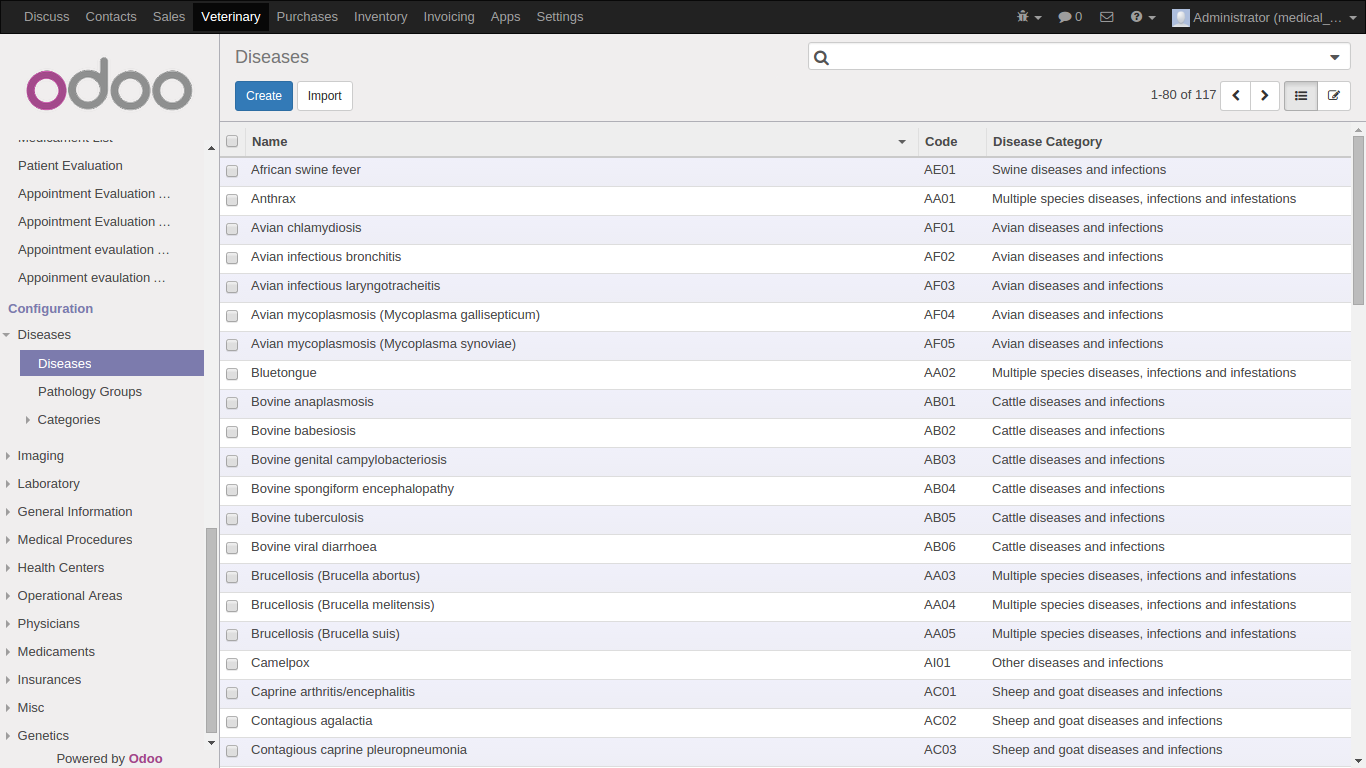 Pre-configured Lab Test
System has 17 pre-configured lab test and user can create many more. In lab test request we can select appropriate test to be performed on the patient and that can be invoiceable.
Pre-configured X-Ray Test Type
System has 16 pre-configured list of dental X-ray test type and user can create more as per need. X-ray type type are used to manage X-ray results in the system in details.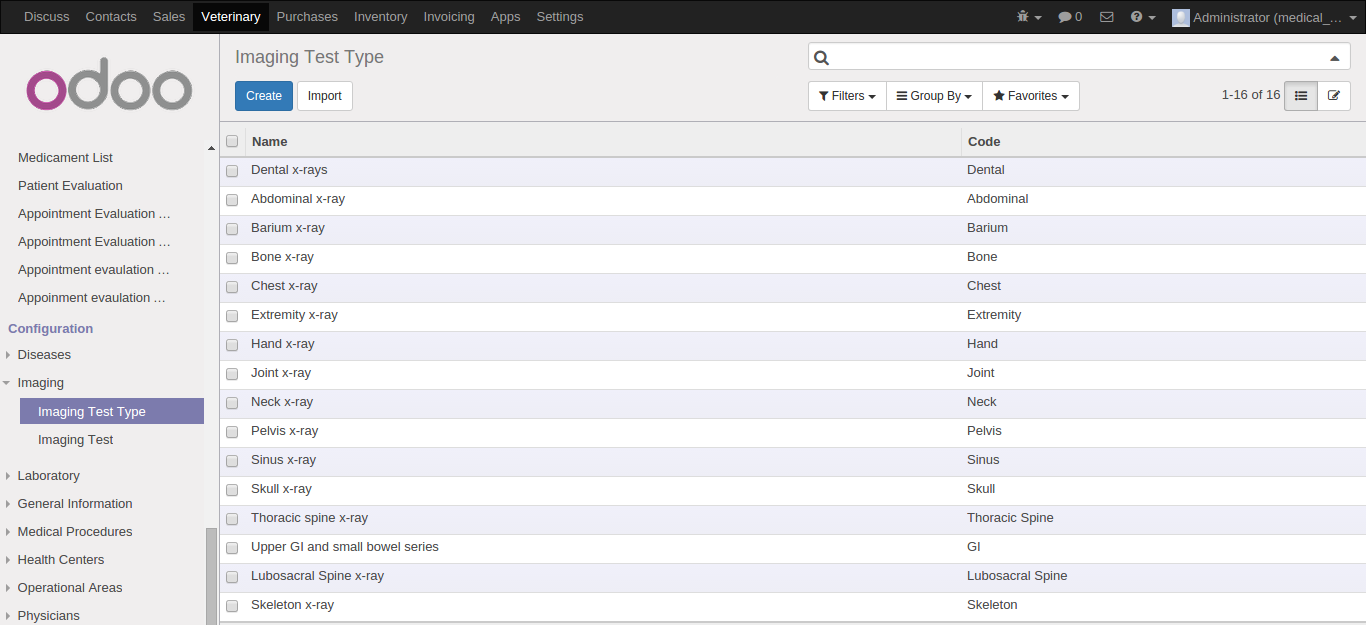 Patient details can be maintained
Patients details can be maintained along with pet-owner details, pet type, breed, Insurances, Diseases, Socio-Economic conditions, Lab Tests.
Patient Family details can be maintained
System allows maintaining family details of the patient. Patient belonging to one pet owner can be list out.
Appointments with Prescriptions can be maintained
Appointments can be maintained with prescription and Pediatric Symptoms checklist if applicable. System can generate invoice if record is Invoice exempted.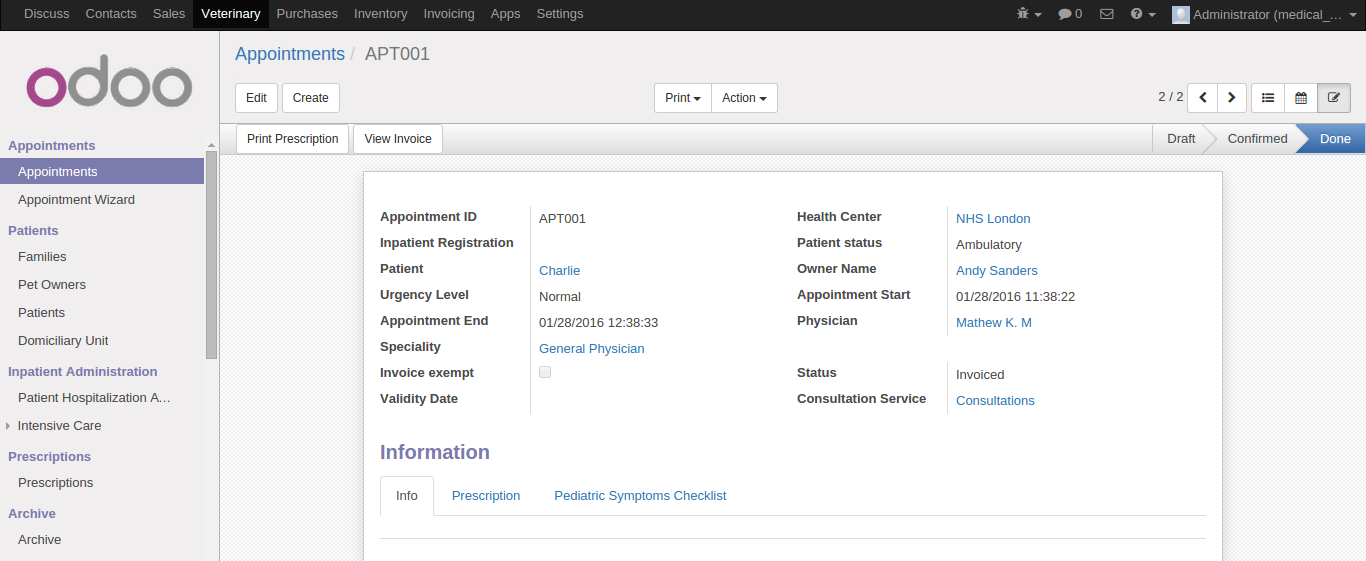 Lab Request can be maintained
All lab request can be maintained for the patients. Lab request can be invoiced. Lab result can be maintained and report can be print for the same.
X-Ray Can be maintained
System has facility to maintain all x-ray request against any patient. System can create more than one X-ray request at a time. Once processed X-ray results can be stored in system as an attachment. System is able to store its results as per date and time of X-ray request.
Patient Hospitalization
Records of the patients admitted in the hospitals can be maintained. In this, information like Diet and Nutrition of the patient, care plan etc are added as well. ICU details can also be maintain for the same.
New Born details can be maintained
New Born Record can be created in which details like Neonatal Signs and Symptoms , Neonatal Reflex check etc can be recorded.
Patient Billing
System provides an option to do Patient Billing against Scheduled Appointment, Prescriptions and Lab Tests. Maintaining patient billing is simple and easy.