Pragmatic Techsoft ensures the fit of provided Flutter candidates
Cultural fit check
It's very important to find such developers who are on the same page with the culture of your company and shares the same values.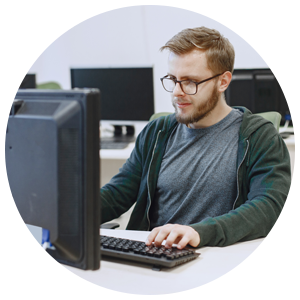 Technical skills check
Each Flutter developer performs a unique relevant test task. Our senior developer also conducts a technical interview to confirm their ability to deliver.
Communication check
It's not enough for a developer to just be a good coder. Pragmatic also checks for must-have traits like initiative, proactivity, and great communication.
High ROI IT Solutions are built by Great Talents. Pragmatic Techsoft helps you to find them.
92%
of candidates pass the probation period
74%
of staff work over 12 months
Client Experiences
Client satisfaction is our top priority, which is why SMB, enterprise, and startup clients continue to work with us. Here's what they had to say about Pragmatic Techsoft:
I'm working with Pragmatic Techsoft for a year already and I like that I don't need to go in detail describing every moment, team members are proactive and always open to share good ideas with us.
Jarbtech Solution Group
CEO
Pragmatic Techsoft helped to build an amazing development team that eventually transformed into our Ukrainian subdivision. The team that was built by Pragmatic is very involved in the development and plays a significant role in growing our ERP product solution.
ERP Software company
Product Owner
I'm working with Pragmatic company already a few years and very happy with their services. Both Android and iOS developers are professional and dedicated to their work. The team is flexible and easily adjustable to any product changes.
Zebra Technologies
Senior Product Manager
These guys know what they are doing. One thing we particularly enjoyed about working with Pragmatic Techsoft, was that they took the initiative and created mockups / templates and asked us to choose.
VONN Lighting, Long Island City, NY, USA
Zak Kerns
Pragmatic Techsoft team developed high quality and up to the recent web design trends website in less than three weeks! It is easy and fast to communicate with them. They delivered customized unique solution for us.
Deltason Medical LTD & Rehab-Robotics CO LTD
CEO
Engagement Models to Hire Flutter Developers
Hiring a Flutter Developer is now easier with respect to your requirements. Being a top Flutter development partner in USA, Canada and Europe, Pragmatic Techsoft provides flexible hiring models from which you can select the best suitable one to your project. Our Flutter developers for hire can be leveraged on full-time, part-time or on an hourly basis.
Hourly Hiring
Prefer better half for your business
Duration: 8 Hrs/Day - 5 Days/Week
Billing: Weekly/Daily/Monthly
Timeline: Based on Project
Full-Time Hiring
Only works for you
Duration: 8 Hrs/Day - 5 Days/Week (160 Hrs/Month)
Billing: Monthly
Timeline: Based on Project
Part-Time Hiring
Need a few hours of attention to the work
Duration: 4 Hrs/Day - 5 Days/Week (80 Hrs/Month)
Billing: Monthly
Timeline: Based on Project
How to Hire Flutter Developers through Pragmatic Techsoft
Share requirements
Talk to our manager to explain your technical and soft skill requirements for candidates, as well as your success metrics for the hire.
Interview Flutter candidates
Get carefully selected professionals from Pragmatic Techsoft.
Begin working with
The passionate and professional developer that will help your company achieve its goals.