 Tours And Travels Management
Let Odoo work to improve your standing as a preferred tours and travels management software operator of choice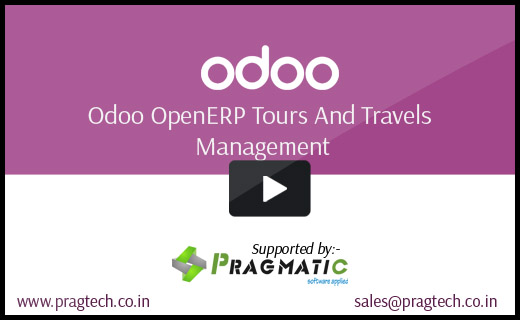 Our tour module helps in managing contract with all your suppliers to manage your accommodation, transportation, restaurants, guides and other logistical requirements.
Tour Itinerary can be sent to customers via email once they book the tour.
You can vary and configure accommodation prices based on date range
Pricing for the packages can be set according to the currency and can be calculated as per the exchange rate of the selected currency.
With the help of this module, the tour operator can also calculate cost per person for adult and child.
Tour operator can define Sales price and cost price to maintain a margin
Odoo Tours & Travels Management Features
Contracts Management
Tour Iterinary
Package Pricing
Cost Calculation
Margin Maintenance
Features Installed on Tour Module
Configurations
Tour module helps the user in creating contracts for specific and relevant suppliers for services like Visa, Tickets, Meals, Guides, Transportation, Accommodation etc.


However, the module does not allow the contract to be overlapped for same contract type, interval and Supplier.


It is also a must that the tour contract is in running state for considering prices for Visa and other logistic services.
Contract Creation
It is a mandatory requirement of the tour module that the contracts must be in running state for considering prices for defined hotels here.
The tour operator can add items to specify seasons for selected hotel.
Season Configuration
We can link tour with a season. This will help user to filter out list of tours getting conducted in a particular season.
Package Creation
The tour module allows the tour operator to create packages. For creating packages, you need to go to Tour & Travels > Package > Package.
Is Package must be true: When creating package in this tour module, 'Is package' Boolean must have to be True to consider this as a package.
Number of Participants: Group of package created for entered number of members specified in this field in the tour module.
Arrival & Departure Date : The Odoo tour module also has the provision where itinerary lines are automatically generated from this specified dates. One has to fill other details like description, time and meals.
Hotels
The tour agency can easily book hotels for convenient days from itinerary -
Category : The tour operator needs to select the hotel category.
Supplier : It allows you to select supplier those already have contract available in running state between arrival and departure date of package.
Days : It allows the tour operator to select convenient days from itinerary and other details like room, room type, price will be populated automatically based on selected days from available contract for hotel and its season. The tour operator can change this detail also.
Transportation
In the tour module, the contract should be available in running state between date range of package. Price and hours can be auto populated based on selection of product and supplier.
Other Service
Other service section shall incorporate all the other addon services like Entry fees etc.
Passenger
In the tour module, passenger list needs to be listed along with the Age, Gender and Type (Adult / Child). Based on the above criteria system generates final price for the tour booking. Same list is auto populated in Hotel Booking screen and Transportation booking screen. Odoo creates equal number of hotel booking records where destination is marked as "Night Stay".

Hotel booking passenger list:
Hotel Reservation for same tour booking :
Transportation Reservation for same tour booking
Profit Price
In the tour module, 2 parameters of profit pricing is taken into consideration. One is fixed and the other is percentage price.
Fixed : Fixed amount applied on selling price only.
Percentage : Entered percentage is calculated for selling price only.
Note* - Except hotel price all prices total divided by number of participants.