Odoo FreshBooks Online Integration App
FreshBooks is a cloud-based accounting software service designed for startups and small business owners. The tool is valuable for small client-service businesses that send invoices to clients and get paid for their time and expertise.

It has been noted that for these small businesses, as they continue to scale up they would require a wider range of software to easily manage other aspects of their business. Typical examples may include areas like Products, Inventory, Purchase, CRM, HRM, E-commerce, Logistics, Helpdesk.

For these small businesses managing the data between FreshBooks and other third-party tools (such as the ones mentioned above) can be a challenge.
It is here that Pragmatic came up with a scalable, robust, and dependable technology solution for these small businesses. With the help of an integration app, Pragmatic provides an integration bridge between Freshbooks and Odoo (currently, the most popular suite of business application for SMBs). The small business owner is the eventual winner here as he can now utilize both the platforms together and get the best of both platforms.

Odoo Freshbooks online connector exports invoices/bills from Odoo and get them paid in FreshBooks and import paid invoices/bills into Odoo.
What elements can be transposed from one platform to another and back?
This connector will help the user to import or export the following objects:
Import / Export Master Data Customers, Taxes, Products, Invoices, Payments.

With this integration, all accounting information from various technology applications like Inventory and Warehouse Management, CRM, HRM, Helpdesk, Project Management could be easily transitioned back and forth between FreshBooks and Odoo.
Benefits of the Odoo FreshBooks Online Integration App
The app is proven to deliver High Rated Outcomes:

It reduced dependency on manual entry of data
Saved time for duplicate record keeping from external systems to FreshBooks
Substantially brought down human errors
Enabled quicker insight generation on organization-wide finances
Insight generation is now made possible across the board as compared to siloed approach of the external systems
Odoo FreshBooks Connector
Odoo-FreshBooks Online (FBO) connector is used to export invoices/bills from Odoo to FreshBooks and import payments back to Odoo.
Following are the features:

Import FBO Customer into Odoo
Import FBO Taxes into Odoo
Import FBO Products into Odoo
Import FBO Invoices into Odoo
Import FBO Payments into Odoo
Export Odoo Customer into FBO
Export Odoo Taxes into FBO
Export Odoo Products into FBO
Export Odoo Invoices into FBO
Configuration
Users can find FreshBooks Connector configuration on the company form.
Go to "Settings ➡ Users ➡ Companies". Select the company for which you want to configure your FreshBooks Connector app. Provide appropriate Consumer Key, Consumer secret key, Authorization URL, Authorization Token URL, Redirect URL, etc.
Synchronization
Import Function
This connector provides a single solution for all your FreshBooks data imports. You can import Contacts, Taxes, Invoices, Products and Payments – all from one single window.
Export Contacts
You can create contacts in Odoo and export it to FreshBooks through the contact form or list view. You can export multiple contacts from Odoo to FreshBooks at one go..
Import Contacts
Export Taxes
You can create Taxes in Odoo and export it to FreshBooks through Taxes form or list view. You can export multiple Taxes from Odoo to FreshBooks at one go.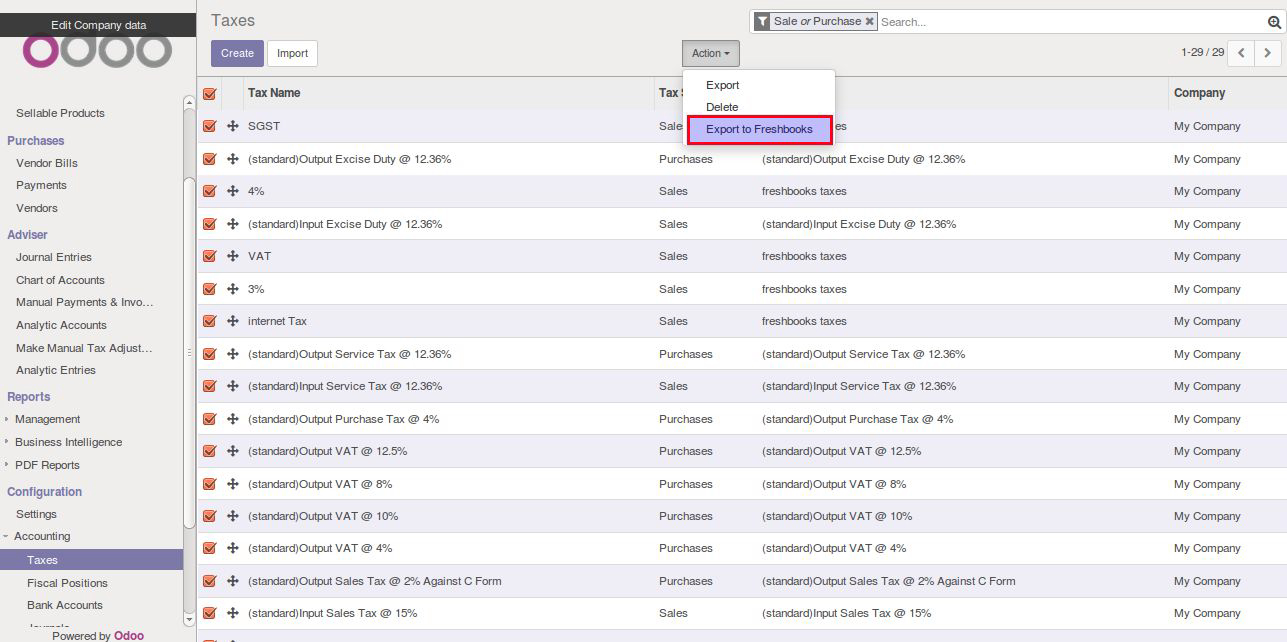 Import Taxes
Export Products
You can create products in Odoo and export it to FreshBooks through Product form or list view. You can export multiple products from Odoo to FreshBooks at one go from a single window.
Import Products
Export Invoices
You can create Invoices in Odoo and export it to FreshBooks through the Invoice form or list view. You can export multiple Invoices from Odoo to FreshBooks at one go from within a single window.
(Note: Only Open state Invoices can be Exported to FreshBooks)
Import Invoices