Automate Repetitive Activities, Focus More on Business Growth.
Business Automation has become an integral aspect of modern-day enterprises to manage operations, streamline processes, and optimise workflows. Any business can benefit from essential automation apps regardless of its nature and size. The best part is, each of these apps can be easily customized for your business.

It is always better to use one software instead of a bundle of different applications for each process. That is precisely why our software product is one of the best automation solutions out there. It is specifically designed to address the needs of contemporary business enterprises. Moreover, it is an API-friendly platform with a broad range of other app integrations, including Whatsapp, Google Maps, and Amazon.
Dynamic Odoo Apps Integrated In Our Bath Products Business Software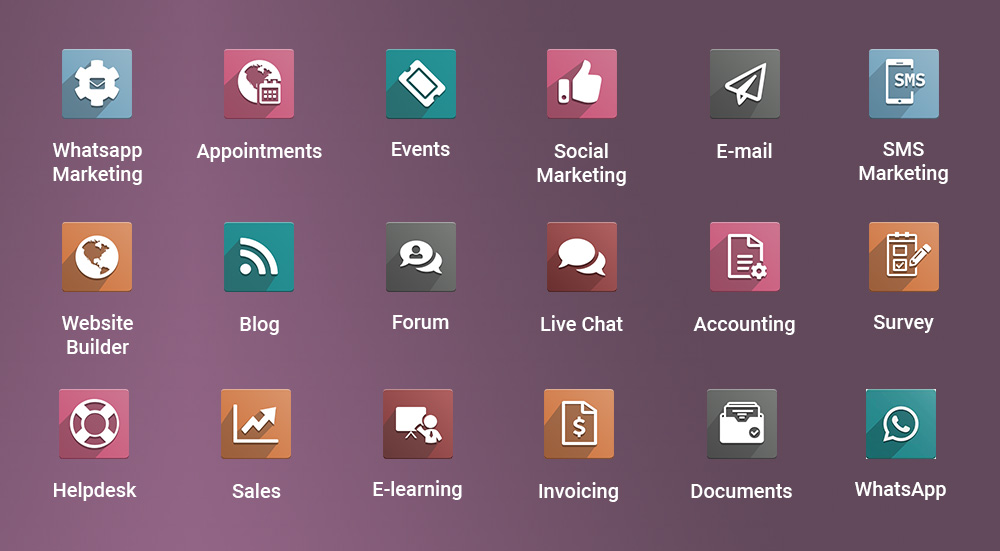 Marketing App
Grow Your Customers' List by Automating Marketing Activities
Create automatic & targeted marketing campaigns centred around your prospects.
Integrate lead generation, nurturing, and conversion processes.
Craft sophisticated end-to-end customer journeys.
Trigger any necessary action to streamline your workflow and scale your business.
Our tool goes beyond marketing by automating every department's business processes.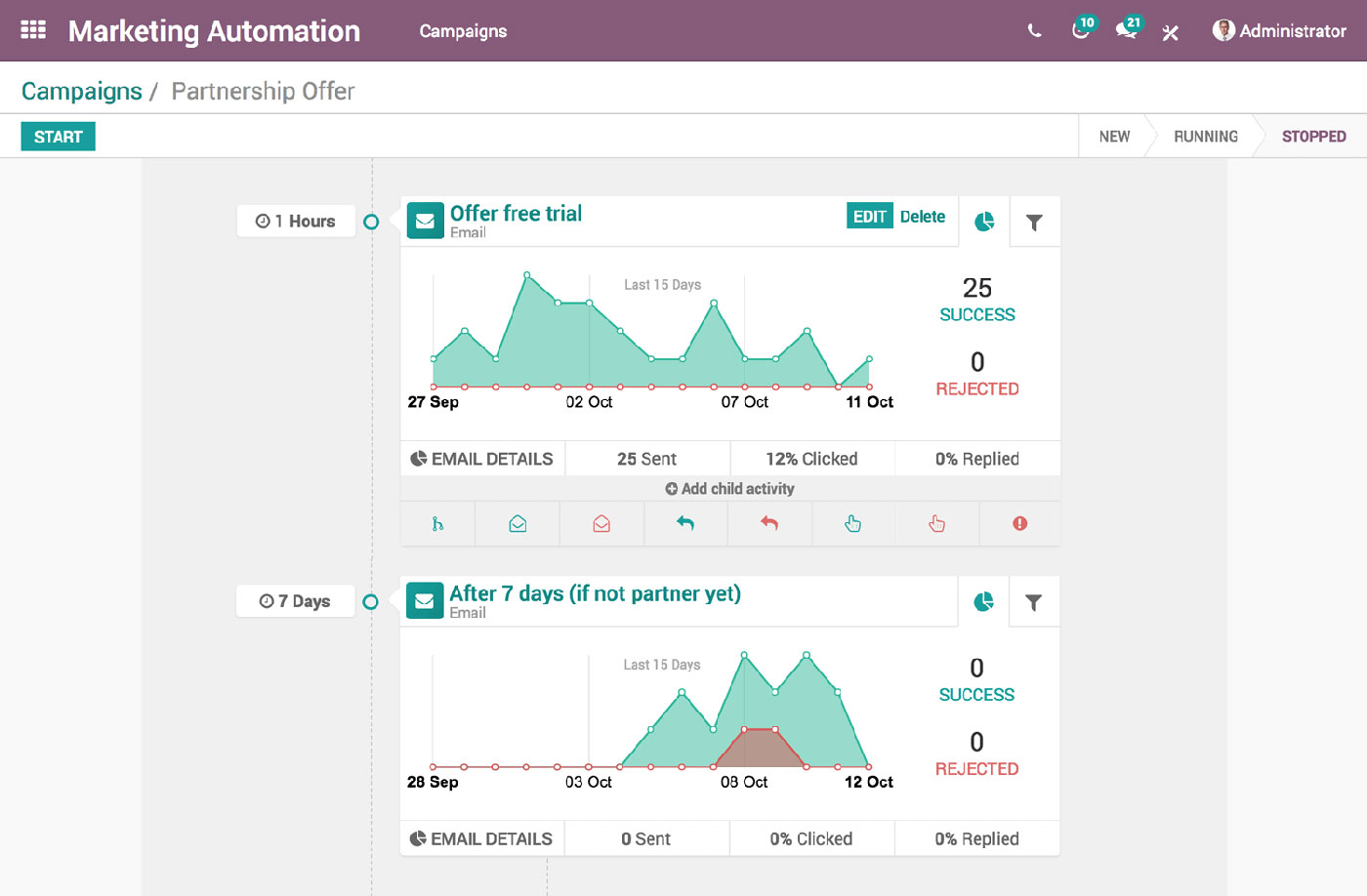 Social Marketing App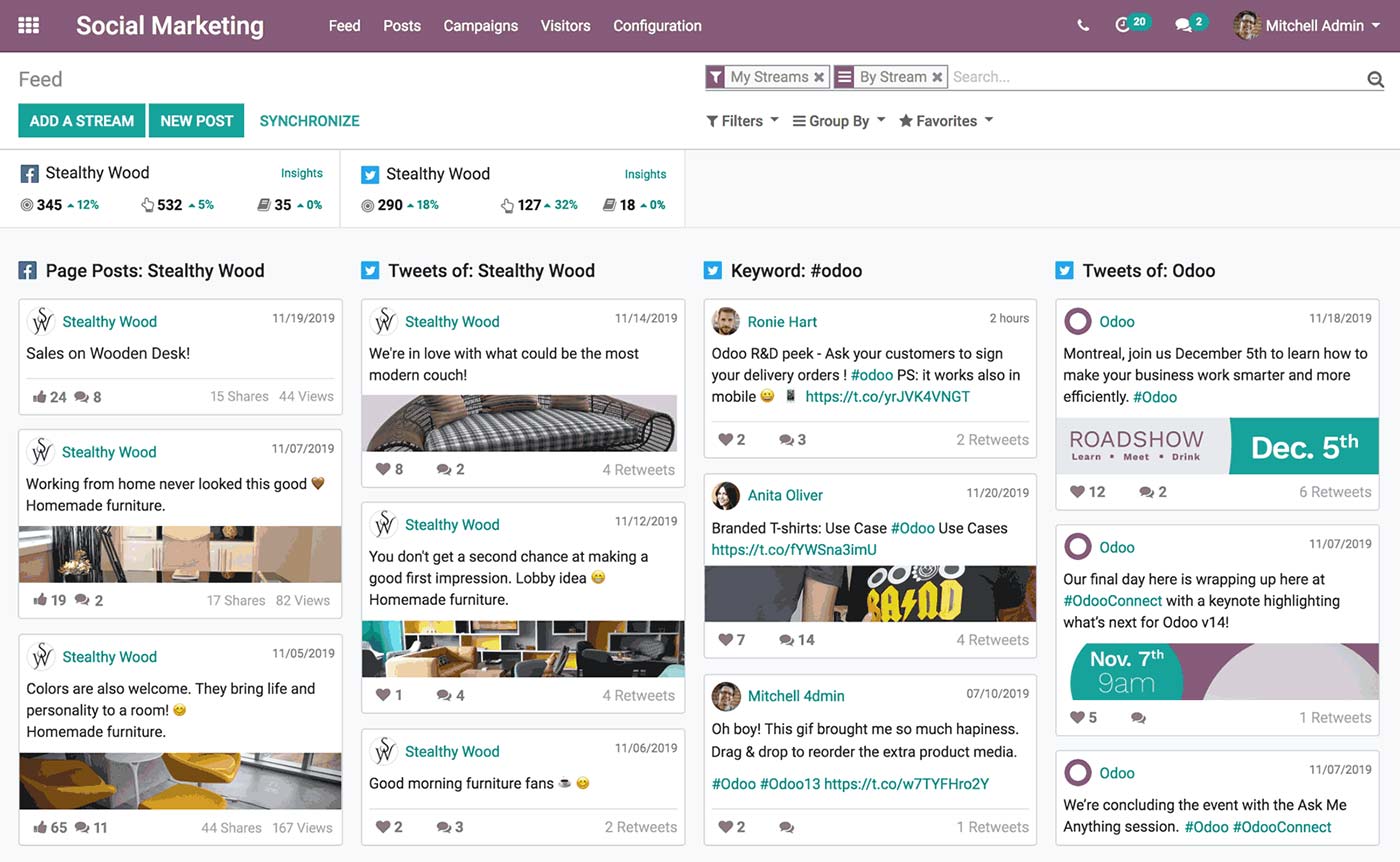 Create Brand Awareness with Next-level Social Media Outreach
Social media presence is essential for bath products businesses to reach the right audience.
Our product enables you to plan, monitor, and analyze your social accounts in one place.
Easily manage social media, web push notifications, and live chat to turn visitors into leads and customers into happy users.
E-mail App
Create Personalized E-mail Campaigns to Generate More Leads
Craft successful email campaigns that resonate with your prospects, without needing IT knowledge.
Design compelling emails within minutes with its inbuilt drag-and-drop functionality.
Optimize your campaign's results by sending them to targeted groups within your database.
Analyze the auto-generated stats and data to send better emails.
The product is fully compatible with all devices.
SMS Marketing App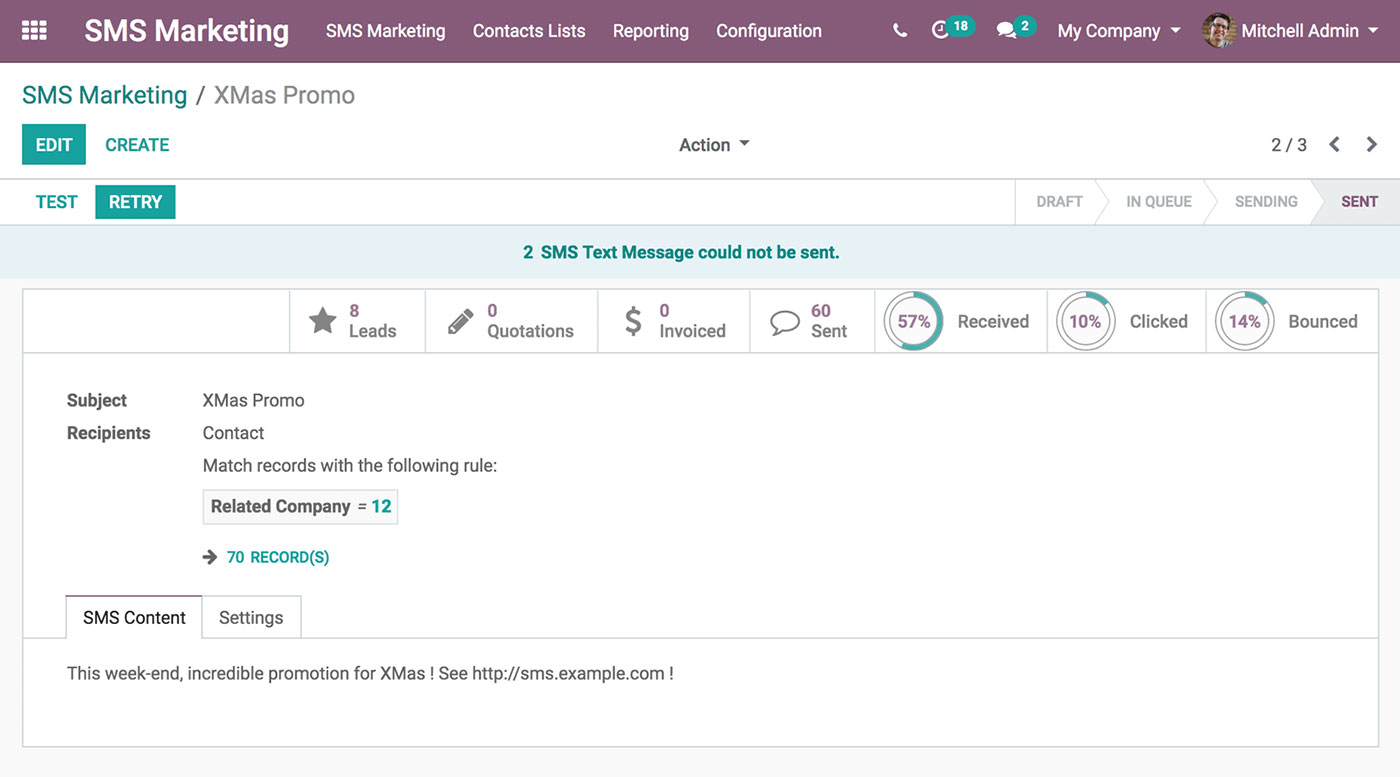 Run Self-Sustaining SMS Campaigns
Your campaigns are delivered instantly to your contacts' pockets.
Schedule your campaigns and let our product do the work for you.
The system shortens links for you to reduce the SMS size.
You can integrate link trackers by default, so you can monitor the click rates and measure the revenue from your SMS campaigns.
The open rate of SMSs is higher than that of emails.
Website Builder App
Make An Attractive Bath Products Website Without Tech Expertise
Craft your own website like a pro designer with the power of building blocks.
Enjoy fully integrated marketing solutions.
Powerful backend with the most business-oriented website builder.
With tailor-made forms, you can optimize your conversion rates.
Convert visitors into leads with live chat functionality.
Built-in customer portal to conveniently connect with your customers.
Reach a larger audience with the multi-language ready feature.
Engineered for SEO.
E-commerce App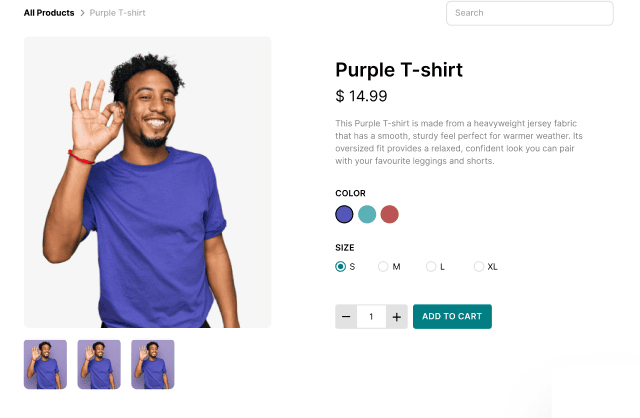 Scale Your Bath Products Customer Base with Online Business
Design your e-commerce store in just four easy steps.
No need to be a developer as the module offers a simple, drag & drop editor.
Set up variants and attributes with the help of its comprehensive dashboard.
B2B Store & Multi websites
Professional Themes, Live chat, Contact Form, Reviews, Automated Tax Rates, etc.
Upsell and cross-sell with coupons and promotions features.
Powerful tools to help you convert your visitors into customers.
Reach the right audience with an omnichannel strategy.
Connect your online store to other sales channels, such as your POS or your CRM.
SEO Optimised & Mobile-friendly module with analytics feature.
Blog App
Engage Prospects through Content Marketing on Bath Topics
Focus on content production. Forget the tedious backend with its beautiful open-source blogging App.
Get more time to develop your content marketing strategy in order to engage and retain your audience on all platforms.
Make your blog readable on any device.
Select from a range of modern templates, adjust the layout, add your content, etc.
Get recurrent visitors and boost your blog traffic.
Forum App
Leverage the Free Forum to Drive Website Traffic
Connect with your community on Odoo Forum to keep them engaged with relevant content.
Encourage collaboration and generate insightful discussions.
Identify hot topics and take advantage of them.
Anticipate your customer's needs and give your visitors the information they need.
Search engines can index and find discussion threads.
Use motivational triggers to reward your contributors.
Accounting App
Automated Accounting. Better Profit Margins
Stop recording transactions manually. The fastest online accounting app is here.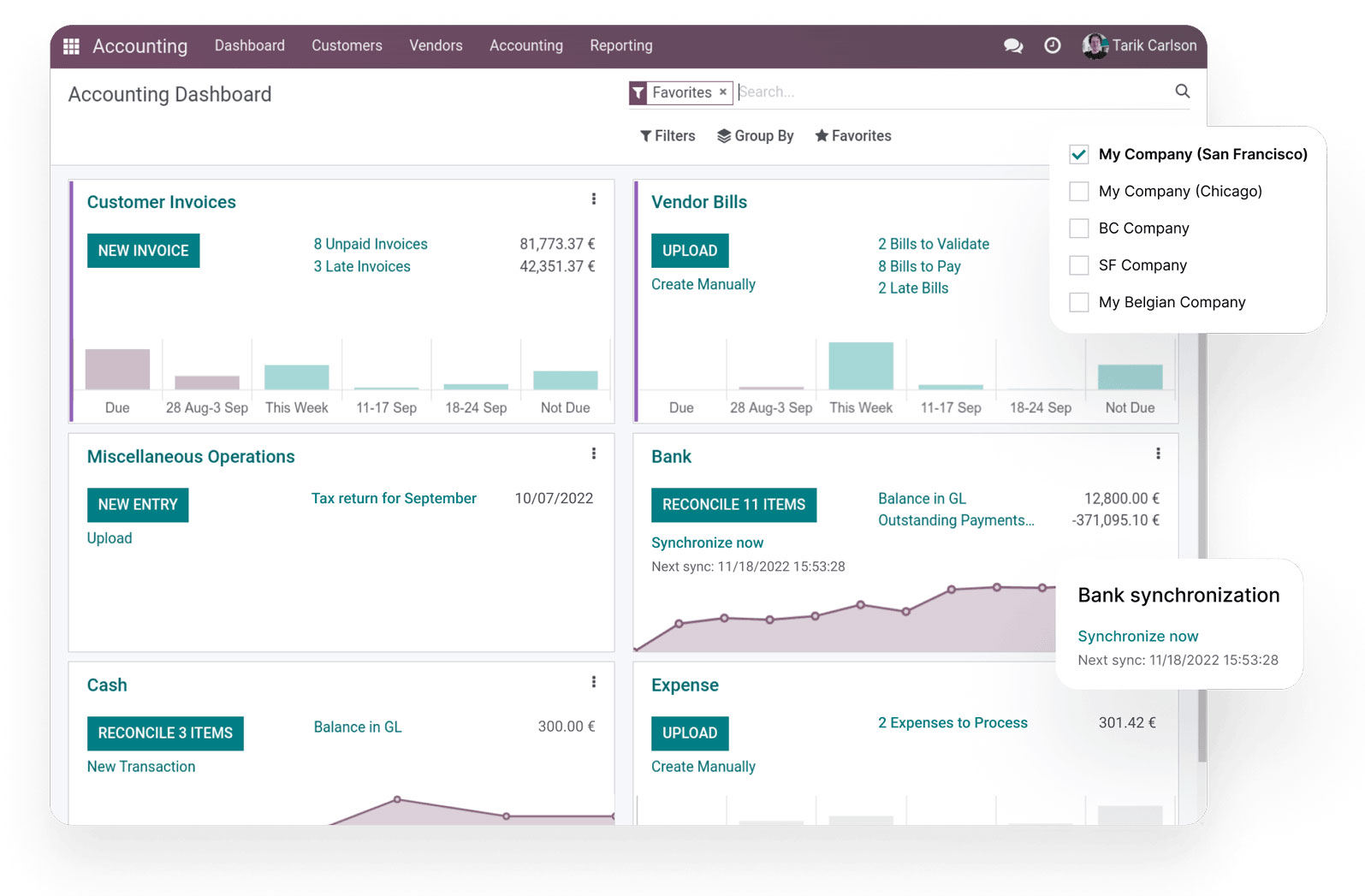 Survey App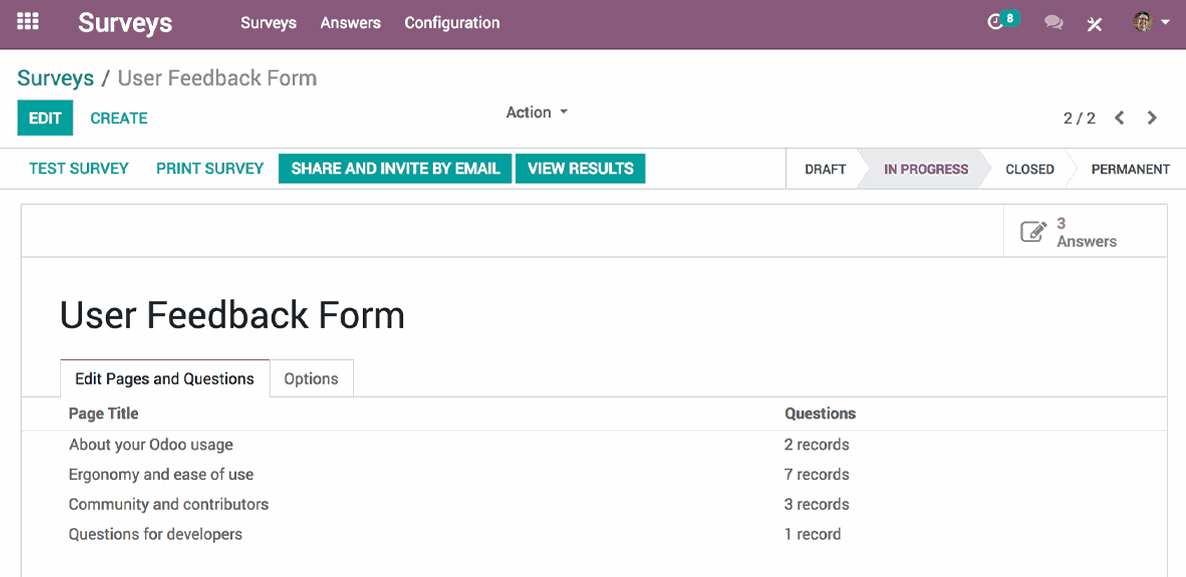 Get Ready-to-use Survey Reports to Track Brand Perception
Improve the brand perception of your Bath Products Business with Odoo Surveys.
Create appealing online surveys in 3 intuitive steps - design, share, and analyze.
Sales App
Easily Manage Your Organic Products Business Contracts
Easily record contracts and track invoicing phases.
Invoice customers based on the products, equipment, or accessories.
Maintain renewal, subscriptions with Odoo's recurring contracts.
Send polished quotations with your sign and online payment link.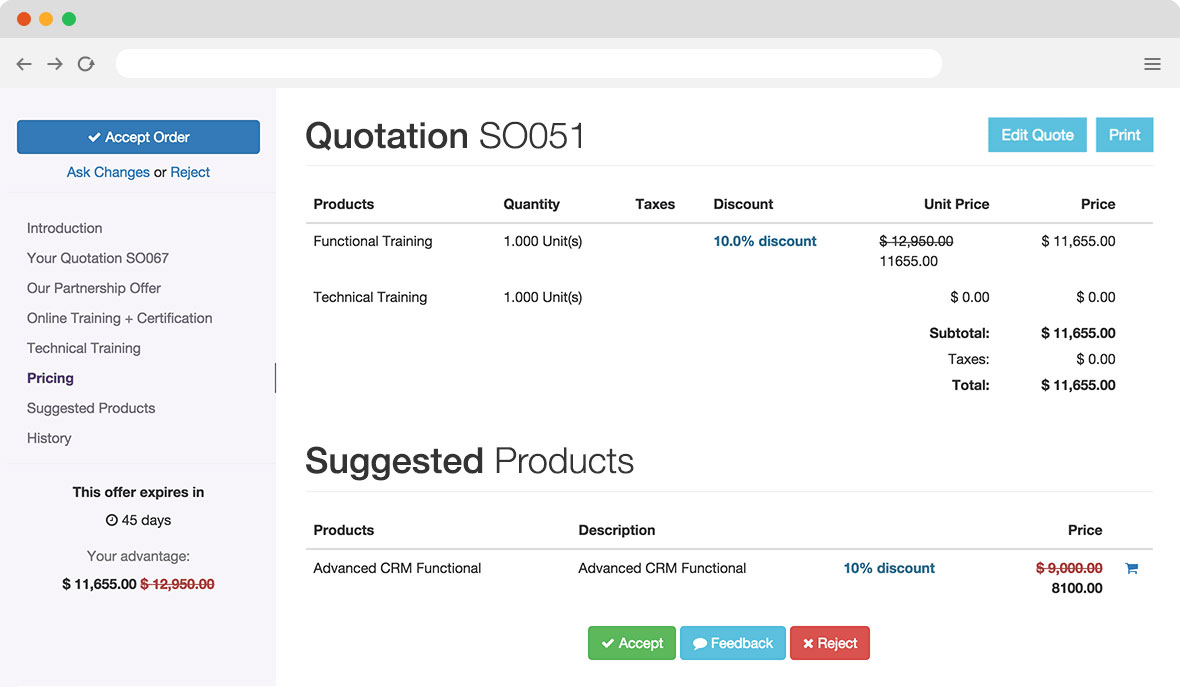 Helpdesk App
Be Always Present for Your Clients via Virtual Support
Organizations can track, prioritize, and solve customer complaints about products.
Sell, renew, and upsell products easily.
Invoicing App
Automate Invoicing and Save Your Valuable Time
Manage contracts, create recurring invoices, bill timesheets, and get paid faster.
Easily create invoices based on the quotes you have sent to your clients.
Send professional-looking invoices directly to your clients with just a click.
Automatically send such invoices by email as a PDF attachment or print and send them by mail.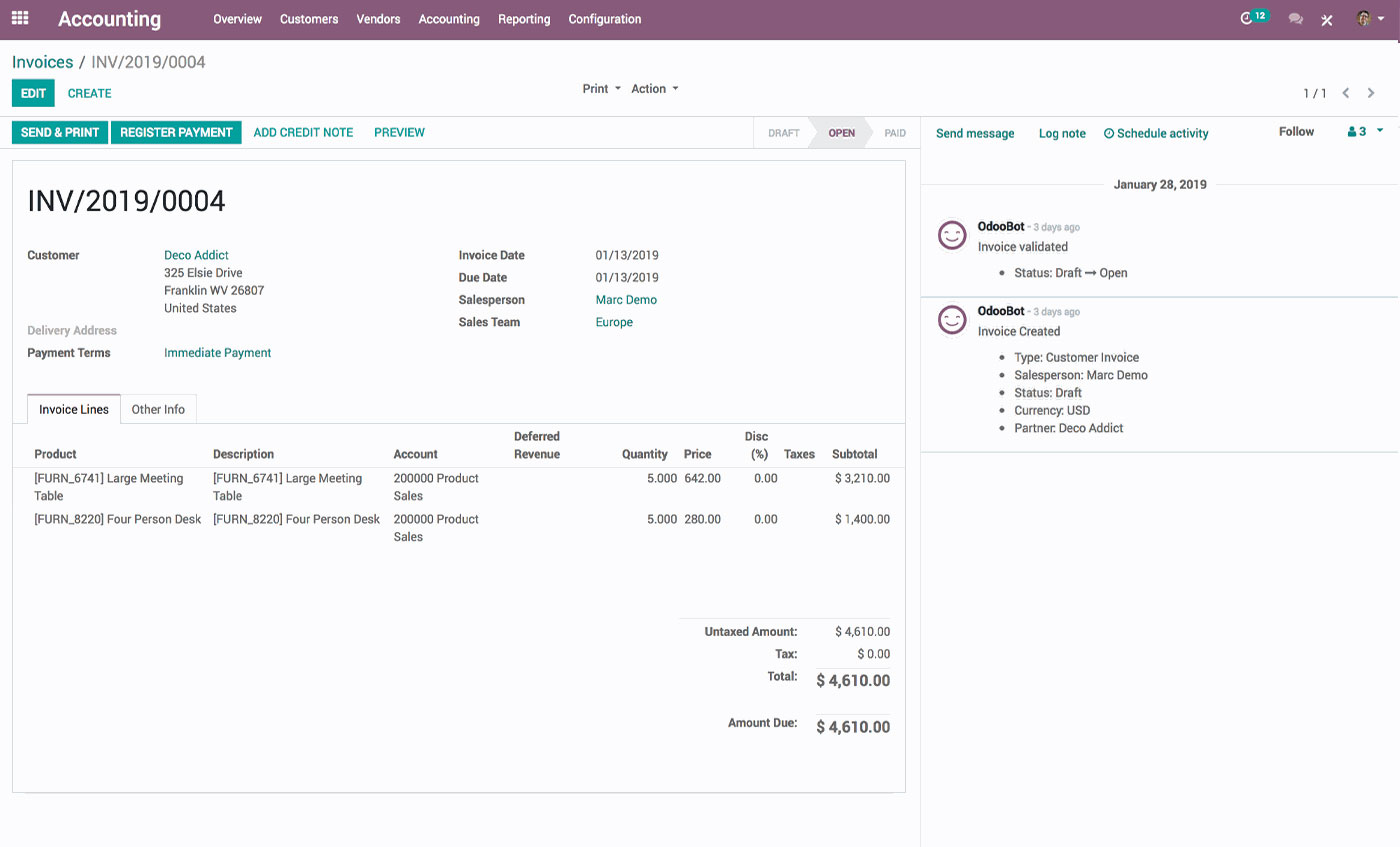 Documents App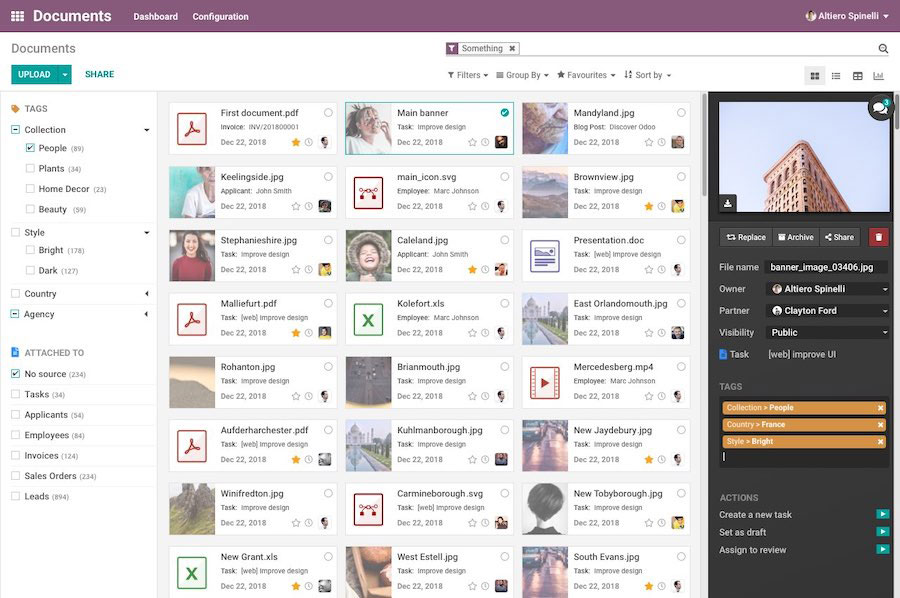 Make Documents Amazingly Fast and Save Time
Share, send, categorize, and archive your business documents (vendor bills, tasks, etc.)
Don't waste time printing and scanning documents that someone has to sign. Instead, assign them to the right person, get them e-signed, and have them sent directly back.
Create bills automatically from a scanned document or a vendor's email
WhatsApp App
Leverage WhatsApp to Improve Client Acquisition & Retention
WhatsApp automation enables faster response times leading to increased client satisfaction.
Support sales by configuring the WhatsApp bots to ask about the customer's requirement, display the products catalogue, help select the right product, and enable instant checkout.
Be accessible to your clients 24x7 and save time with ready messaging templates.
Expedite receiving payments from clients or making payments of business expenses.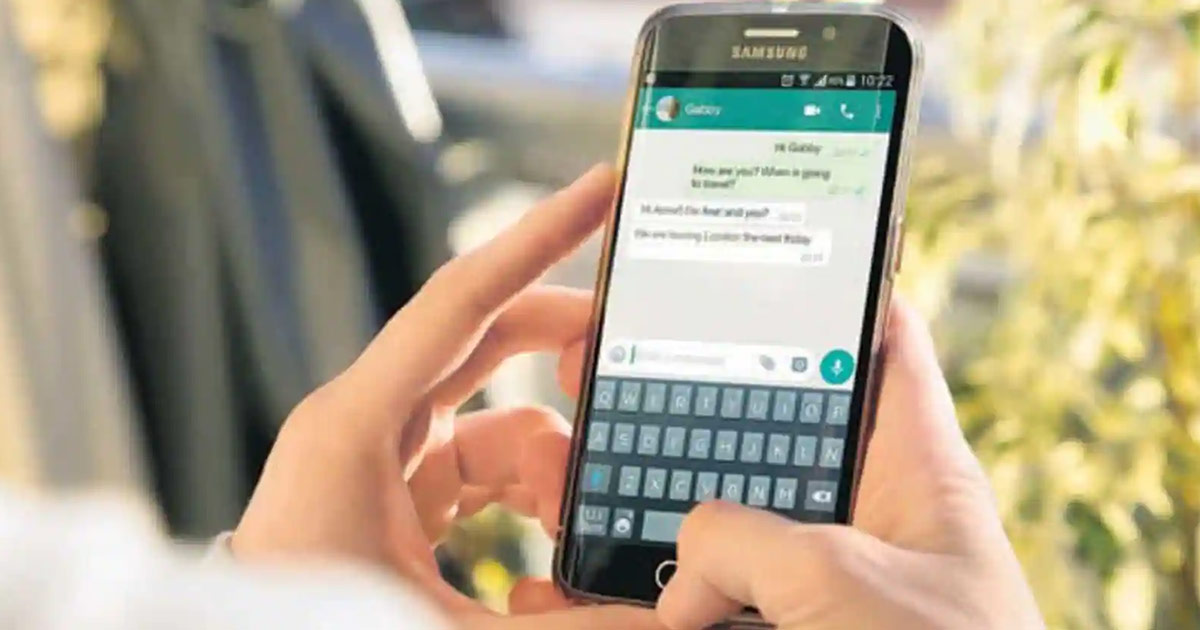 CRM
Grow Faster with the Power of CRM Tool
Its customer-centric CRM, can give you accurate forecasts.
With these accurate forecasts, get actionable data to make better decisions.
Planning
Organize Your Bath Products Business For Optimum Productivity
Manage your employees' schedule, focus on coordination, and organize tasks seamlessly.
Create shifts, assign and reassign them with a single drag-and-drop click.
Your employees can access their schedules through their personal portal.
Not only do they get a clear view of their shifts, but they can also take open shifts or unassign themselves directly from their computer or their smartphone.
Events App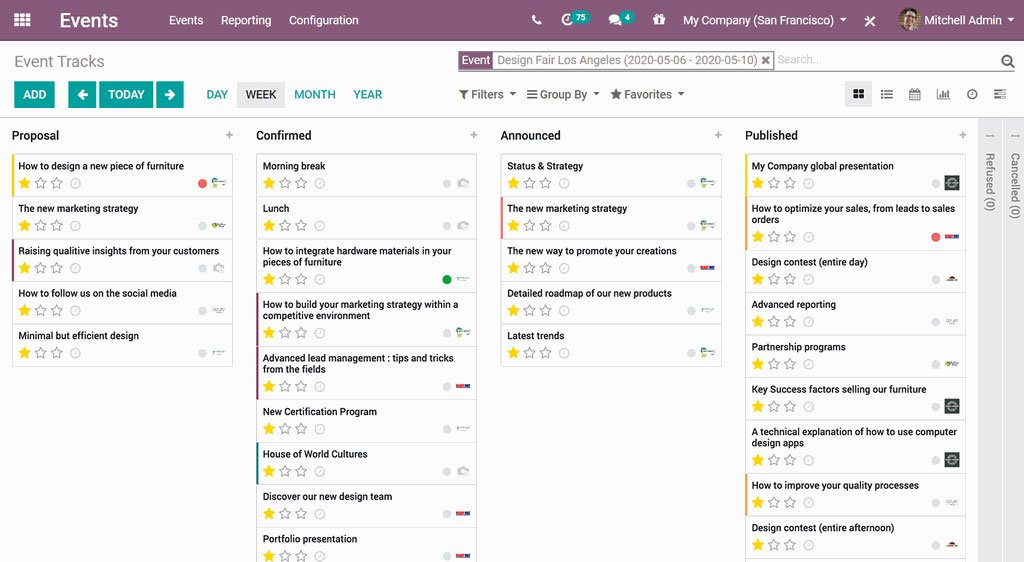 Promote Bath/Personal Care Events in a Few Clicks
Plan and promote on-site and online events.
The App offers an all-in-one event management platform, capable of handling events of any type or scale.
From event organization to ticket sales to visibility and promotion, it covers every aspect of the event planner's job.
Create an automated system for registering and paying for tickets online.
Get sponsors to come to you - Sell event sponsorship and promote your partners.
Organize calendars & manage speakers/celebrities/influencers
POS App
Streamline In-store Sales of Your Brand Outlet
User-friendly POS compatible with any device. No specific hardware required.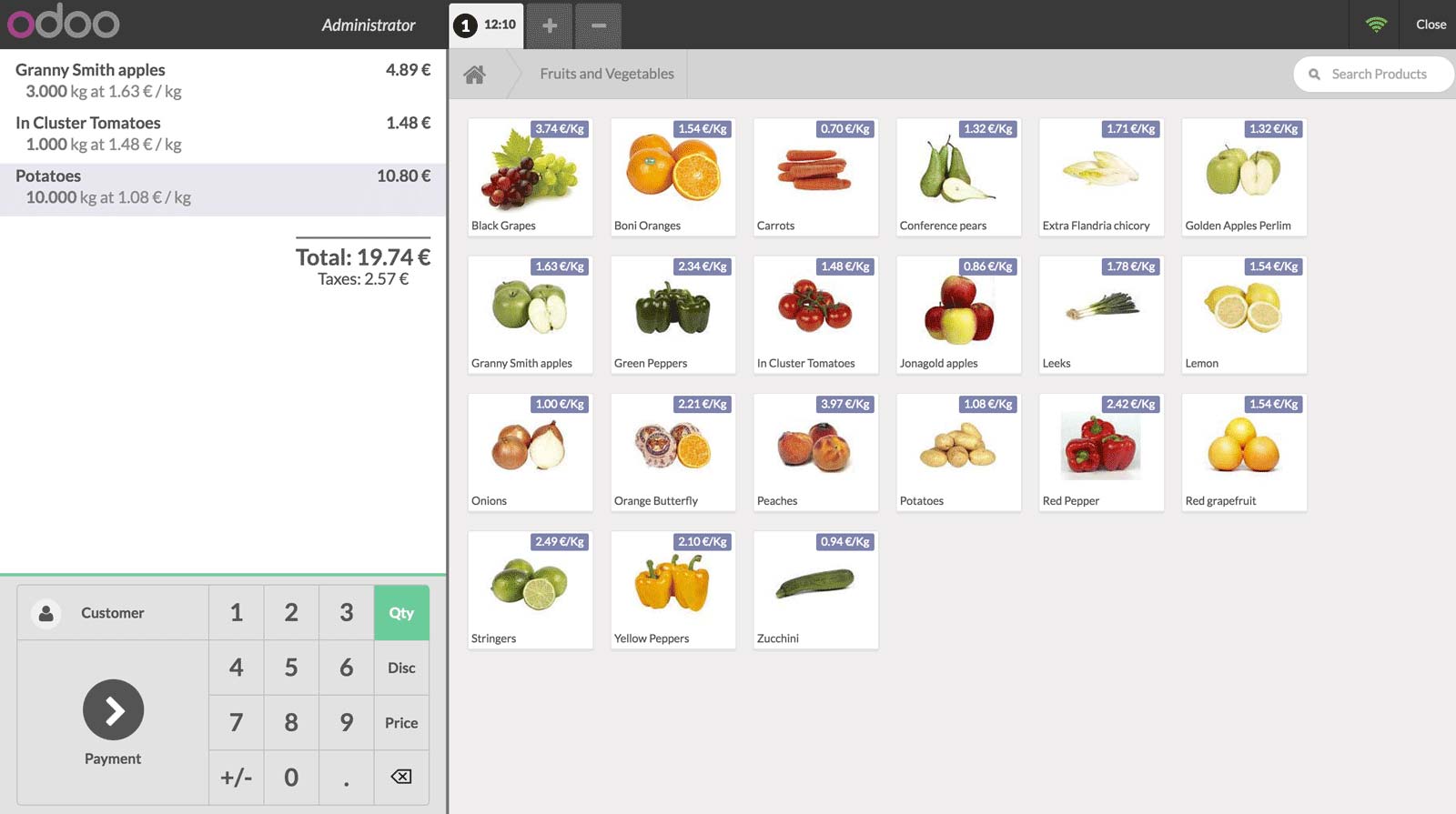 Inventory App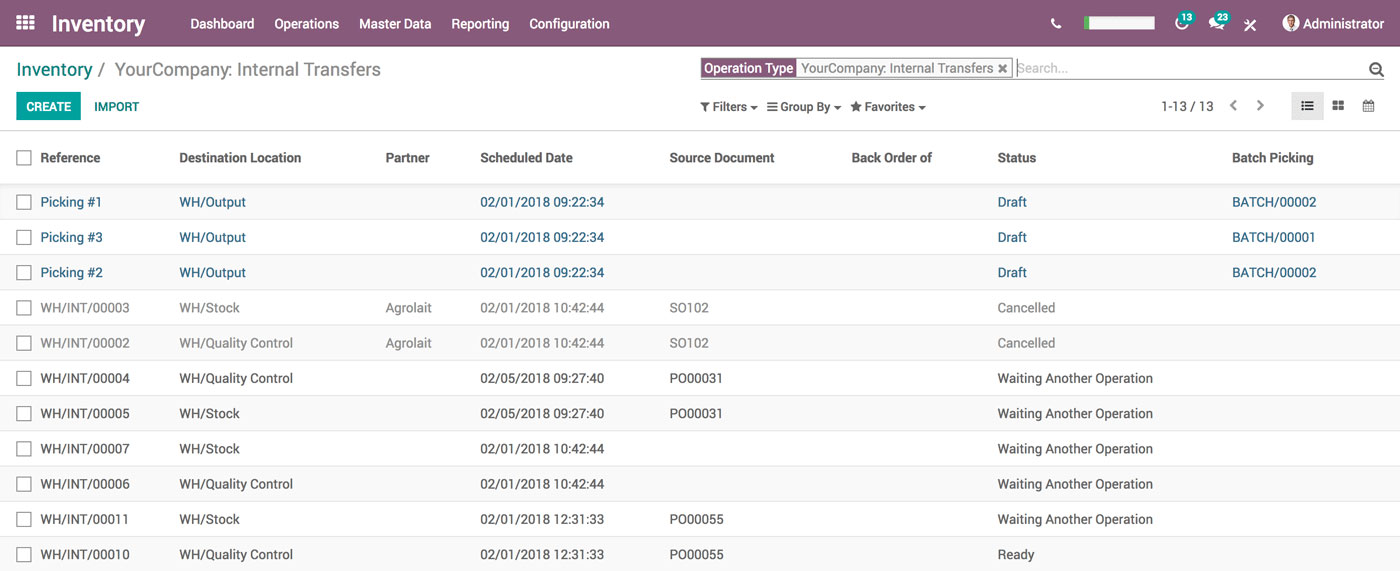 Easily Track Your Stock in a Few Clicks
Maximise your warehouse efficiency with online warehouse management software.
Use cutting-edge automation and advanced routes to manage any warehouse
Drop-shipping, Cross-docking, and Multi-warehouse feature.
Better organise your warehouse with the smart double entry inventory system.
All these Apps can be fully integrated with other Odoo applications. Over 7 million users grow their businesses using Odoo products and services. If you plan to automate your Bath Products business and grow faster than your competitors, click here now to talk with our experts.

(Check out our other business automation products here.)