Run a Virtual Office at Your Fingertips. By bringing your team together with OmniWork, you will serve your customers with excellence.
Today, many people are encouraged to work from home i.e. a Virtual Office. If managed correctly, employee productivity can soar due to less wasted time and fewer distractions. Leading your team with good planning and communication is key.

Most interactions can occur through technology these days. But no tool can solve all your issues. You need many tools to solve different problems. For example, you may need separate HR, CRM, Calendar, Virtual Meeting, Project Management, and Reporting systems. Using and integrating these systems has a major overhead.
Would it not be great to have a single tool to solve all your problems?
Odoo has many useful apps which could help you run remote teams efficiently. This includes Projects, Timesheets, Invoicing, CRM, Sakes, Marketing. Also, Odoo Enterprise gives very powerful features to organize, schedule, plan and analyze projects. This app bundle combines many useful integrations which could help you successfully run a virtual office. This includes Slack/Whatsapp for communication, Zoom/GotoMeetings/Microsoft Teams for Virtual Meetings, Hubstaff for Employee time tracking.
Useful Optional Third party integrations
Zoom Meetings, GotoMeetings, Microsoft Office 365 Teams
Slack, Whatsapp for communication
Hubstaff for Employee time tracking
Below are a few important components of a virtual office:
Odoo OmniWork Key Features
Project Management App
HR Timesheet App
Virtual Meetings Integration
Instant Messaging Integration
Hubspot and Odoo
Documents Management Integration
Project Management App
Project management is imperative today because it ensures what is being delivered, is right, and will actually deliver value against the business opportunity. In Odoo, a project is represented with a tree structure by a set of tasks to be completed, which can be further divided into phases and sub-phases. This structure is very useful to organise the work.
Project Management Key Features:
Customize the process of every project, rename stages and alerts according to your own activities, automate emails, etc.
Work on single or multiple projects at the same time.
Perform multi-project analysis and searches.
Create subtasks to manage the relationship between multiple tasks.
Track internal projects with tasks and manage teams efficiently by setting clear priorities and deadlines with the Gantt chart view.
Drag & drop tasks easily with the Kanban view.
Track expected hours, effective hours, re-forecasts on tasks.
Archive tasks done and have a clear view of the other tasks you still need to work on.
Organize
A simple drag-and-drop view to help you easily group tasks at the right stage.
Schedule
Easily check your team's planning and reschedule to keep within your deadlines.
Plan
Keep track of deadlines and progress of your projects with a clear overview. Use the calendar view on tasks to highlight project deadlines. Simply drag & drop tasks in the calendar to reschedule.
Analyze
Keep a good overview of your workload and of the status of individual tasks.
Forecast Needs and Resources
(Available in Enterprise Edition)
Project performance & employees' availability
Schedule your teams across projects taking employees' holidays into account. Plan ahead for upcoming projects with forecasts based on comparable projects and estimate deadlines more accurately. Compare forecasts with real timesheets for increased profitability.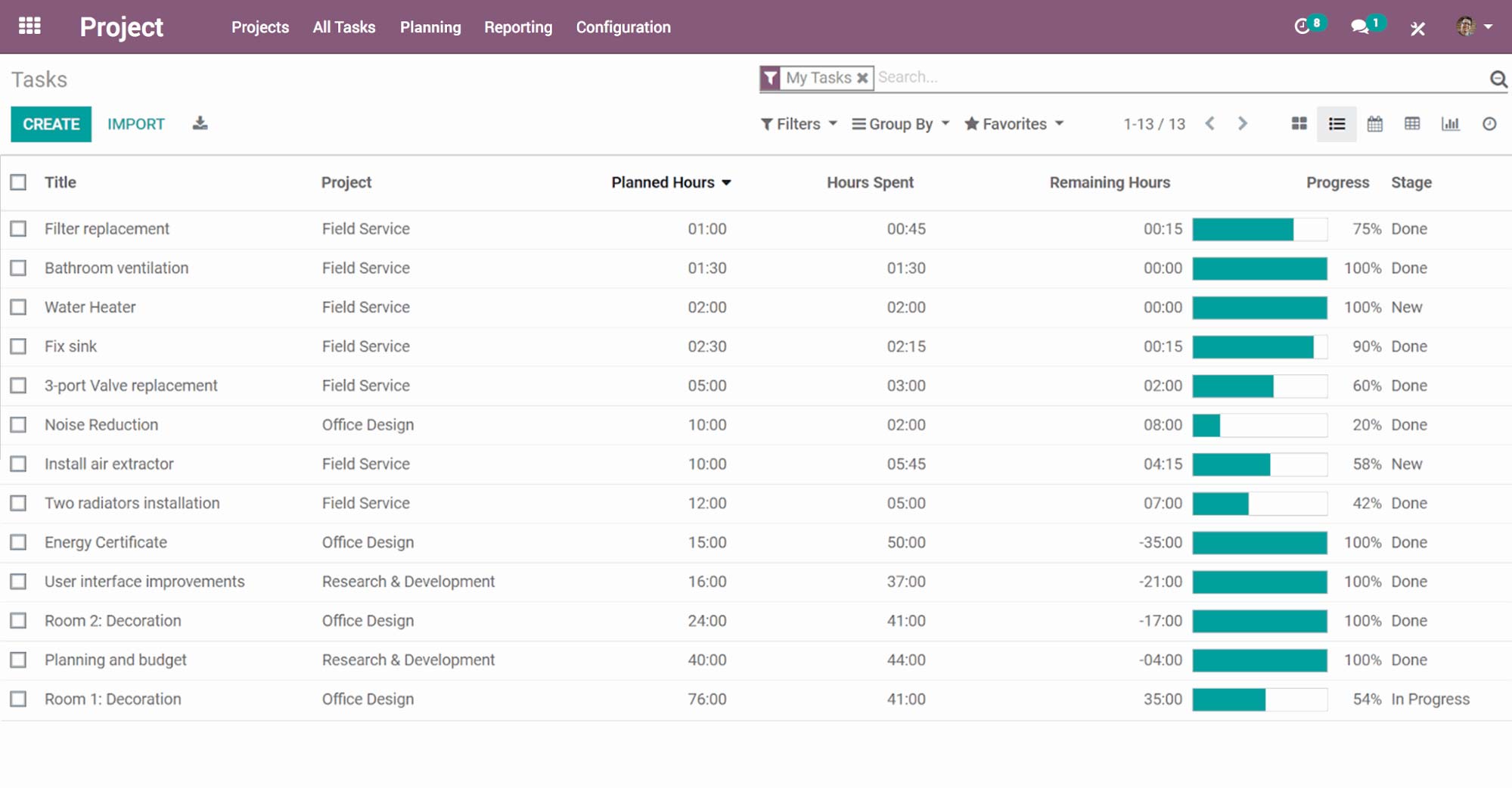 Discuss Tasks and Share Documents
Add quick notes or attach files to any task and stay connected to your team. Forget endless follow-up meetings to keep track of projects. Communicate through the chatter, write in a shared real-time pad, or use live chat - all within a single interface!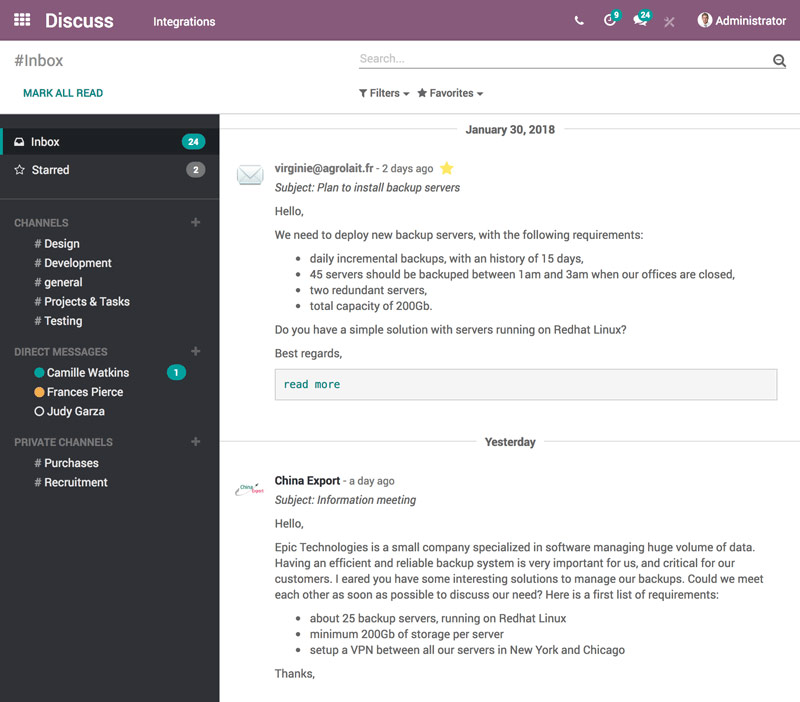 Conceptualize project scope within an easy-to-read overview
A functional and dynamic graph view for every task
Create graph views to analyze your data utilizing a powerful search tool, filter and grouping functions, and a variety of unique visual interfaces to help you track and maintain your projects from any level.
HR Timesheet App
Whether you're running a small business, a freelance professional, or managing employees from different locations, you need your tools to be as mobile as you are. Log in and track your time through any device, anywhere.
Key Features of Timesheet App
Track your team's progress: Visualize your team's progress on each project or task. Tracking expected hours, effective hours and reforecasts on tasks has never been so easy. As a manager, you see immediately who's working on what.
Activity logging: Choose to log your activities at the beginning of the day, on the fly or after your work is done.
Invoice timesheets to clients: Automatically generate one-time or recurring invoices based on expenses and timesheet entries.
Forecast productivity
Timesheet profit: Get an overview of your billable time. Track all the resources allocated to your project and see your profits and losses. Easily review your employee's performance by measuring the profitability of their projects.
Reporting: Timesheet analysis has never been this easy. Get statistics about billable hours, billable amount, uninvoiced amounts, etc. Leaves can be automatically integrated within timesheets for better control of the time spent.
Manage your activities & workforce
Keep your projects under control and manage employee time from the Odoo backend.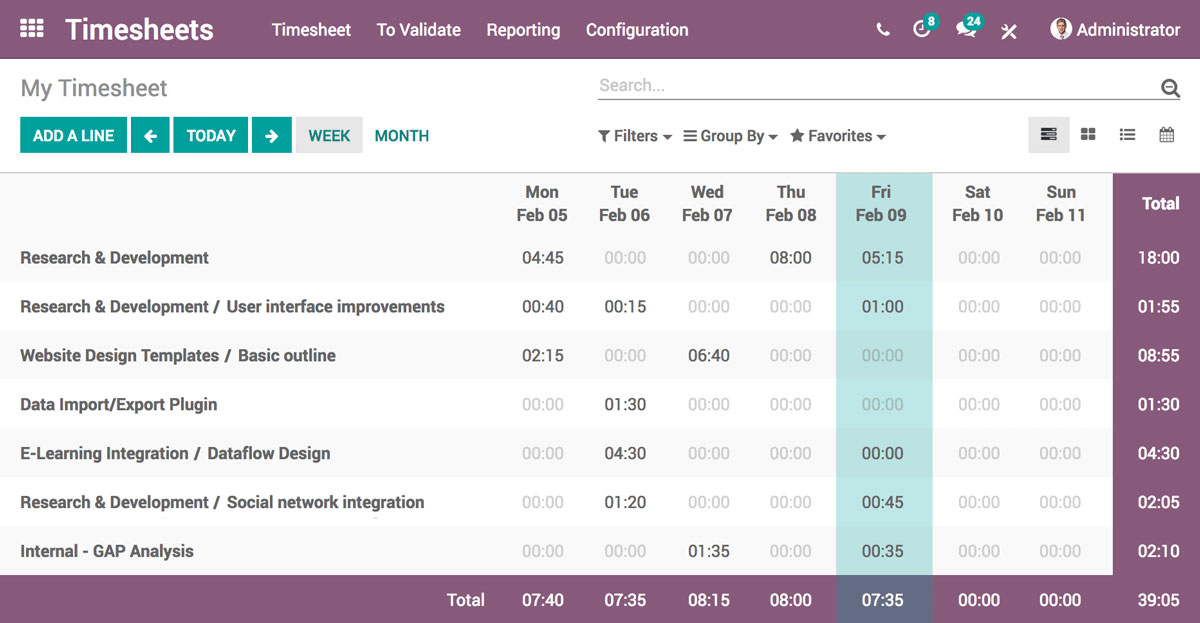 Forecast Needs & Resources (Enterprise Edition)
Project performance & employees' availability

Schedule your teams across projects taking employees' holidays into account. Plan ahead for upcoming projects with forecasts based on comparable projects and estimate deadlines more accurately. Compare forecasts with real timesheets for increased profitability.
Virtual Meetings Integrations
(Includes Zoom Meetings Integration)
Now you can create and join Zoom / GoToMeetings / Microsoft Office 365 Teams Virtual Meetings from Odoo. We include the
Odoo Zoom Meetings Key Features
Any Odoo User can create Meetings
Seamless integration between Odoo and Zoom
Fully Automated way to schedule meetings
Fully SSL secured meetings.
Zoom Meeting can be password protected.
Select your Timezone
Multi Company and Multi-User Support
Works with Enterprise and Community Edition
Works with free and Paid Zoom Meetings accounts
Zoom and Company Configuration
Navigate to Settings ---> Users & Companies --->Companies
Instant Messaging Integrations
(Includes Slack integration)
Odoo already has Odoo Discuss capability to communicate between people/ We created some new third party integrations with WhatsApp and Slack which allows for instant communication i.e. to send text messages, multimedia files and URL links to single/multiple contacts directly from Odoo.
Key Features of Instant Messaging Integrations
Send direct WhatsApp/Slack messages to your contacts via Odoo.
Send attachments to multiple contacts simultaneously.
Send WhatsApp/Slack notifications on Orders or Products creation.
Send sales orders or quotes quickly and directly to your customers
Send invoices and payment reminders
Send status updates of shipments
Slack Integration Company Settings
Users imported in Odoo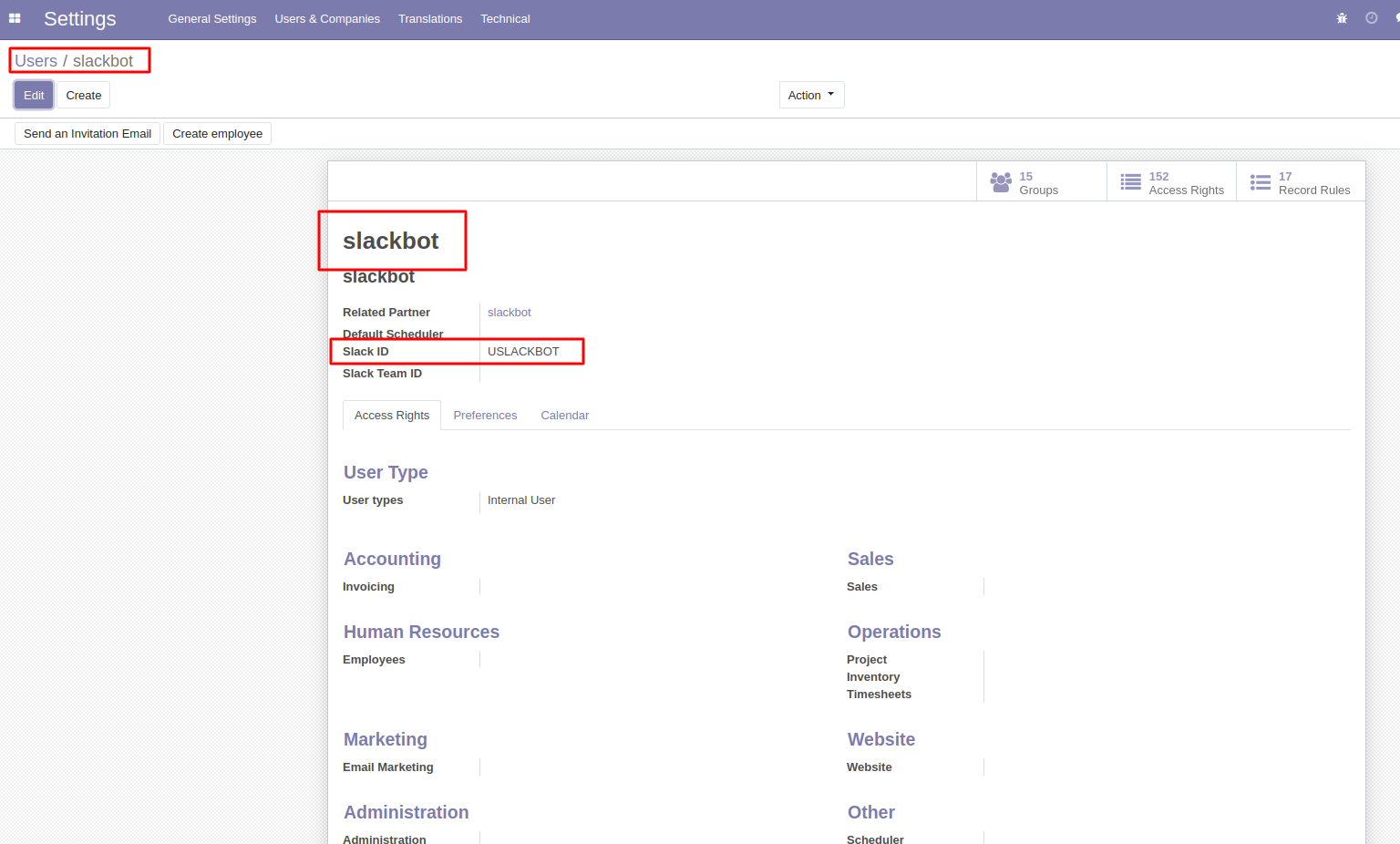 Channels Imported in Odoo
Channels and associated users gets displayed in Discuss App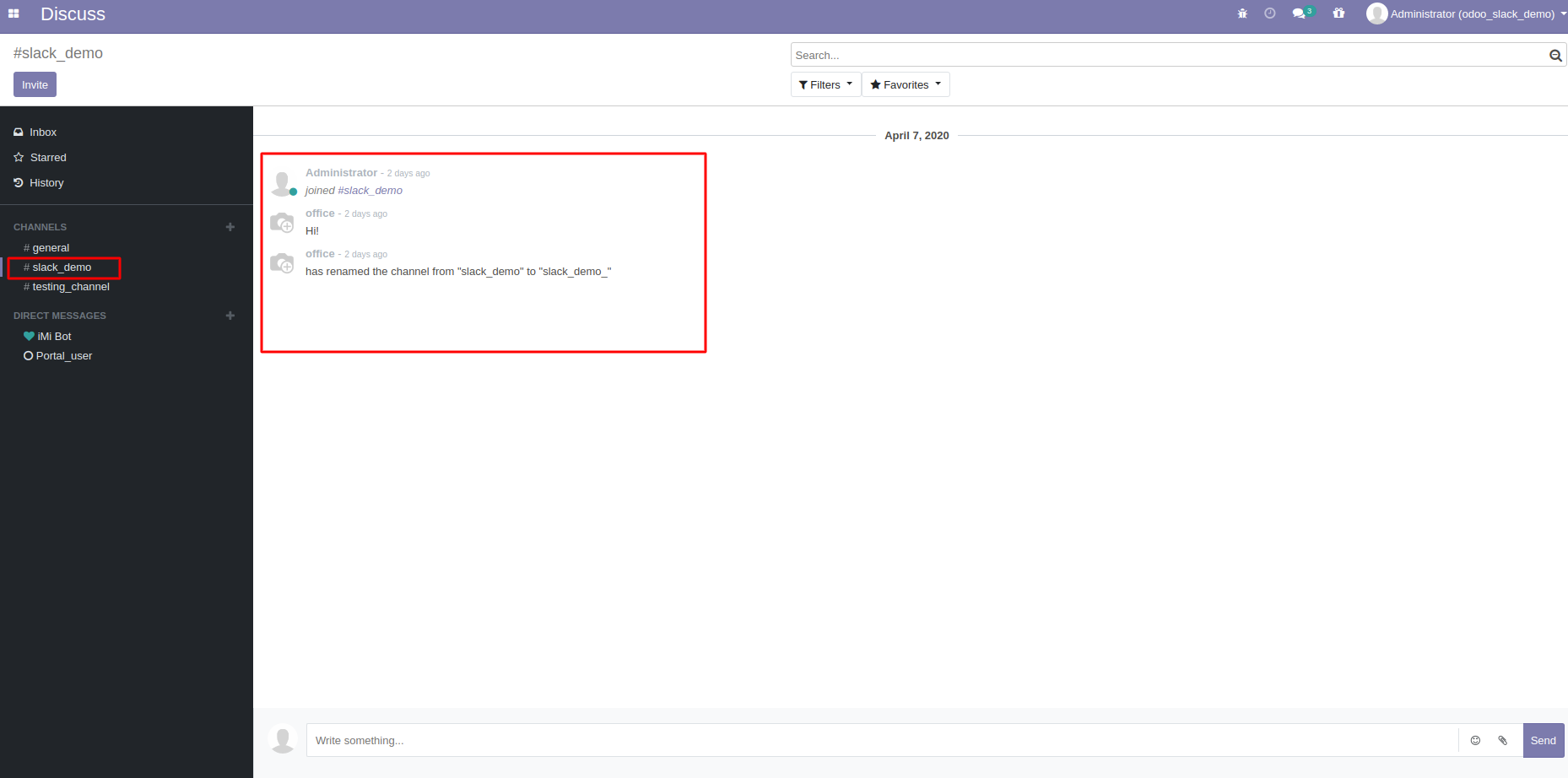 Message posted in Slack gets real-time synced into Odoo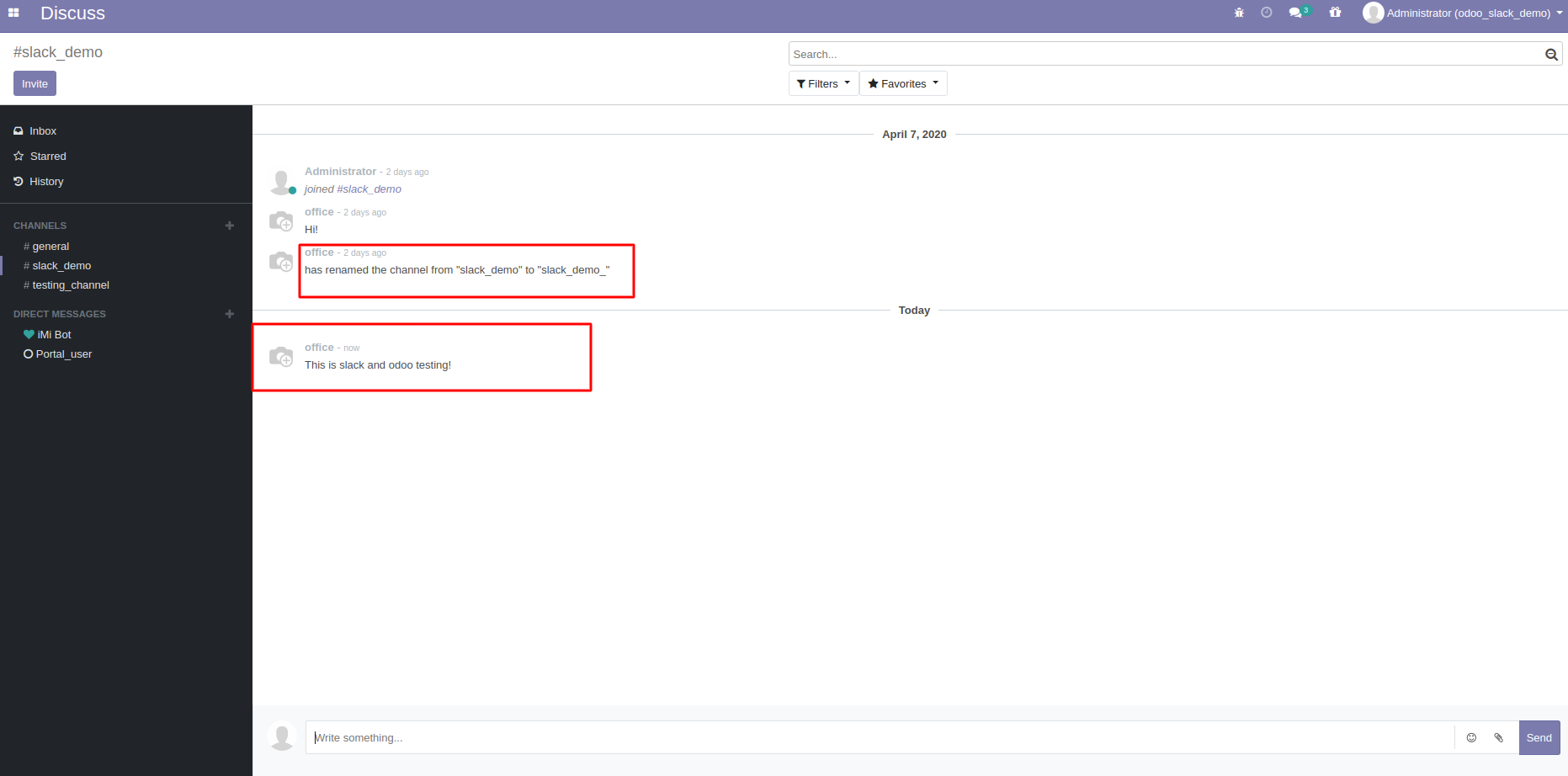 CRM Integrations
Odoo by default has a CRM but if you are already using other CRMs we have pre-built connectors for them. None of them are included with this bundle but you can buy them separately. Integration of Odoo with Hubspot/Salesforce/Zoho/Pipedrive allows you to synchronize your contacts, companies, leads, sale orders and opportunities bidirectionally without the need to update data manually on both systems.
CRM Integrations Key Features
Import/Sync Contacts from Hubspot/Salesforce/Zoho to Odoo
Export/Update Contacts from Odoo to Hubspot/Salesforce/Zoho
Import/sync Companies from Hubspot/Salesforce/Zoho to Odoo
Export/Update Companies from Odoo to Hubspot/Salesforce/Zoho
Import Lead from Hubspot/Salesforce/Zoho to Odoo
Delete Contacts in Hubspot/Salesforce/Zoho when deleting from Odoo
Contact Creation from Hubspot to Odoo
When a contact is created in Hubspot, it gets synced in Odoo.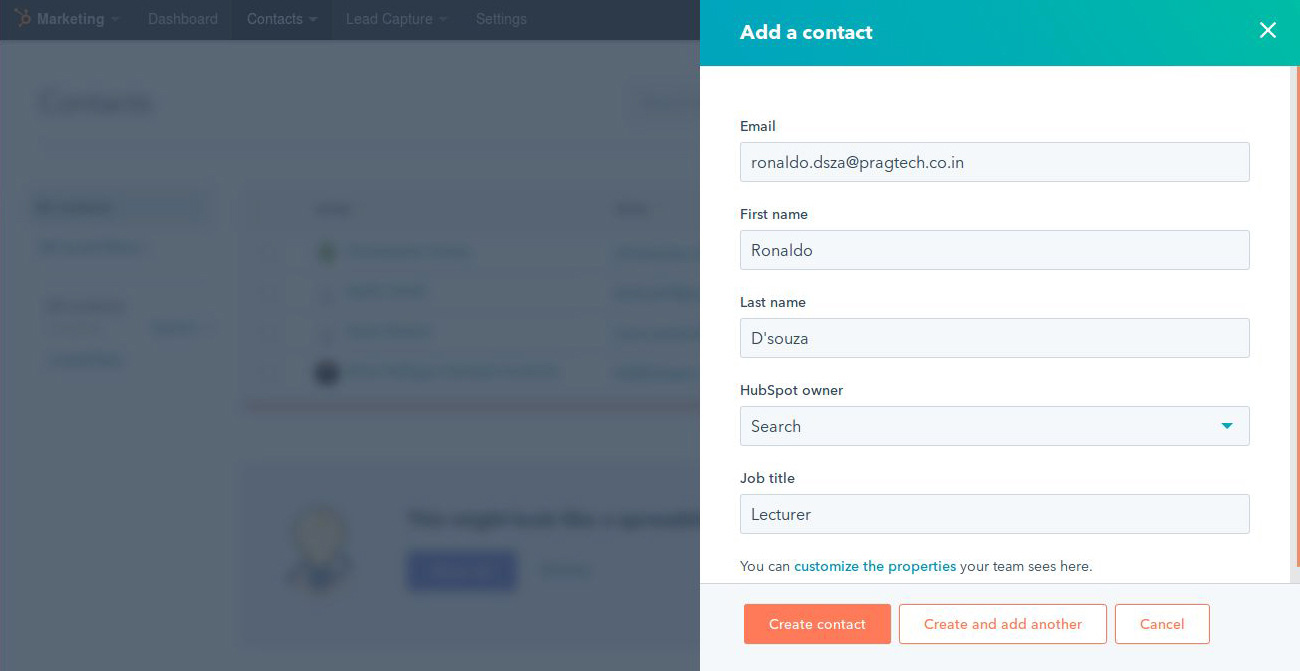 Importing Accounts (parent of contacts) in Odoo
If you click on 'Import Accounts' in the above figure, the parents of account get imported in Odoo.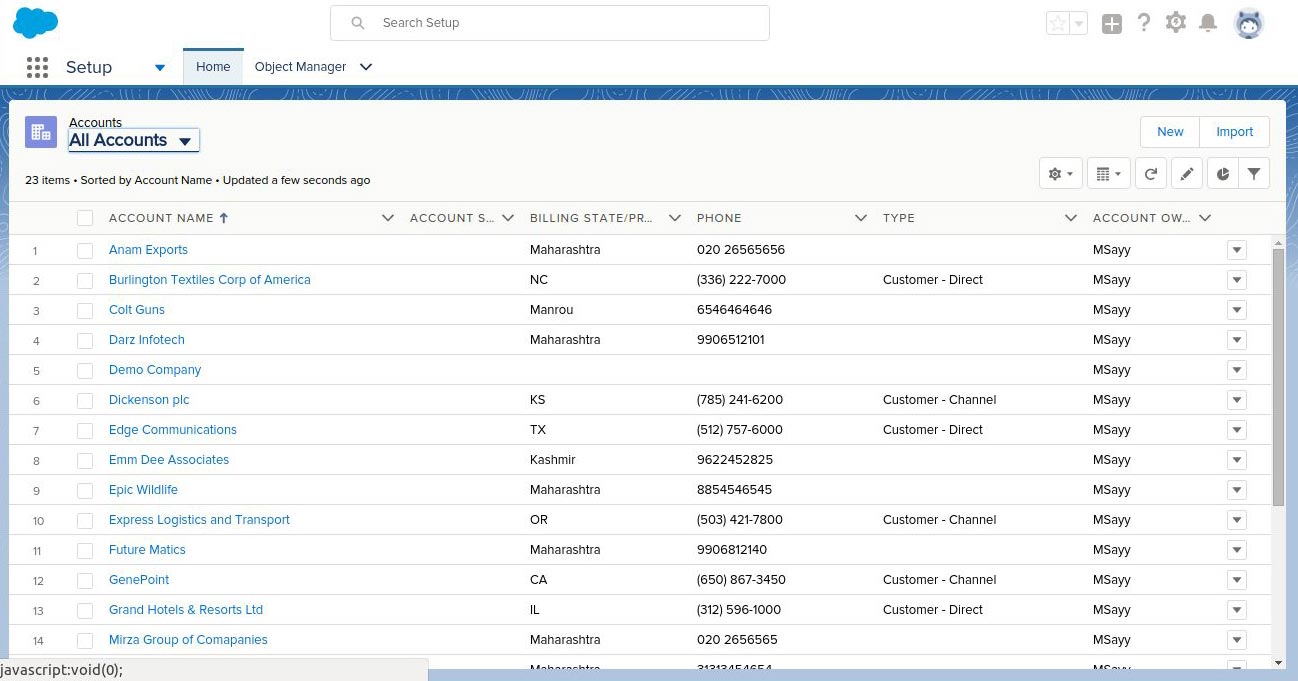 Individual record imported with contacts and addresses attached similar as in salesforce.
Document Management Integration
Odoo by default has a Document Management System but if you are using others it could be integrated. Our bundle does not include any of them at this stage. You can buy them sepratly. This integration provides for automatic storage of Odoo attachments in OneDrive/Google Drive/DropBox and gives instant access to users via web links. It thus allows users to work with files comfortably in the cloud storage, while the results are fully available in Odoo.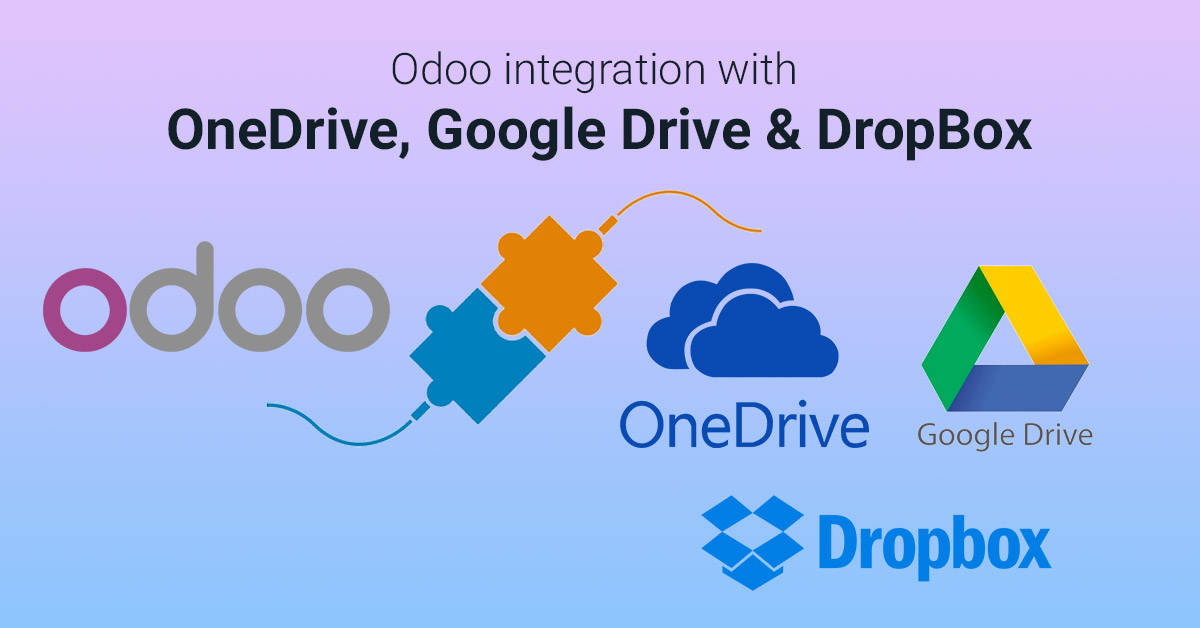 Key Features of Document Management Integration
Automatic Synchronization: Files synchronized automatically between OneDrive/Google Drive/DropBox and Odoo. No manual intervention is required.
Two-way Synchronization: In this module synchronization is bilateral. Files which are placed over OneDrive/Google Drive/DropBox can be easily accessible through Odoo. Similarly once the attachment is placed over Odoo, it will sync the data and data is available over Onedrive.
File Support: Synced attachment in Odoo opens via URL to OneDrive file. Preview of these documents depends on OneDrive/Google Drive/DropBox configurations.
Systematic Folder: OneDrive/Google Drive/DropBox is used for business and sharepoint purposes. The files are kept systematically and create a convenient system in the cloud.
Availability: This feature is available for Sales Orders and Purchase Order of Odoo.
Scheduled Actions: User can define the time interval for this scheduler to run to sync the data between the OneDrive/Google Drive/DropBox and Odoo.
Delete Action: If a user removes the attachment from Odoo, it will automatically delete the same attachment from OneDrive/Google Drive/DropBox.
Update Attachment: If a user updates an attachment in OneDrive/Google Drive/DropBox, the same attachment will be automatically updated in Odoo.
Store Attachments: Users can select where to store attachments, either in cloud or both. Storing attachments in OneDrive/Google Drive/DropBox will be a better practice as it will make Odoo faster because Odoo database storage will not be used for storing attachments.
Import file from Google Drive to Odoo
Documents on DropBox
Odoo OneDrive Synchronization