Odoo Review: Honest Opinions given by Existing Users
Here, we have collated Odoo reviews from various reputed review sites and presented at one place so that you get all the information you need to make a decision on implementing Odoo.
Broadly speaking, review of any product is multi dimensional. A product can be GOOD for features A, B, C but JUST OK with features D, E, F And NOT SO GOOD with X, Y, Z. Same scenario applies to Odoo.
Features like technical flexibility, User interface and User friendliness is really great with Odoo. Accounting, Sales, CRM features are as good as per small and medium sized businesses require. However, if you wish to use Odoo in large multinationals with complex processes and larger user based workflows and compare things, you may find Odoo bit shorter and would need to get in touch with an Odoo service provider for some bespoke customizations.
Contact us Now
Odoo Review on SoftwareAdvice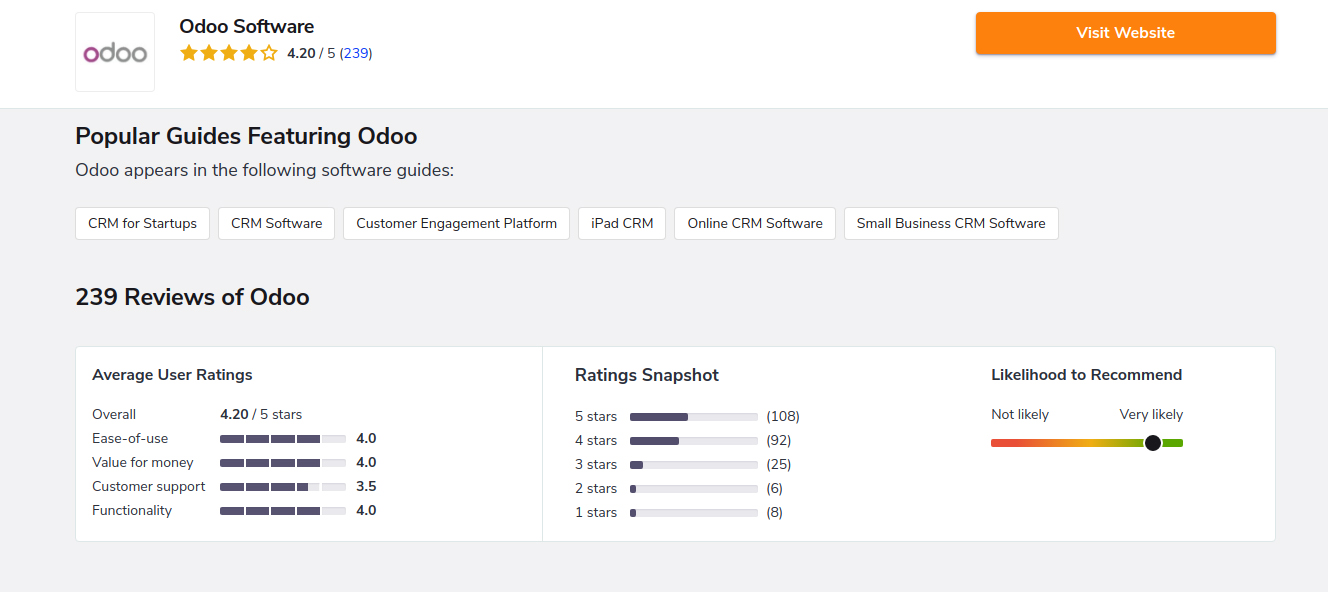 Odoo Review on Trustradius
Odoo Review on GetApp
Why Odoo ERP Anyways?
Odoo comprises over 30 main modules that are regularly updated. In addition, more than 16,000 third-party apps/plug-ins are available in its app store. Because it's a modular system, customers can start with a subset of tools and add modules as needed. Because it's open source, Odoo is highly customizable.
It is open source:

No restrictive charge and rehashing costs. One of the best ERP in the market.

Flexible

Need any custom features? you can do it with the help of an Odoo design.

Scalable

Business/Organization evaluate doesn't have any kind of effect, you can incorporate any number of customers in Odoo.

Custom Readymade Apps:

14000+ moment applications that everyone can access from Odoo applications store.

Global Support:

Responsive assistance from Odoo assembling and mailing records.

Proven Product:

Around 3+ million people are building up their business by using Odoo. Eg: Toyota, Hyundai, PCI
User-Friendly:

It is conceivable that you can use the standard Odoo which is significantly simple to utilize or can download the available themes. You can in like manner make new points with our own considerations.
Up to date with Technology:

Odoo gets visit refreshes and overhauls as demonstrated by the latest mechanical condition. Latest Odoo interpretations are Odoo Version 12.

Highly Modular:

You don't need to present the entire Odoo totally on your structure. You can download and acquaint specific application modules concurring with your business needs. Eg: Odoo ERP of POS with Accounting

Easily Integrate with Third-party organizations:

Odoo can be fused with some other outcast authority associations like SMS, Social media, shopping districts etc.

Industry-Specific Modules:

Auto Workshop, Vehicle rental organization system, Hotel organization, Clinic, Beauty Spa Management and more industry-specific module are open in Odoo

Less Implementation Cost.
Less execution Time Frame.